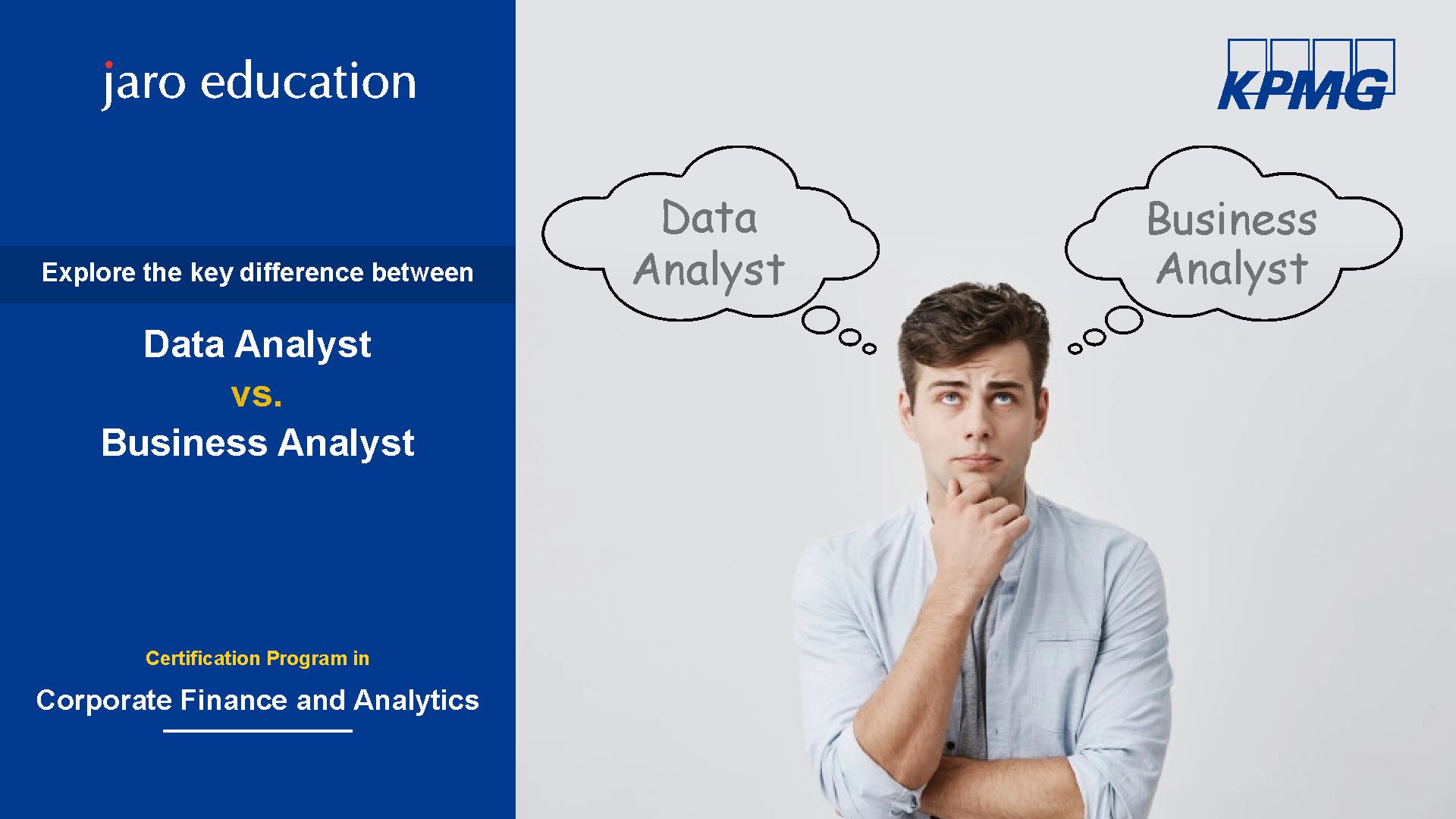 Data Analyst Vs. Business Analyst: What Is The Difference?
Introduction
Do you know data analyst and business analyst are different job titles?
Yes, these terms are often used interchangeably in many smaller organizations, but it does not mean that these job titles are the same. In large organizations, both business analysts and data analysts perform unique tasks. Therefore, it is crucial to understand the difference between them. 
How are Data Analysts and Business Analysts Different?
A business analyst uses business data to help organizations make strategic business decisions, while the primary job of a data analyst is to analyze data to allow organization leaders to make more informed decisions. Data analytics concerns analyzing diverse data to identify insights and trends subsequently used to make informed business decisions. The role of a data analyst in the organization is as follows.
Designing and maintaining databases 

Addressing potential problems in databases 

Preparing result reports for better understanding of data by various stakeholders 

Cleaning unnecessary data from the organization's database 
Business analysts focus on analyzing many types of information and data to make data-driven strategic business decisions. They typically use the information gathered from the analysis of data to identify organizational problems and necessary solutions. The role of a business analyst in the organization is as follows.
Evaluating the effectiveness, costs, and other valuable metrics of business processes

Communication with various stakeholders, including shareholders and management 

Preparing strategic proposals to improve business processes, procedures, and performance
These two job titles are significantly different. However, what they have in common is, they are among the most in-demand jobs in India currently. You must possess corporate finance analytics skills to start a career as an analyst. 
Corporate finance institute courses help you learn critical analytics skills to land a job as a data analyst or business analyst. One of the most trusted online courses for corporate finance is by KPMG Corporate Finance India. 
Certification Program in Corporate Finance & Analytics – KPMG in India 
KPMG in India is a professional service provider company affiliated with KPMG International Limited. Founded in India in August 1993, it serves domestic and international clients in all sectors. The organization believes in providing fast, performance-oriented industry and technology services that reflect the knowledge and expertise of local and global industries. 
KPMG in India launched a certificate course in corporate finance in India. Known as the Certification Program in Corporate Finance & Analytics – KPMG in India, the course helps individuals learn essential analytical skills to enter this industry and build a career as a business analyst and data analyst. 
The Corporate Finance & Analytics Program by KPMG Corporate Finance & Analytics Program aims to provide the essential strategic finance and analytical skills that prepare the individual for the next step in their career. The corporate finance course teaches the skills necessary to combine business strategy and finance, take a long-term view of strategy using analysis so that results can be assessed, and make possible future alternatives for better decisions. 
The highlights of the Certification Program in Corporate Finance & Analytics – KPMG in India are as follows.
Upon successful completion of the program requirements, students will receive a KPMG in India certification.

The course uses an instructor-driven virtual classroom mode that simplifies the learning process.

The

corporate finance course

is only for six months and allows students to attend lectures on weekends.

It includes a special doubt-clearing forum to present your queries and get them answered by KPMG in India experts.

The course helps you connect with professionals around the world and from various industries. 
A corporate finance course helps you to interpret financial statements for business planning and decision-making, understand the financial principles to solve complex business problems, link strategic business decision-making with corporate finance and analytics, know the impact of strategic decision-making on the business and stakeholders, and learn the usage of various analytical tools to visualize and analyze data. 
Conclusion
For working professionals who do not have enough time to pursue an offline course, online courses for corporate finance are the best way to grasp the essential analytical and decision-making skills to start a career as an analyst. Professionals can learn these skills without disturbing their job schedule if they fulfill the eligibility criteria. They must have at least three years of work experience in finance to apply. Furthermore, individuals who are self-employed finance professionals can also apply for the course. 
What are you waiting for? Enroll in the Certification Program in Corporate Finance & Analytics – KPMG in India to expedite your career as a business analyst or data analyst!