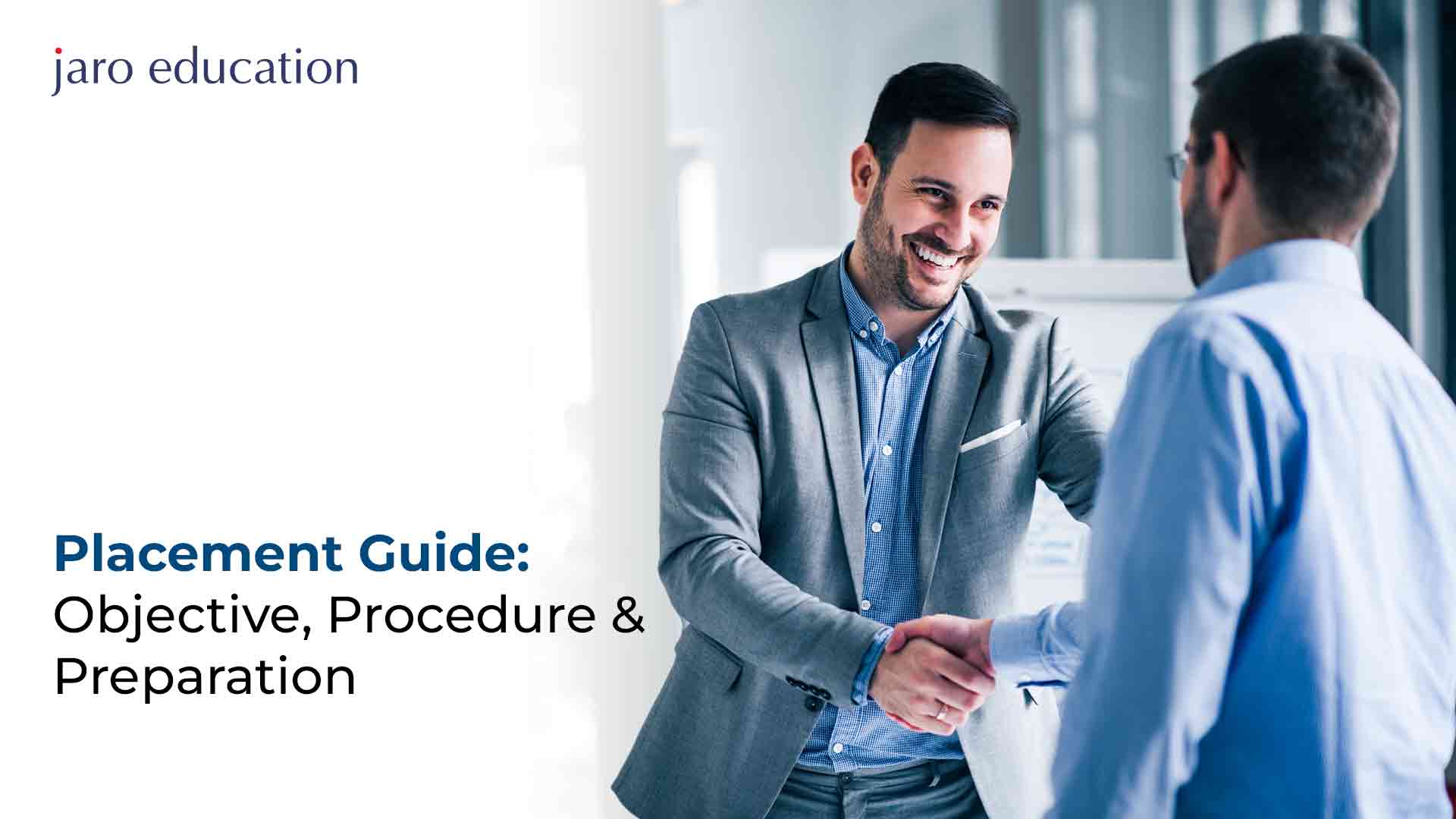 Placement is an important step in any job search. It's the time when you have to showcase your skills and prove your worth to potential employers. In this blog post, Jaro Education will provide you with a comprehensive guide on placements, from understanding the objective of placement tests and knowing the procedure to prepare correctly for them.
Objective Of Campus Placement
The main objective of campus placement is to help students secure employment before they complete their education. This not only allows them to start their careers early but also provides them with an opportunity to gain work experience and earn an income while studying. The placement process also benefits companies by providing them with a pool of young, talented and fresh graduates who can be groomed into future leaders and managers.
Procedure Of Campus Placement
Introduction To The Company
In the first step, the students are introduced to the company, its working model, its core objectives and principles and so on. The recruiters will also answer questions that students may have about the company or their selection process.
Written/Aptitude Test
The written test is the next stage of any placement process. It is a test of your basic communication and mathematical skills. It is a test of your logical and analytical skills. The questions asked in the aptitude test are designed to assess your ability to think clearly and critically.
Group Discussion
Group discussion is one of the most popular methods of selection used by organisations today. It is a very useful tool to assess a candidate's ability to think on their feet, work in a team environment and communicate effectively.
Technical Interview
The technical interview tests a candidate's subject knowledge and domain expertise. Here, the interviewer may ask questions about your area of interest or give you a problem to solve on the spot. The interview may be conducted by a panel of experts or just one interviewer.
HR Interview
After clearing the technical round, the candidate finally meets the HR recruiter. While the former is a test of knowledge in the field, this round is all about personality, confidence and attitude towards work. In this round, the candidate might also receive a tentative offer from the interviewer.
Preparation Tips
Here are some key tips offered by the Jaro Education recruitment team that you can start implementing today.
Read Up On The Company
If you're applying for a position at a company, it's important that you research the organisation beforehand. Reading up on the company will help you to understand its values and culture and give you a better sense of whether or not you would be a good fit for the organisation.
One way is to look up information about the company online. The company's website is a great place to start, but you can also check out business news articles and reviews to get a sense. The university's placement assistance team can also help you with this.
Actively Prepare For The Aptitude Test
Here are a few tips from the Jaro Education recruitment team to help you prepare for the test:
– Familiarise yourself with the format and content of the test. Many resources available online can give you an idea of what to expect. Make sure to go through as many as possible to be well-prepared on test day.
– On the day of the test, relax and take your time. Don't try to rush through the questions. Focus on each question one at a time. If you're well-prepared, you'll be able to answer them all correctly.
Conduct Mock Group Discussions If Possible
This is a great way to get a feel for the format and to practise your communication and collaboration skills. 
Here are some tips from Jaro Education:
-Be an active listener. Really pay attention to what others are saying and try to understand their point of view.
-Practise your critical thinking skills. When someone presents an idea, think critically and offer thoughtful feedback.
-Stay on topic. It can be easy to get off track in a discussion, but try your best to stay focused on the task at hand.
Brush Up On Your Soft Skills
Another important placement assistance tip is to brush up on your soft skills. 
Some examples of soft skills include communication, flexibility, problem-solving, body language, tone of voice and a lot more. To make a favourable impression, maintain a straight posture, use a firm handshake and make eye contact while talking. These small changes can significantly impact how the interviewer sees you.
Stay Updated On Current Events
To stay updated on current events, it is important to read the news daily. There are many ways to do this, such as reading the newspaper, watching the news on television, or listening to the radio. Additionally, there are many online news sources that can be accessed at any time. By staying up-to-date on current events, you will be better informed about what is happening in the world around you. This will be particularly useful during group discussions.
How Jaro Connect Can Help You In Your Placement Aspirations?
Jaro Connect, an offshoot of Jaro Education, is an up-to-date student portal that offers invaluable networking and insights about the marketplace. By connecting with current students and alumni already in their dream job, you can learn about what it takes to get selected during campus placements. There are plenty of additional perks to Jaro Connect, such as exposure to off-campus job opportunities, webinars and events hosted by industry experts and leaders and more. So join the platform today to kickstart your corporate career.
Conclusion
Placement testing is an important part of college admissions, and understanding what it entails can help you prepare for the test. By following Jaro Education's recruitment guide on objectives, procedures, and preparation steps, you'll be equipped with all the information necessary to land your dream job.