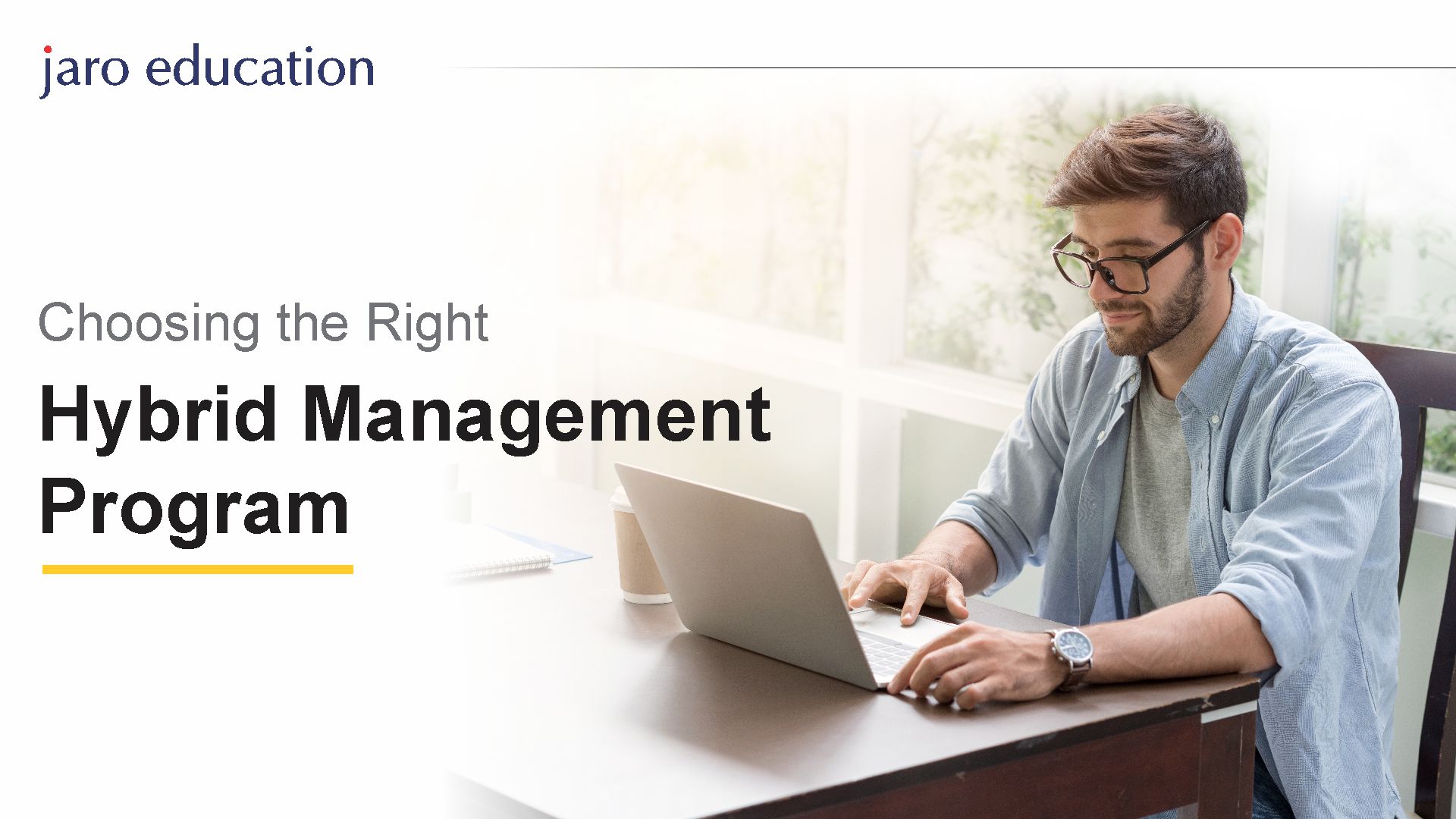 Introduction
According to the reports of State of IT Infrastructure Management, around 70 percent of IT professionals admit that their company uses the hybrid IT strategy. This hybrid strategy is used to deploy, maintain, and work on the projects of their companies. Do you wonder why there is a sudden rise in the popularity of hybrid management programs? A Hybrid management program will help you to understand its flexibility and the reason why it is best suited for the infrastructure process in the industry. The reports of "Evaluation of Evidence-Based Practices in Online Learning," compiled detailed research from thousands of studies that measured the effectiveness of online, hybrid, and in-person learning. The major conclusion drawn from this study was that hybrid learning is the most effective form of learning.
 In today's era, learning methods have been changed to a blended form of learning. Many aspirants often get confused while choosing the right Hybrid Management program. Choosing the Welingkar Institute of Management – Hybrid PGDM can help you in becoming a world-class manager. It helps instill the qualities and knowledge necessary to become a committed leader among graduates or young professionals to construct sound business philosophies and expound valuable ideas. 
Keep reading to find out why the Hybrid PGDM from the Welingkar Institute of Management is a valuable stepping stone in the path of your newfound career.
What is a Hybrid PGDM Program?
The hybrid-post graduate diploma in Management by WeSchool aims to give rise to effective managers who know the details and concepts of solving various business issues. WeSchool is one of the best programs for a part-time MBA. You will get access to special weekend events, courses, and workshops. The hybrid-post graduate diploma will give professionals a detailed understanding of work culture and business goals.
Who is this program for? 
WeSchool- Hybrid Program is made especially for working professionals who want to pursue an MBA part-time. This program enables aspirants to have the benefits of learning in a blended model. It offers e-learning tools, workshops, and many more. Aspirants can learn anywhere, anytime!  
The Welingkar Hybrid PGDM Program will help you in a lot of ways to become the best managers who know how to solve problems and make them a future innovation. 
WeSchool Hybrid e PGDM Highlights:
 

Virtual classrooms:

Learn and contact your professors virtually at your convenience.

 

E-learning kit:

Study materials are available online and can be studied from anywhere you want and are comfortable with.

 

Personal contact programs:

Interact with professors and get your doubts cleared personally and immediately.

 

We Tube:

Introduces you to the latest and updated topics across management areas to improve your soft and technical skills.

 

Experiential learning:

Facilitates personal development through organizing weekend workshops and games.

 

Industrial visits:

Students are taken to industrial visits that facilitate a hands-on experience.
Why Welingkar Institute of Management?
The Welingkar Institute of Management works under the SP Mandali trust. They have two campuses- one in Bengaluru and one in Mumbai. WeSchool aims to build a place where everyone can feel comfortable studying. A place where the gap between industry requirements and education is filled.  It offers contemporary programs that transmit futuristic training. WeSchool believes in providing thorough knowledge of management programs and training individuals to become better managers in industries and at work. 
WeSchool Hybrid PGDM program is designed to help working professionals pursue MBA without having to leave their jobs. This program is proven beneficial and will help you in gaining ample career opportunities. In addition, WeSchool collaborates with institutions across the world. It also offers specializations in every field, including Media, Retail, Analytics, Healthcare, and many more. The Hybrid PGDM program drives growth opportunities for learners. It also creates conveniences in distance education with the benefits of online learning models.
Conclusion
To recapitulate, the Hybrid PGDM program offered at the Welingkar Institute of Management shapes you with better industrial skills and the convenience of learning both online and offline. The value of this program is impeccable and adds a generous amount of weight to professional growth. Graduates from any national and international university can enroll themselves in the Hybrid PGDM Program.
Enrolling in Hybrid-Postgraduate Diploma in Management by WeSchool will help you become a world-class manager in any field and specializations you want to. Choose from the 18 specialized options of hybrid management programs only at WeSchool.
Grab your slots for the Hybrid PGDM program from the Welingkar Institute of Management today, and become a part of the future of learning!