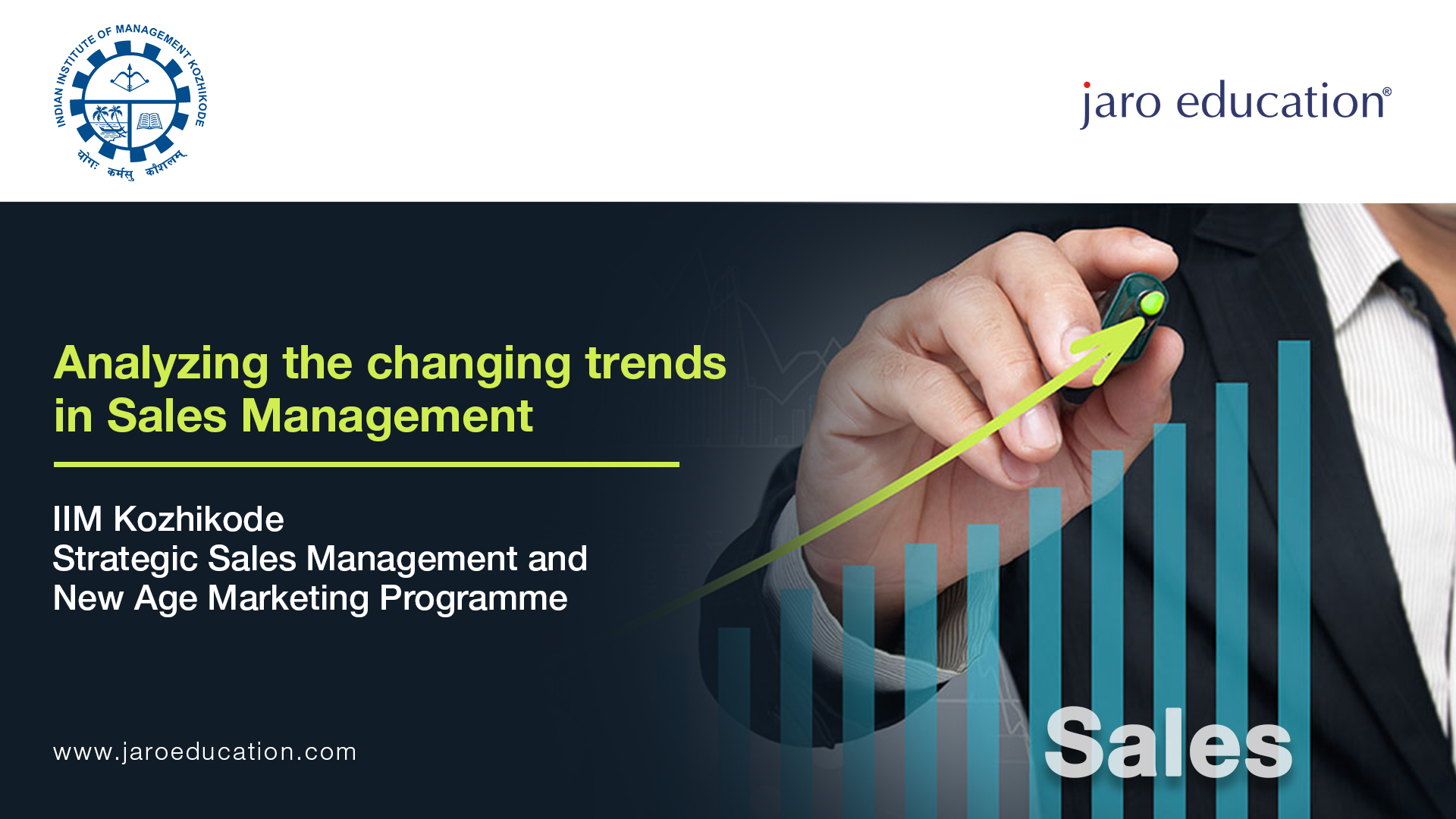 Changing Trends in Sales Management
Introduction
After the pandemic took over, every business has faced a tough time in adjusting to the change in consumer behavior and demands. Confined to the corners of our home the needs of consumers have been changing based on what they see online rather than what their friends or close ones suggest. Due to these constant shifts, the sales and marketing management teams of various firms had to put an end to their traditional business strategies and look at new ways to sell. While some struggled in finding the right marketing and sales plan for their brands, some companies mastered the art of innovation and stood out with their super creative marketing strategies to drive sales.
As most people stepped into the digital world for connection and entertainment, various brands used it to their advantage in order to reach out to their target audience. Several sales management trends were created and followed by other businesses to promote their products. Here's a look into some of the most popular sales trends that took over the sales and marketing industry.
Creativity counts
Competition drives innovation. In today's time where there's a cut throat competition in every industry, it has become extremely essential to keep a track of your competitor's sales strategy in order to stay a step ahead. However, if you are not quick with your innovative marketing plans and ideas and somehow end up tailing behind your competitor, you'll not only hamper brand's image but also lose out on business. Conduct a thorough market research and understand your audience, then create smart communication ideas to connect with your audience in unique ways. This way you'll also be able to reinforce brand recognition.
Digitize your business
Post Covid, if there's one marketing and sales trend that's become stronger than ever it's digitization. Gone are the days when customers would visit multiple stores to buy their essentials, now is the era of online shopping. It not only saves time but is also convenient in terms of selection. That's why a strong social media base with user friendly communication is what you need to drive sales for your company. These days companies are not only investing their time, money and efforts in building good brand websites and social media bases, but also keeping up with the latest digital marketing trends to enhance brand personality and recognition. It is imperative for marketing management teams of a company to focus heavily on the digital platform, redefining their product marketing management to boost their outreach. 
Build a strong CRM
To promote brand loyalty it is absolutely important to have a customer relationship management strategy in place. This will not only help you understand the mindset of your consumers but also help you know where your product or service is lacking and fix the issue at the earliest. Building a strong CRM is not essential to ensure smooth sales but also keep up with the ever increasing competition. Try setting up a CRM team and be in constant touch with them to know how your customers think and what they are expecting from you. Learn more about CRM, Key Account Management, etc. through the Strategic Sales Management and New Age Marketing Programme offered by IIM Kozhikode.
Value-based selling
Customers nowadays aren't just tempted by the word 'sale' or 'discount'. These terms have  become extremely common and are offered by almost every other brand. They no longer want to be treated as cash cows and are willing to spend more on a better deal. To grab your customer's attention, choose value based selling. Show your customers what's in it for them and the deal that you're offering is the best deal.
Focus on consumer experience
Most brands are so focused on promoting their product that they often tend to neglect consumer experience and feedback. While actively selling your products online, make sure to go through your comments section or query emails in order to guide your customer or compensate for any disappointing shopping experience they might have had.
Create viral content
The key to successful marketing management lies in creating innovative content and communication that's relevant to your audience. Many brands have now started investing in influencer marketing, viral videos, and reels to reach maximum users and drive brand awareness.
Conduct webinars for lead generation
Webinars have become quite popular amongst various brands. They not only help educate your target audience but also give people a chance to know what your brand is all about and how many people trust it for their daily use. This helps you gain valuable customers with ease.
Keeping up with trends can be of great value to your company, but if you gain cutting edge skills to create your own? IIM Kozhikode offers a modern and interactive Strategic Sales Management and New Age Marketing Certificate Programme that will not only help you master all the strategic sales management trends but also guide you towards creating your own innovative techniques.To know more about Strategic Sales Management and New Age Marketing Programme, or any other program offered by Jaro Education, subscribe to our blog!