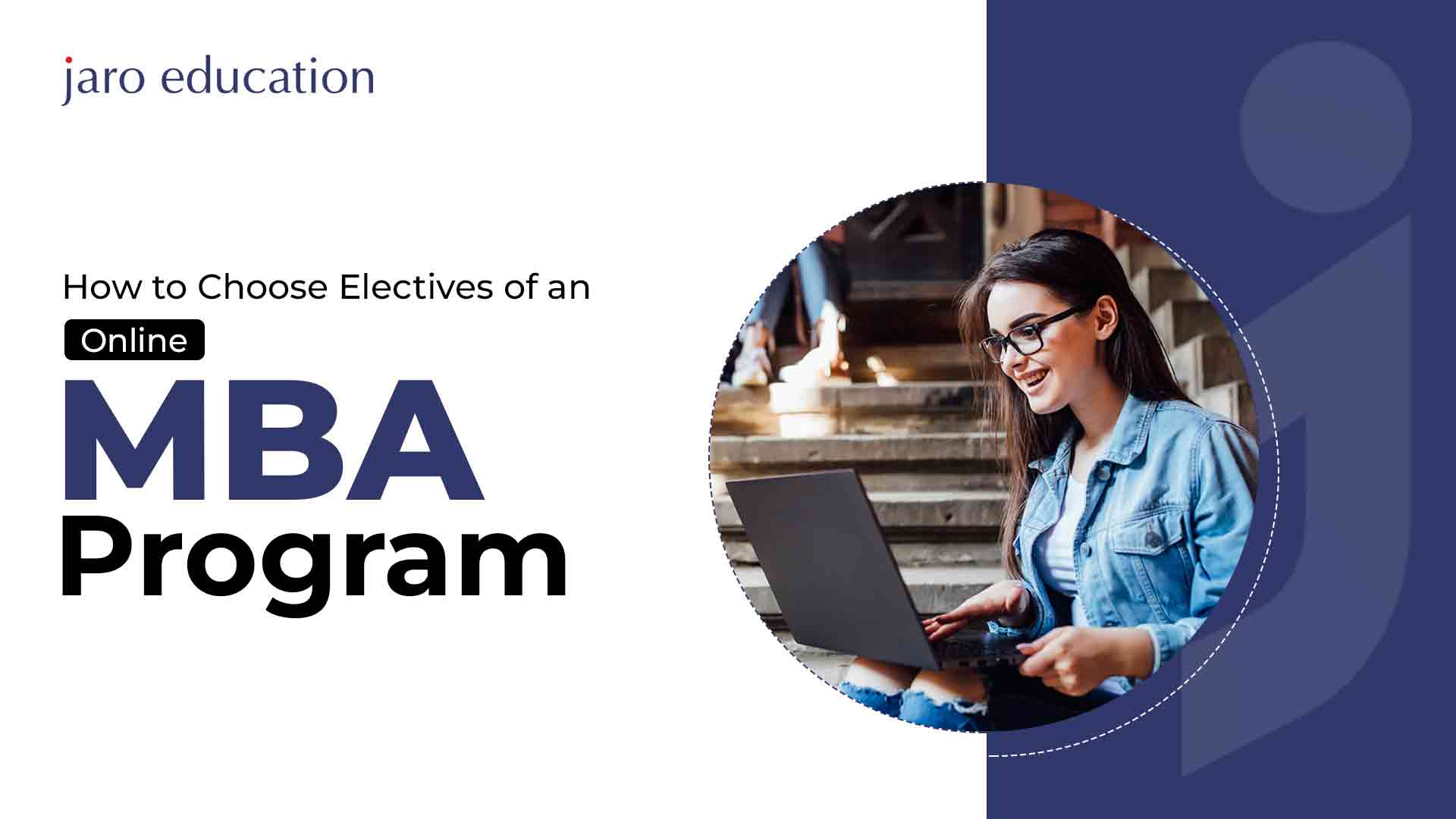 MBA is a leading online course that every management professional should pursue. However, MBA is not just limited to one subject or domain, but covers a wide range of electives, which in turn, makes it difficult for learners to choose one.  
In this blog, we will discuss the crucial points to consider before choosing an elective of an online MBA programme you are thinking to opt for, that aligns with your career goal and interests. 
How to Choose Elective for Online MBA Programme
Consider your career goals

When choosing electives, it's important to consider your long-term career goals. Think about the skills and knowledge you will need to achieve those goals and choose electives that fits well with them. For example, if you want to become a marketing manager, you might choose electives in digital marketing, branding, or consumer behavior.

Evaluate your strengths and weaknesses

Knowing your strengths and weaknesses can help you choose electives that build on your existing skills or address areas where you need improvement. For instance, if you are excellent in finance but not so interested in marketing, you might choose electives in marketing to improve your skills in that area.

Look for courses that complement your core curriculum

Your core MBA curriculum will cover foundational topics in business such as accounting, finance, and management. Choose electives that complement your core curriculum and allow you to explore related topics in more depth. For example, if you take a core course in finance, you might choose an elective in financial analysis or investments.

Consider emerging trends and industries

The business world is constantly evolving, and new industries and trends are emerging at a constant pace. So, it is better to choose electives that cover emerging topics such as digital marketing, entrepreneurship, or data analytics. These courses can give you a competitive edge in the job market and prepare you for the future of business.

Seek advice from your academic advisor

Your academic advisor can provide valuable guidance on which electives to choose based on your interests, career goals, and academic background. They can also help you navigate the course selection process and ensure you meet all the degree requirements. Be sure to schedule regular meetings with your advisor to get the most out of your MBA programme.

Explore online resources

Many online MBA programmes offer resources such as course catalogs, online forums, and peer reviews to help you choose electives. Take advantage of these resources to learn more about the courses offered and get feedback from current or former students. You can also research about the professors who teach the electives you're interested in, to ensure quality education.
Reasons to Choose an MBA Specialization
Depth of knowledge

It is essential to focus on particular areas of business, such as finance, marketing, or entrepreneurship. Thus, to acquire in-depth knowledge of theories and practices, an MBA specialization is important.

Career goals

Each MBA specialization provides specific knowledge related to a specific domain. So, you have to be careful and consider your career ambitions and long-term plan before choosing one, as it will highly impact your career in the long run.

Expertise in one domain

Specializing in a specific area can help an MBA student to stand out from other candidates in the job market. Employers are more likely to hire someone with a particular expertise or skill set, rather than a generalist.

Networking opportunities

MBA specializations often come with their own networking opportunities, such as conferences, alumni groups, and industry events. By connecting with other professionals in their field, MBA students can build relationships and learn about job openings, trends, and best practices pertaining to one specific industry.

Personal interests

Some MBA students may choose a specialization simply because they are passionate about the subject matter. For example, someone who is interested in environmental sustainability might pursue an MBA in sustainable business practices.

Improved earning potential

In some cases, having a specialized MBA degree can lead to high income or more lucrative job offers, especially in fields that require specific technical or managerial skills.
For instance, the Online MBA Programme of Manipal University Jaipur, offers 13 elective courses ranging from Marketing to Analytics and Data Science. Participants can choose any elective, considering their career goals and ambitions. With that, they will also get career counseling as well as placement assistance. To know more, consult our experts at Jaro Education.