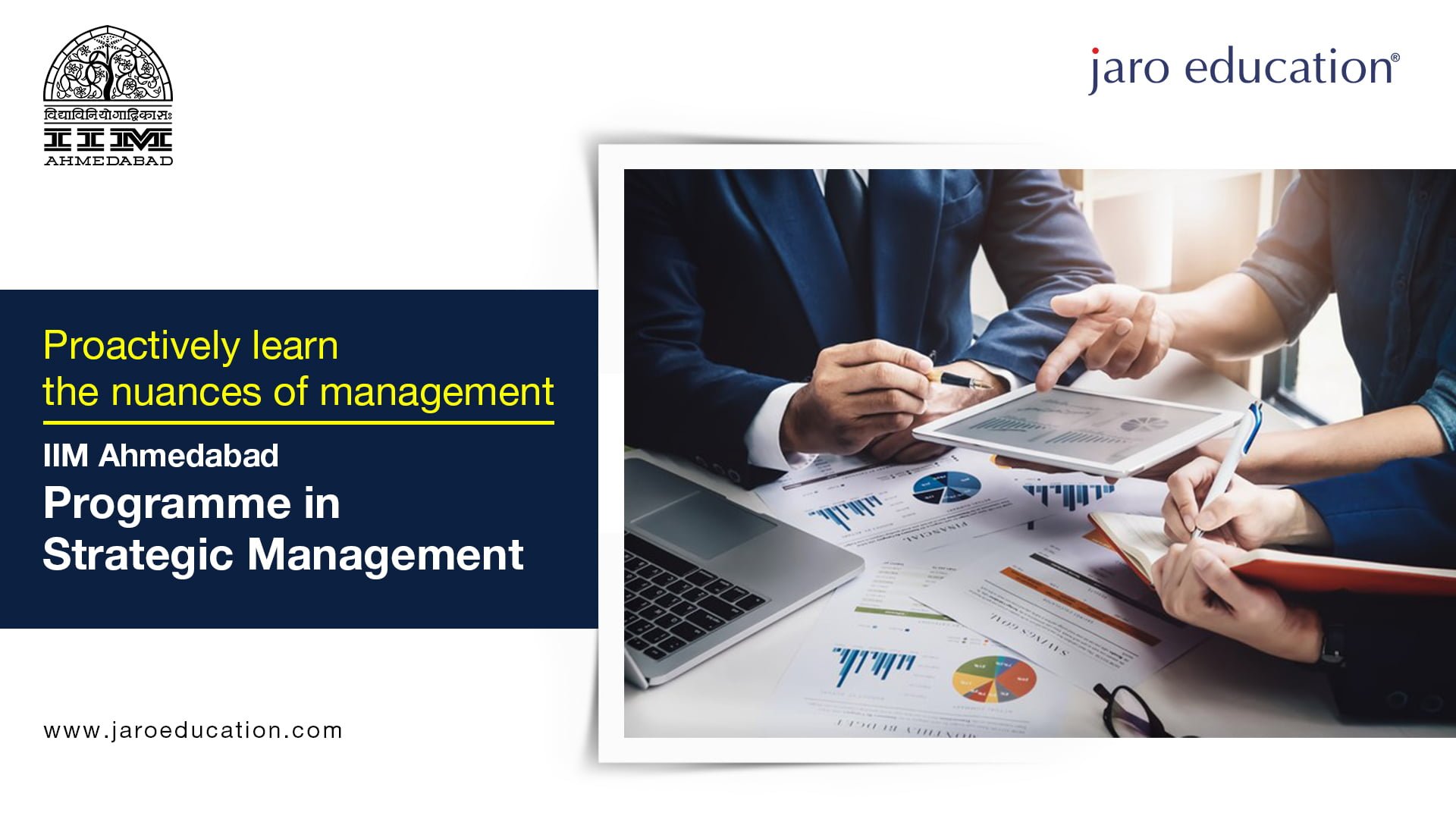 Benefits of Strategic Management and Leadership Course
Statistics suggest that strategic management courses outperform even the most sought-after subjects in the management field when it comes to career prospects. Hence, pursuing leadership and strategic management courses has several advantages.
However, before delving into them, you must first understand what strategic management and leadership courses entail.
Strategic Management and Leadership Course
Leadership and Strategic Management is a specialization field that allows you to develop leadership skills, helps you manage people, teams, and organizations effectively, study the different business scenarios, and formulate strategies accordingly.
Courses in this field cover critical areas of strategic management, such as human resources and organizational foundations. The knowledge is required for businesses to attain a sustainable competitive edge.
The course lets students acquire sound leadership and management skills and develop management strategies by applying various principles in any business situation. 
Benefits of Different Strategic Management Courses
All strategic management and leadership courses come with a set of advantages, but most courses should enable you to do the following.
1.Become more effective in working as a team
Whether it is a Strategic Marketing Management course, a Strategic Brand Management course, or even Strategic Design Management courses, you will learn to work together as a team or across groups. In essence, you will also learn the value of teamwork along with leadership skills.
There's no doubt strategic management courses by IIM-A help you acquire leadership skills and apply them to supervise and direct a team or a set of people toward the organization's success. These are not skills but rather duties or responsibilities that you will take up as a part of the business or organization.
Not everyone can manage people. The specific skills and knowledge that you will gain by taking strategic management online courses, strategic management short courses, IIM strategic management courses, or strategic management certificate courses are highly valuable for managing your peers.
Moreover, by pursuing a strategic management training course, you can procure leadership skills and instill them in your peers.
Stand a chance to pursue a wide range of career opportunities
Another essential aspect of pursuing a strategic management course at IIM is access to a range of career opportunities. Moreover, by pursuing an online course on strategic management or strategic management training course, experienced professionals can instantly upskill, expand their career options regardless of the current occupation or position.
So, pursuing strategic management courses boosts your profile the way no other program or specialization does.
By pursuing a strategic management and leadership course from a reputed university, you will stand a chance to gain executive alumni status and access to various advanced programs that will help you upgrade your skills.
Engagement and Hands-on Experience with Experienced Faculty
Most reputed universities, including IIM, employ experienced faculty with extensive subject knowledge. Therefore, by pursuing a strategic management course, you can learn from the best.
Career Scope and Prospects
As suggested earlier, you have a wide range of career prospects by undertaking a distance learning strategic management course. For instance, you can work as a strategic planner in a reputed organization where you can assist with temporary projects or in the long term.
A strategic planner gathers information, analyzes data, and prepares reports based on observations and inferences. Therefore, as a strategic planner, you will be working alongside the CEO, CFO, and COO to achieve the company's long-term goals.
Final Thoughts
IIM-A's strategic management courses address diverse pain points of the organization or business.
Further, 61% of senior executives say they can't bridge the gap between strategic planning and its implementation. Similarly, only 40% of employees feel that their managers understand their companies' goals, and 41% believe that they are competent enough to execute strategic initiatives on this front.
So, as you can see, pursuing a strategic management course increases your credibility drastically not only as a leader but also as a professional. If you are not comfortable pursuing a full-time or regular course, you can sign up for a distance learning strategic management or IIM-A's strategic management course.