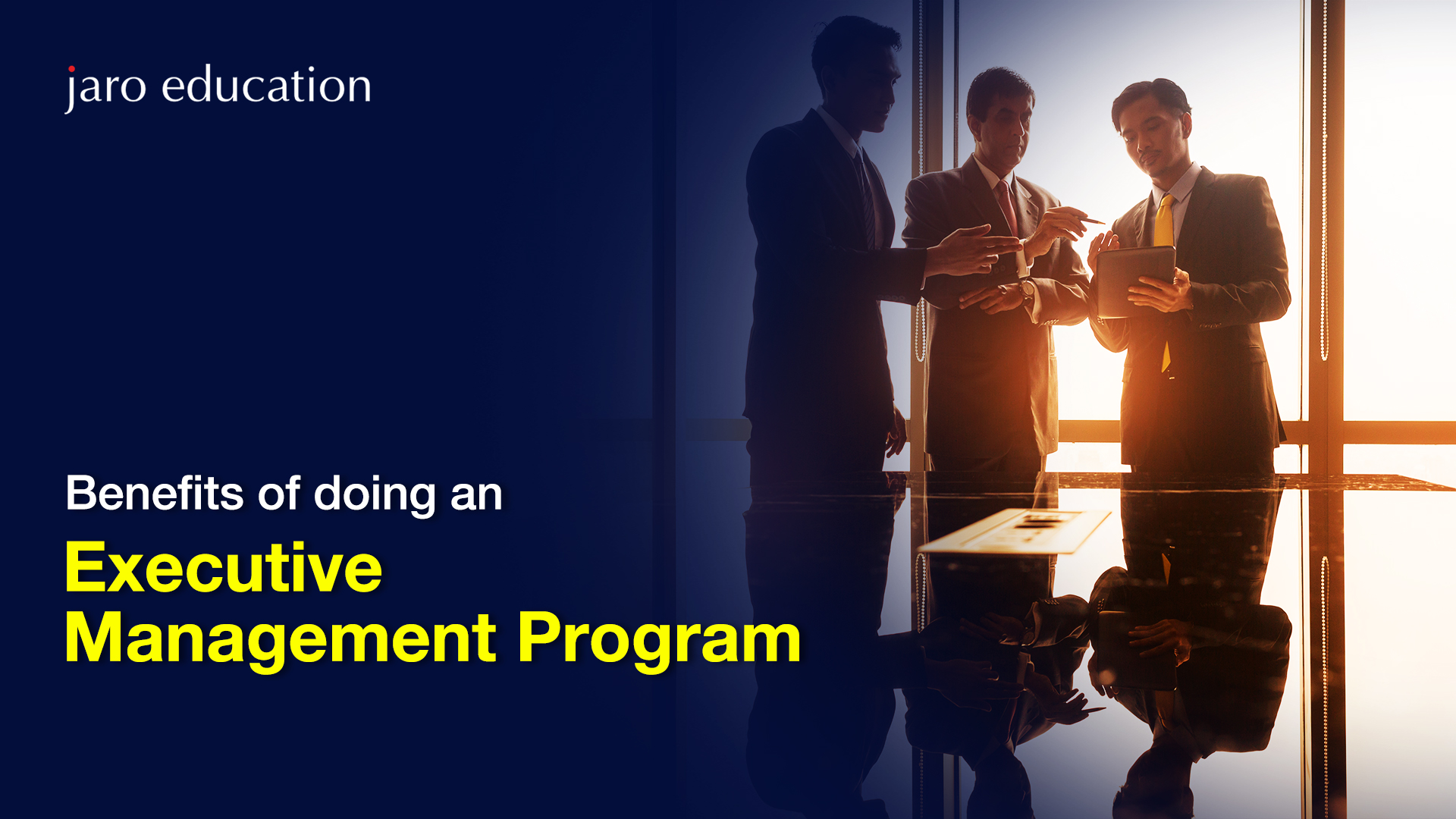 83% of employers feel that it is crucial to create leaders at all levels. And the professionals who want to shine out in the competition should not leave any stone unturned to showcase their management skills. A General Management Course can help them receive the right kind of growth they have envisioned for their careers.
Online general management courses will help professionals:
Make strategic decisions

Create a robust network of professionals and industry experts

Equip them with new-age concepts and tools that will boost their productivity, enhance innovation, and streamline business operations

These programs also offer an immersive learning environment to professionals

Potentially emerge as better leaders and excellent critical thinkers 
Think nothing beyond IIMs and IMT when it comes to scaling up your career options. Here are the top 4 Advanced Management courses that can significantly change your career trajectory in no time:
Top Management Programs in India
IIM Ahmedabad: Accelerated General Management Programme
This program is an excellent choice for professionals who seek expertise in aspects of general management. This one-year General Management Certification Accelerated programme aims to equip middle-level managers with crucial management theories, concepts, and paradigms. 
The curriculum is designed to develop both managerial and perspective managerial skills in the candidates. The crux is, this Accelerated General Management programme intends to create future strategic leaders who are adept at handling complex managerial issues. 
Highlights
Alumni status from IIM Ahmedabad along with Certification

Immersive and intensive campus learning experience through Interactive HD Virtual Classrooms

Get acquainted with 21st-century management skills to compete in the global business world.
Eligibility
A minimum of 10 to 15 years of relevant work experience

At least 50% score in the last UG or PG course
IIM Trichy: Executive General Management Programme
Professionals who aim to take up managerial or leadership roles in the coming times should not miss a chance to enrol in this program. It is a one-year, blended general management programme that focuses on explaining the key functionalities and purposes of the organisation. It equips professionals with advanced analytical tools, frameworks, and techniques that will facilitate them in making integrated management decisions. 
Highlights
IIM Trichy alumni status and certificate

Cross-industry peer networking

13 interactive modules

Case-study based learning
Eligibility
A minimum of 1 year of relevant work experience

At least 50% score in the last UG or PG course
IIM Kozhikode: General Management for IT Professionals
IT professionals who want to scale up their potential at the workplace should go for this General Management for IT Professionals program. This multidisciplinary program aims to catalyse learning through discussion, association, and reflection. The interactive sessions will encourage learning through discussions. 
Participants will also gain insight into global business strategies through real-world case studies and articles. Moreover, it also equips professionals with advanced management practices and strategies that will help them survive in the highly competitive digital world. 
Highlights 
IIM Kozhikode alumni status along with the certificate

Convenient D2D (Direct to Device) learning

High-impact online learning sessions

Proven pedagogy
Eligibility
A minimum 1-year work experience in the IT industry

Graduates or Diploma Holders from a recognised university in any discipline
IMT Ghaziabad: Executive Program in Business Management
Embark on a journey to the pinnacle of success and become a thriving leader of tomorrow with this Executive Program in Business Management. The program aims to teach the nuances of Business Statistics, Data Visualisation, Data Analytics, Emerging Technologies, and Contemporary Issues in IS. This 12-months General Management Program is specially designed to help professionals seamlessly navigate through the challenges driven by global volatility. 
Highlights 
Alumni status of IMT Ghaziabad

Real-work case studies based on learning methods

Industry adapted curriculum

Convenient D2D (Direct to Device) learning

Experiential and simulation learning
Eligibility
Graduation from a recognised university plus two years of work experience

Profile-based selection
Bottom Line
Working professionals should trust the best, like Jaro Education, when it comes to improving their career trajectory. It is a pioneer in the Indian ed-tech space that aims to surpass the boundaries of learning by directing working professionals towards a diverse range of executive general management programs, helping them achieve several career milestones. Click here to know more about the courses. 
FAQs 
What is an Executive Management Program?
An Executive Management Program is an online study course designed especially for working professionals. It allows them to update their skills and knowledge while performing their professional responsibilities. 
Is an Executive Management Program worth it?
Yes, every management program is designed to cater to the specific growth needs of the working professionals. Moreover, employers also prefer to hire dynamic professionals who are pursuing or have completed executive management programs. 
What is the purpose of the Executive Management Program?
The Executive Management Program aims to equip working professionals with relevant business knowledge, tools, and analytics. It will help them make better business decisions and attain organisational goals. 
Who is eligible for the Executive Management Program?
Although, every Executive Management Program has its specific eligibility criteria. But the majority of them require a few years of relevant working experience along with a UG or PG degree from a recognised university.