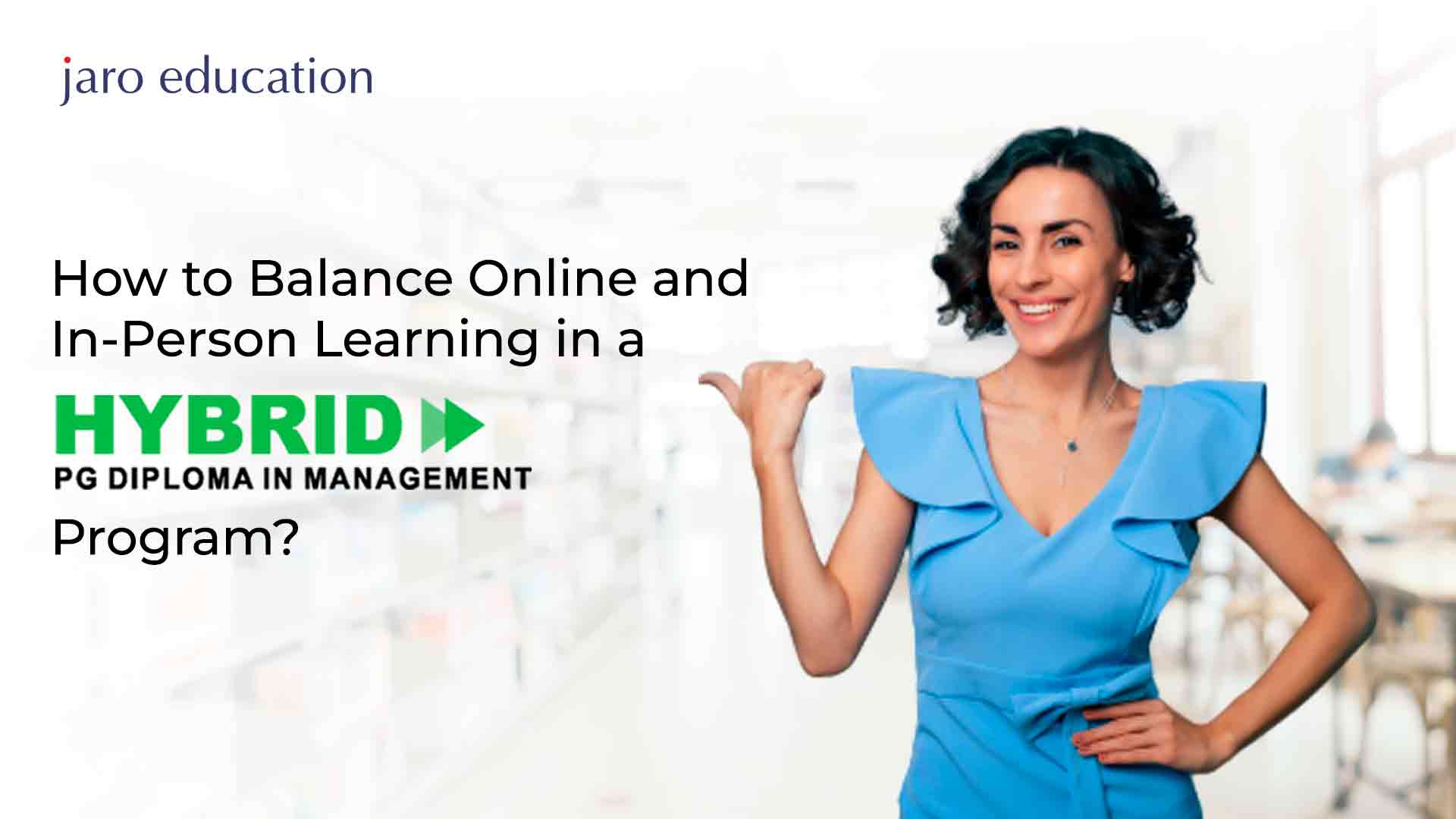 Hybrid PGDM programs have gained immense popularity in recent times as they offer the best of both worlds – online and in-person learning. While this format provides flexibility and convenience to the students, it can also pose challenges in terms of time management, engagement, and motivation. The key to making the most of a hybrid PGDM program is to find the right balance between online and in-person learning. In this blog, we will discuss some effective strategies and tips that can help you balance your online and in-person learning effectively, stay motivated, and engaged, and achieve success in your PGDM program.
Advantages and challenges of a hybrid PGDM program
Investigate the hybrid PGDM program in which you have enrolled. Learn about the program's requirements and expectations.

Determine the different types of courses and how they are delivered (in-person, online, or hybrid)

Examine the program syllabus and schedule to determine when in-person classes will be held.

Determine how much time you need to allocate for online work versus in-person classes by understanding the grading system and course requirements for each component of the program.

Clarify any concerns or questions with program staff or professors.
Strategies for balancing online and in-person learning
Consider your personal learning style and how it can be applied to online and in-person learning.

Determine your learning strengths and weaknesses to determine how you can optimise both modes of learning.

When evaluating your learning preferences, consider your lifestyle and other commitments, as this can help determine how much time you can realistically devote to online vs in-person learning.

Determine what aspects of learning are most important to you (e.g., interaction with peers or instructors, personalised attention, flexibility) and how you can incorporate these into both online and in-person learning.

Be open-minded and willing to try new learning methods, especially if you discover that your preferred method of learning is ineffective in a particular subject.
Create a Personalized Study Plan
Examine the program's workload and requirements.

Consider your schedules and personal obligations, such as work or family responsibilities.

Make a detailed schedule that incorporates both in-person and online components.

Set attainable goals for each week or module, breaking larger tasks into smaller, more manageable steps.

Sort assignments and tasks according to their importance or urgency.

Determine your most productive times of the day and schedule complex tasks around those times.

To stay organised, use time management tools such as calendars and to-do lists.

Regularly review and adjust your study plan to accommodate changes in the programme or your personal life.
Actively Participate in In-Person and Online Components
Making the Most of In-Person Training

Bring questions and ideas to contribute to class discussions.
Attend class and participate in activities and exercises.
Develop relationships with classmates and professors.
Participating in online activities and discussions

Check for new online content and updates regularly.
Participate in online forums and discussions.
Work on group projects and assignments with your peers.
Developing friendships with classmates and professors

Attend social gatherings and networking events.
Take advantage of office hours and other opportunities to meet with professors.
Outside of class, connect with classmates for study groups or social activities.
Stay Motivated and Accountable
Setting a positive learning mindset

Recognise the advantages of a hybrid learning program.
Determine your personal motivators and programme objectives.
Maintain your focus on the big picture and the desired outcomes.
Techniques for Retaining Motivation

Allow for rest and breaks to avoid burnout.
Find ways to make learning more enjoyable.
Celebrate your progress and accomplishments along the way.
Making oneself accountable for one's progress

Set attainable and realistic goals for each module or semester.
Using a planner or a digital tool, keep track of progress and deadlines.
To stay on track, monitor performance and adjust strategies as needed.
If additional assistance is required, use the program's support system or external resources.
Seek Additional Support as Needed
Using the program's resources, such as tutoring, library services, and academic advising.

Attending office hours, requesting additional feedback, or forming study groups to seek assistance from professors or classmates.

Using external resources to supplement learning, such as online learning platforms, industry publications, or professional associations.

Attending program-related workshops, seminars, or networking events to broaden knowledge and skills.

Being proactive in seeking assistance or additional resources when confronted with programme challenges or areas of weakness.

Recognizing the importance of collaboration and support in academic success and developing a network of peers and mentors to help with growth and development.
Now that you know what are the key factors to managing online and in-person hybrid class PGDM programs, let us introduce you to online Welingkar PGDM courses.
Conclusion
The ability to face challenges in an effective and timely manner is a valued skill in today's changing global work environment. This specialised PGDM degree prepares you to become a committed thought leader capable of expounding valuable ideas, developing sound business philosophies, and dealing with difficult situations.
WeSchool's Hybrid-Post Graduate Diploma in Management is designed to develop world-class managers who will not only solve problems but also see opportunities to shape them into future innovations. This PGDM course is designed to accommodate the schedules of working professionals, with flexible examination timings and optional weekend workshops and events. It is one of the best substitutes for a part-time MBA in Mumbai. Connect with our admission advisors to learn more!