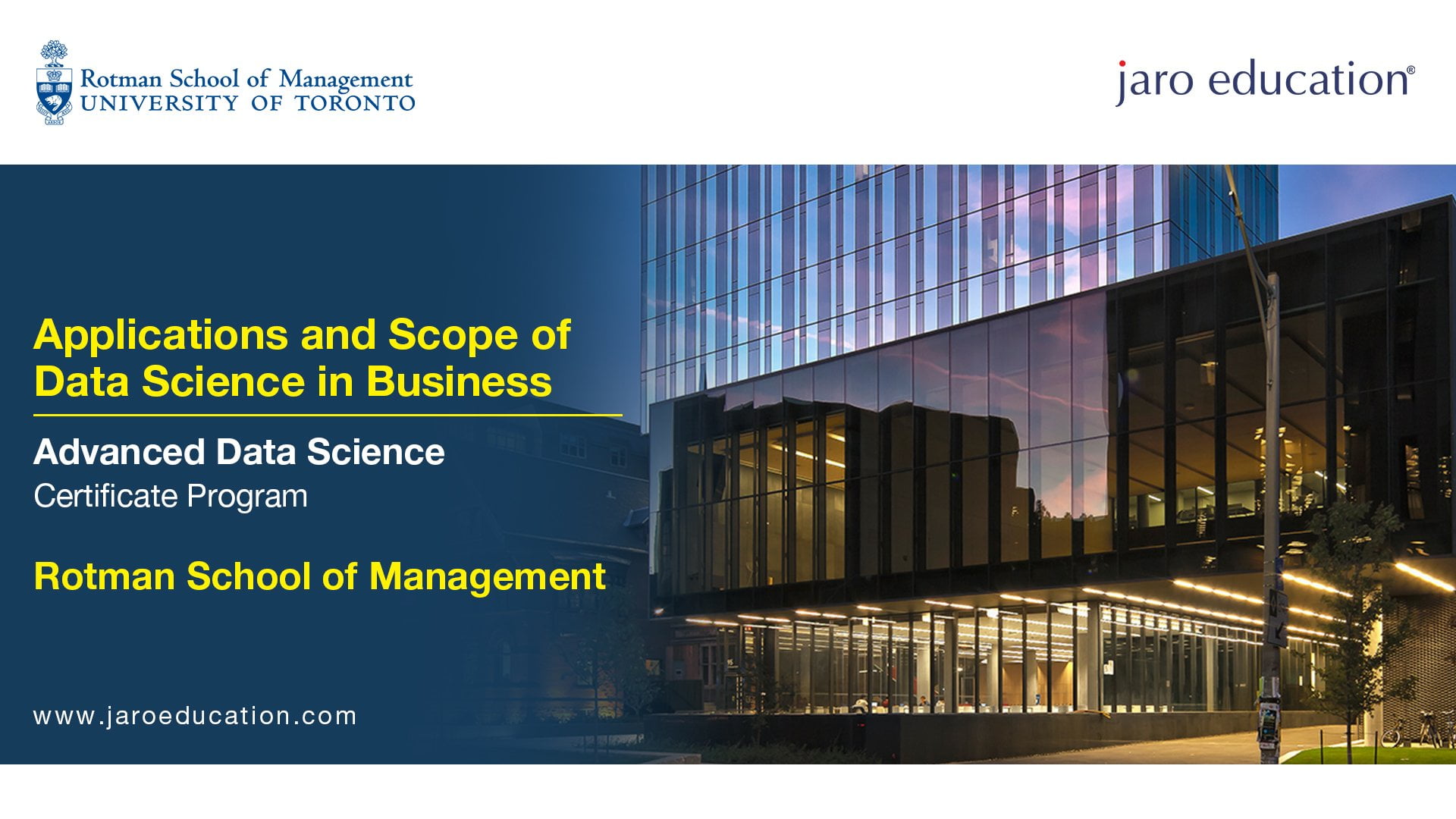 Applications and Scope of Data Science in Businesses
Introduction 
Technology has always inspired us in a myriad of ways. Today, we are going to talk about one of the most popular fields, data science. Data science has become necessary in most industries due to the various applications involved. The field of Data Science has become a prominent career that involves several disciplines. It is the reason people are choosing Rotman School of Management for the best advanced data science courses.
Used strategically, data science can help understand behaviors and processes, create algorithms for processing massive quantities of information fast, maintain privacy for sensitive data, and lead data-driven decision-making.
For making better judgments, the data science field is heavily influenced by statistics and business intelligence. If you want to know more about data sciences prospects, you can enroll in Rotman School of Management Advanced Data Science Certificate Program.
Scope of Data Science in Business
Many financial processes have been automated due to data science. Risk analytics should be automated in the financial industry to make strategic decisions. Financial organizations continuously search for more efficient methods to select loan criteria and handle aggregated debts or other funds.
Risks are identified and monitored using machine learning. Predictive analytics is often utilized by financial companies. Customers' lifetime value and stock market movements can be predicted through data science.
Anomalies are sometimes discovered in the course of normal activities. MRIs and CT scans cannot identify many of these abnormalities since they come in diverse shapes and sizes. IR technologies allow surgeons who specialize in difficult operations to detect anomalies in surgeries. In addition, it also helps them look for signs that categorize the illness with its suitable medical remedies.
Statistics are used for genomic sequences in genomic data science. It is possible to study how genes react to different types of medications using data science techniques. For example, we can build bots that answer patients' queries and give them accurate diagnostic recommendations in the healthcare industry.
A primary goal of manufacturing and its fundamental processes is to find new ways to turn raw materials into a final product. The industry is heavily reliant on data science to optimize production, reduce costs, and increase profits.
With the help of data science, companies can keep track of their energy expenditures and optimize their production schedules, saving money and time. It is the reason there is so much information available on advanced data science certificate programs. Data scientists can help companies make better decisions and enhance the quality of their services by analyzing consumer feedback in depth.
It's no secret that data science has a wide range of applications in banking. Large data sets have allowed banks to stay competitive. A bank's collection of personal information includes a customer's profile, prior applications, expenditures, and a variety of other aspects. The information may be used to decrease fraud and risk assessment for loans and various other objectives.
Using data science, banks may expertly manage their resources, making better choices through fraud detection, customer data management, risk modeling, real-time predictive analytics, and customer segmentation, among other data science applications.
Applications of Data Science in Business
The use of statistical analysis to detect abnormalities in big data sets is a strong application of data science. While anomaly detection has many applications, it is particularly beneficial for activities such as avoiding cyberattacks, monitoring the operation of IT systems, and removing outlier values in data sets to improve analytics accuracy.
Using pattern recognition, merchants and e-commerce businesses may identify trends in client purchase behavior and adjust their marketing strategies accordingly. Besides, data science offers a wide range of applications. For example, it may be used in stock trading, risk management, medical diagnostics, and voice recognition.
Predictive modeling is a vital component of data science. Through it, you can make predictions based on the previous data collected. Financial services, retail, manufacturing, healthcare, travel, and government all employ predictive analytics software.
Conclusion
Data science has created a significant impact on the industries today. Whether it is healthcare or E-Commerce, everyone uses data science to deliver better in the market. Therefore, a data science advanced course is crucial today. Explore Rotman School of Management – Advanced Data Science Certificate Program to learn the nuances of Data Science today!