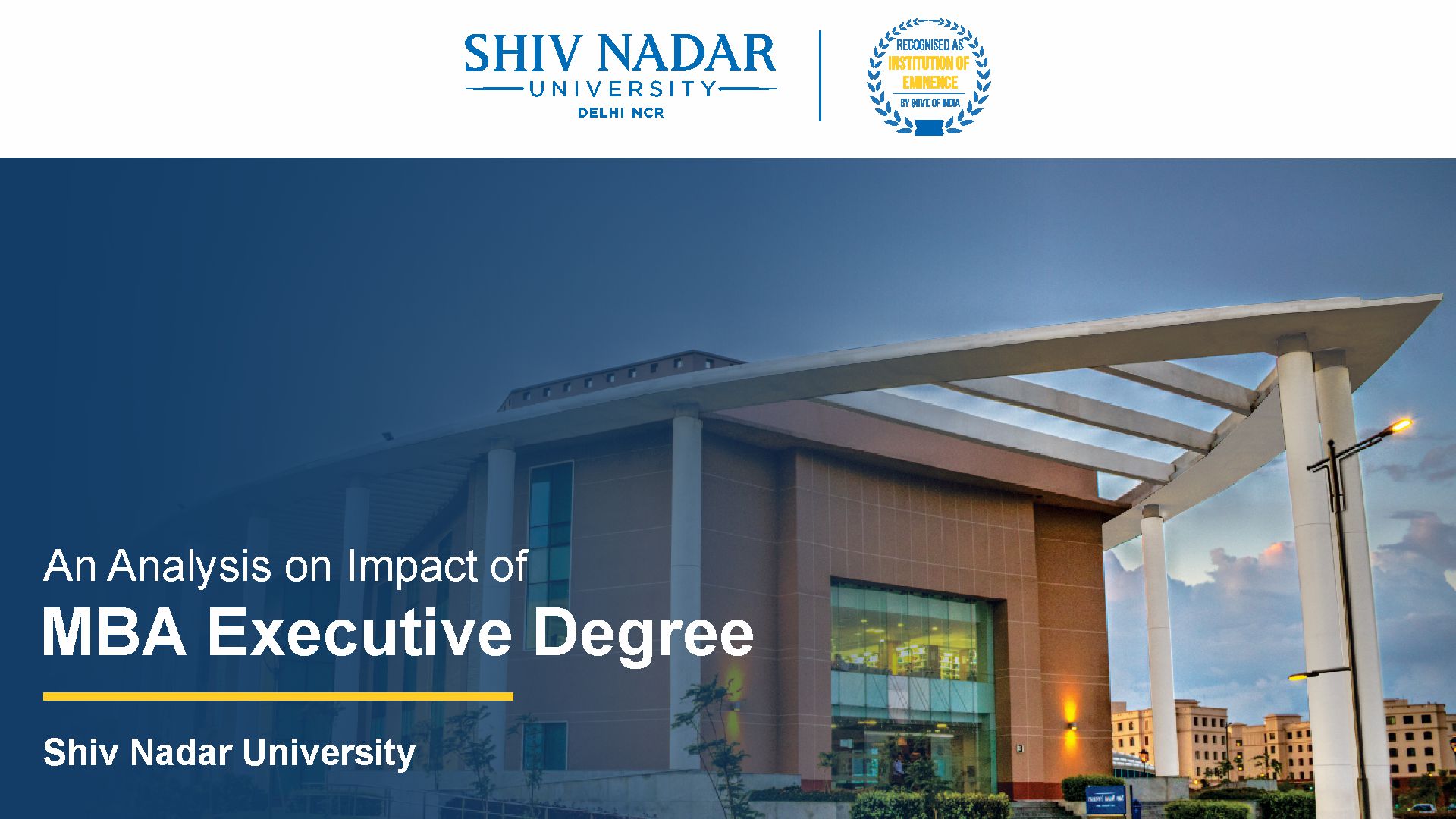 Analyzing the impact of Executive MBA Program
An Executive MBA program is specifically designed keeping in mind the needs of corporate executives. It helps executives to explore learning opportunities that will help them unleash their true potential. Learners pursuing an EMBA program get the best of both worlds- on-the-job training along with on-the-job learning. The EMBA program has become so popular in recent years that some experts go so far as to claim that they have surpassed the traditional MBA course in terms of advanced coursework, top-tier faculty, and inculcating a global mindset. 
Learners pursuing an executive MBA student acquire much-needed applied hard skills, corporate attitude, and confidence. A newly graduated executive MBA candidate will likely bring immense benefits to the organization.
Aspiring managers have benefited greatly from executive MBA courses. The Shiv Nadar University MBA (Executive) Degree program is among the best in the country. It grooms and trains candidates to be future leaders, decision-makers, and outstanding industry experts. Let us analyze the benefits of an executive MBA program. 
Employees with an executive program MBA education will likely display more leadership qualities than their peers because an executive MBA for working professionals builds up key leadership attributes. They include forward-thinking, tenacity, problem-solving capability, and innovation.
Professionals who pursue an executive MBA course are likely to become efficient team leaders and manage teams better because of the good communication and conflict resolution skills that they learn during the course. Executive MBA programs ensure the development of all-around leadership skills.
Advanced and Up-to-date Knowledge
Being up-to-date with industry trends is one of the hallmarks of a successful manager. An Executive MBA course provides students with the most relevant, latest business sector knowledge. The best EMBA Program brings forth the latest or key insights for professionals to reskill.
Even in Executive MBA online courses, you will be taught the latest methodologies and approaches. Newly developed analytical frameworks are properly explained to students in an executive MBA for working professionals, which facilitates the development of better approaches and strategies for dealing with specific problems.
The trends that dominate the current marketing and corporate scenarios are taught in an Executive program MBA. In fact, in the best Executive MBA programs, you will be taught the latest pulses and patterns through real-life examples of top corporations.
All this means that students of MBA Executive programs develop new, distinct impressions and experiences. It provides them a competitive advantage over their peers who lack an Executive MBA course education.
Promotes an Immersive Learning Environment
Executive MBA students find it much easier to immerse themselves in the subject matter and industry trends in management, both in and out of the classroom. These students have the space to develop authentic relationships with their peers. All this is possible because an Executive MBA program inculcates good interpersonal and communication skills. 
Students are taught the value of teamwork in an Executive MBA course. Candidates hone their collaboration skills, which serve them well when they join the corporate workforce upon graduation. 
In the corporate and business world, it is crucial to have a strong network. The students pursuing MBA (Executive) Degree learn how to nurture and establish contacts, widening their network.
Moreover, through networking, students can come into contact with influential people, such as industry experts who possess significant experience and information. They can be a great help to MBA (Executive) Degree students' careers. 
An Executive MBA for working professionals will teach you how to establish and maintain professional-level contacts efficiently. Also, you will be able to utilize them in the best manner possible. Without an Executive MBA course, you may find it challenging to form, use, and leverage your networks effectively. 
Conclusion
MBA (Executive) Degree is in high demand now due to the unique benefits they bring to executives as well as organizations employing them. Many institutes offer Executive MBA programs, and therefore, learners must choose a program that suits their needs and provides quality education. 
It's an advanced level program and one must not compromise on any aspect and should go for the best course from a reputed institute. The Shiv Nadar University MBA (Executive) Degree program is one of the most result-oriented and rigorous management programs in India.. Enroll in the program and you get to learn from top-notch faculty and hands-on knowledge of specialized programs for transformative themes, including Blockchain and financial engineering. 
Grab the opportunity to expedite your career today!