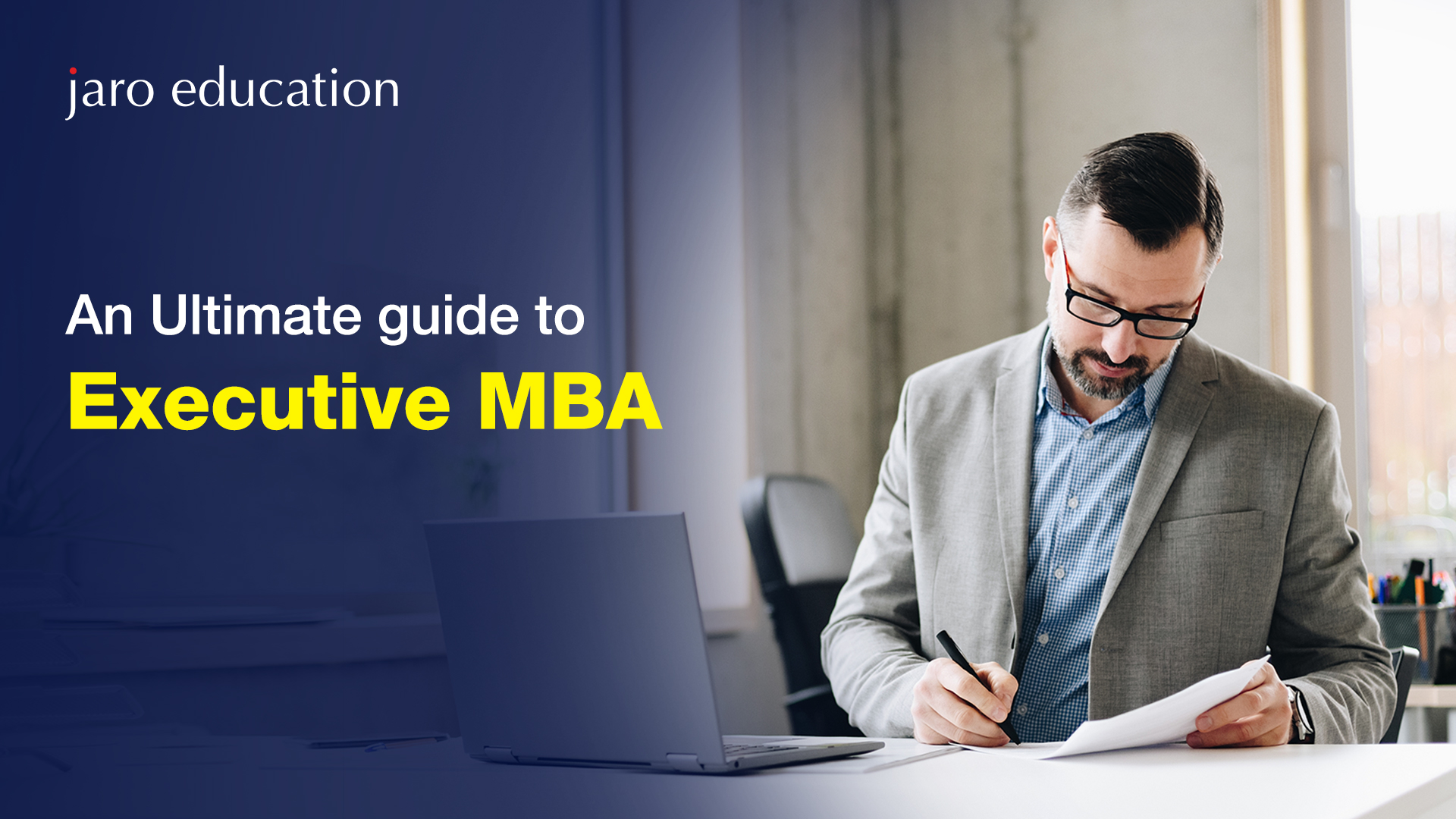 An Ultimate 2021 Guide to Executive MBA Degree Program
Introduction
Do you know that around 85% of the employees today are not happy with their current career trajectory? The reasons are several, but one of the most prominent reasons is the lack of professional skills among these employees. A recent survey by PwC further mentions that 80% of all high-performing projects are handled only by certified project managers. This is a red flag for all managers who wish to gain superior ground in their careers. 
Hence, upgrading your skills is one of the most important virtues in your managerial career. This is where the Executive MBA Online offered by Shiv Nadar University comes into the picture.
What is an Executive MBA Program?
An Executive Program MBA is the most rigorous and comprehensive management program that is strategically planned for leaders and executives. It allows them to enroll in the best Business Schools without trading off their professional and personal commitments.
Why should you go for an Executive MBA Program?
The MBA (Executive) Degree Program can give working professionals an edge in the competition by:
Getting a transversal and global vision of business

Refining your entrepreneurial skills

Opening the gateway for personal development

Helping in building a strong network

Making a C-suite career in the future
An Ultimate Guide to the MBA (Executive) Degree Program
Following are the steps that will guide you through the details of this specially curated program:
Explore the rigorous program structure 
The curriculum and structure of both full-time and executive MBA programs are more or less similar. However, pursuing an MBA (Executive) Degree Program from Shiv Nadar University comes with some added advantages, such as:
1000+ hours of classroom instructions

Relevant and future-proof curriculum that matches the industry standards

Customized programs with focused technology

Weekday evening and weekend classes

24*7 access to research journals and library resources
Check admission requirements

Every executive program has fixed eligibility criteria for admission. The eligibility criteria of the MBA (Executive) Degree Program from Shiv Nadar University is:
Candidates should have a minimum of 50% marks or equal CGPA in graduation.

They should have a minimum of two years of work experience after graduation.

Eligible candidates can only apply through their scores in any one of the tests: NMAT(2019/2020), CAT (2019/2020), XAT(2019/2020), GMAT(2017 onwards), or CMAT(2019/2020).

Candidates who have not attempted any of these exams will have to sit for the Shiv Nadar University Entrance Assessment Test to prove themselves worthy of studying this course.
A program that helps you realize your career goals
Students must take part in an Executive MBA Online program that will propel them towards their career goals. Shiv Nadar University offers a comprehensive MBA (Executive) Degree Program that will make you proficient in:
Business Analytics and Big Data

Business Fundamentals

Customer Insights and Business Acumen

Digital Maturity Assessment

Entrepreneurial Thinking

Financial Orientation

Incisive Communication



Learn from renowned faculty
Shiv Nadar University is known to have some of the most renowned faculty members and subject matter experts in India. They encourage project-based activities and site research along with debriefing sessions on weekdays. They blend face-to-face learning with online classes to offer a seamless learning experience to their students. Finally, case studies, business simulations, and workshops with industry connoisseurs also form a significant part of the learning pedagogy of Shiv Nadar University.
Shiv Nadar University has over 500 industry hiring partners that intend to offer around a 48% average salary hike to deserving candidates. Career mentorship, on-campus facilities including the 120,000 sq. ft. indoor sports complex, Access to Library resources and research journals and other highlights of this program. It is great news for the professionals who aim to join the C-suite in the coming years.
The MBA (Executive) Degree Program offers a holistic approach to career advancement in times of dynamic changes in the business world.
Shiv Nadar University is a research-focused, comprehensive, multidisciplinary, and student-centric university that offers meticulously tailored MBA Executive programs for experienced professionals. Hurry up, and connect with them to paint a glorious career path for yourself!