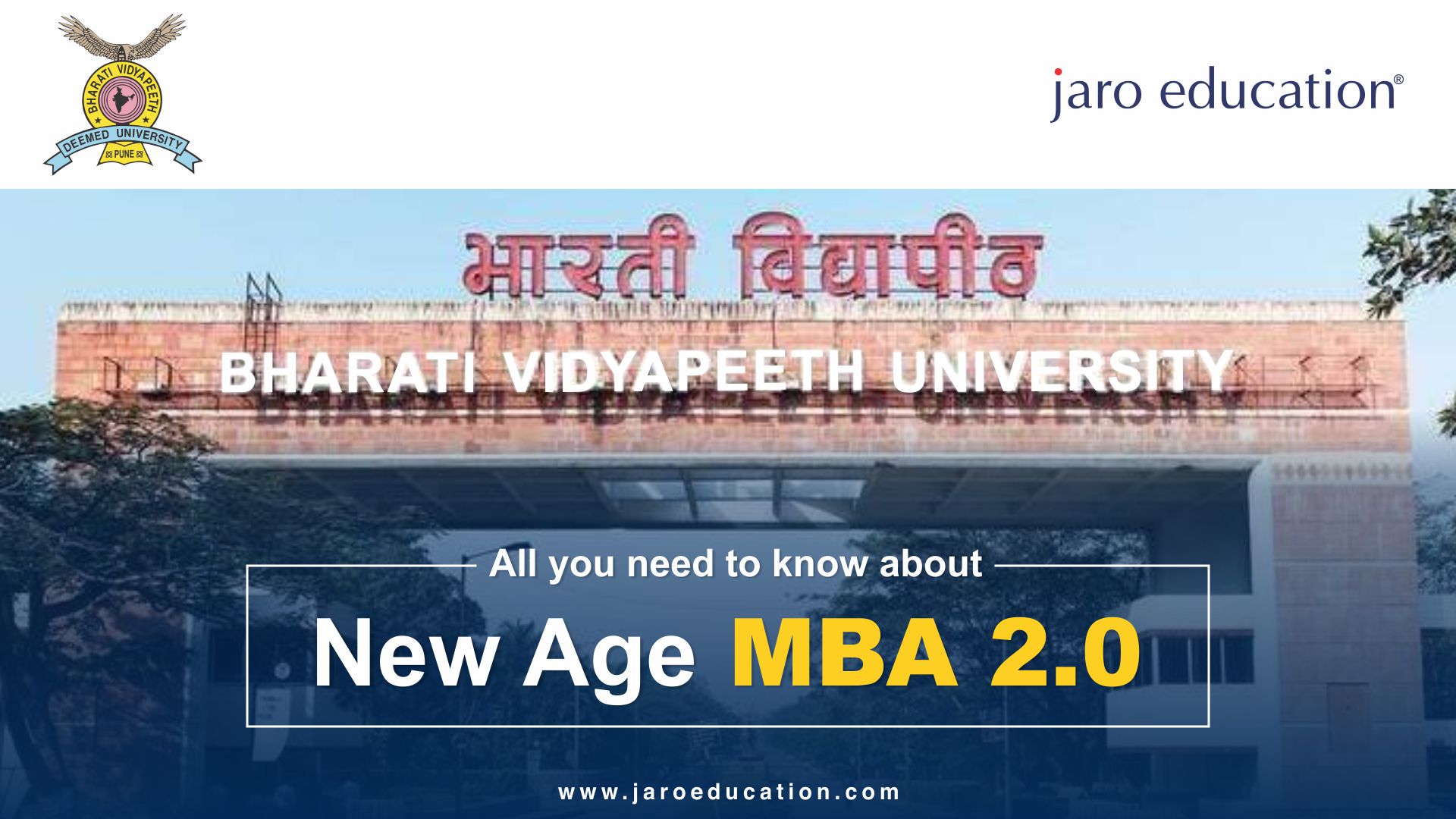 Introduction
Over the last few years, the means of obtaining education have significantly changed and improved. More and more students are willing to earn and learn at the same time to have stable growth in their careers. This has increased the need for Online Executive MBA and distance learning courses. Jaro Education is an EdTech platform that provides access to online educational programs in collaboration with leading universities in India and abroad. The Online MBA program offered by Bharatiya Vidyapeeth (Deemed to be University, BVDU) is one of the Best Online MBA Programs in India. This Online MBA program provides a unique learning experience with practical exercises, industry insights, and discussion forums to train students to be future corporate leaders. 
This post will discuss all the unique features of the BVDU Online MBA program and answer all your doubts about it. 
How to Apply for the BVDU Online MBA Program? 
The 2 Year Online MBA program offered by Bhartiya Vidyapeeth University in Collaboration with Jaro Education is one of the most sought-after courses. The full-time offline system in BVDU has a BVDU MBA entrance exam called B-MAT. However, no such exam is required for the online MBA program. This simplifies the application process and is exclusively available on Jaro Education. But there are limited seats available, and the applications are still competitive. The applicants are screened based on their school and college grades, profile, and statement of purpose. 
Specialized learning

: The Online MBA allows students to choose a specialization according to their preference. Students can choose one specialization at the beginning of the course and a second specialization in 3rd semester. This allows you to study and learn about subjects you genuinely want and diverse according to your requirements. These customizations help you obtain the maximum value from your degree. 

Remote learning

: The course is entirely online, therefore allows you to learn from the comfort of your home. This also allows individuals to continue their education while working. The course has innovative online learning tools, a learning management system, discussion forums, etc., to ease learning online. 

Industry-oriented approach

: The course teaches practical industry insights at every level of learning. It has a vast and diverse industry representation. The course also includes practical exercises for students to learn the industrial application of theory. 

Soft skill development

: Every semester, the program offers an open course that helps in soft skill development. These courses give additional practical expertise and help in the development of industry-relevant soft skills. 

Interactive learning

: Despite being completely online, the course has various activities that make the course interactive. Interactive learning ensures you think on your feet and provides a holistic learning experience with your involvement. Through case studies, projects, simulations, etc., the course includes a wide variety of interactive tools. 

Certification

: Upon completion of the BVDU Online MBA Program

, students receive a degree from the BVDU School of Online Education. 
Conclusion
Jaro Education provides a unique opportunity to pursue an Online MBA course from BVDU. To know more about online MBA programs in India, including BVDU, or other courses such as BBA courses online, click here. Enrolments for the BVDU Online MBA program are open for a limited period with limited seats. Grab the opportunity to grow your career and apply now!
Subscribe to our Jaro Education's blog and stay updated with the latest information.