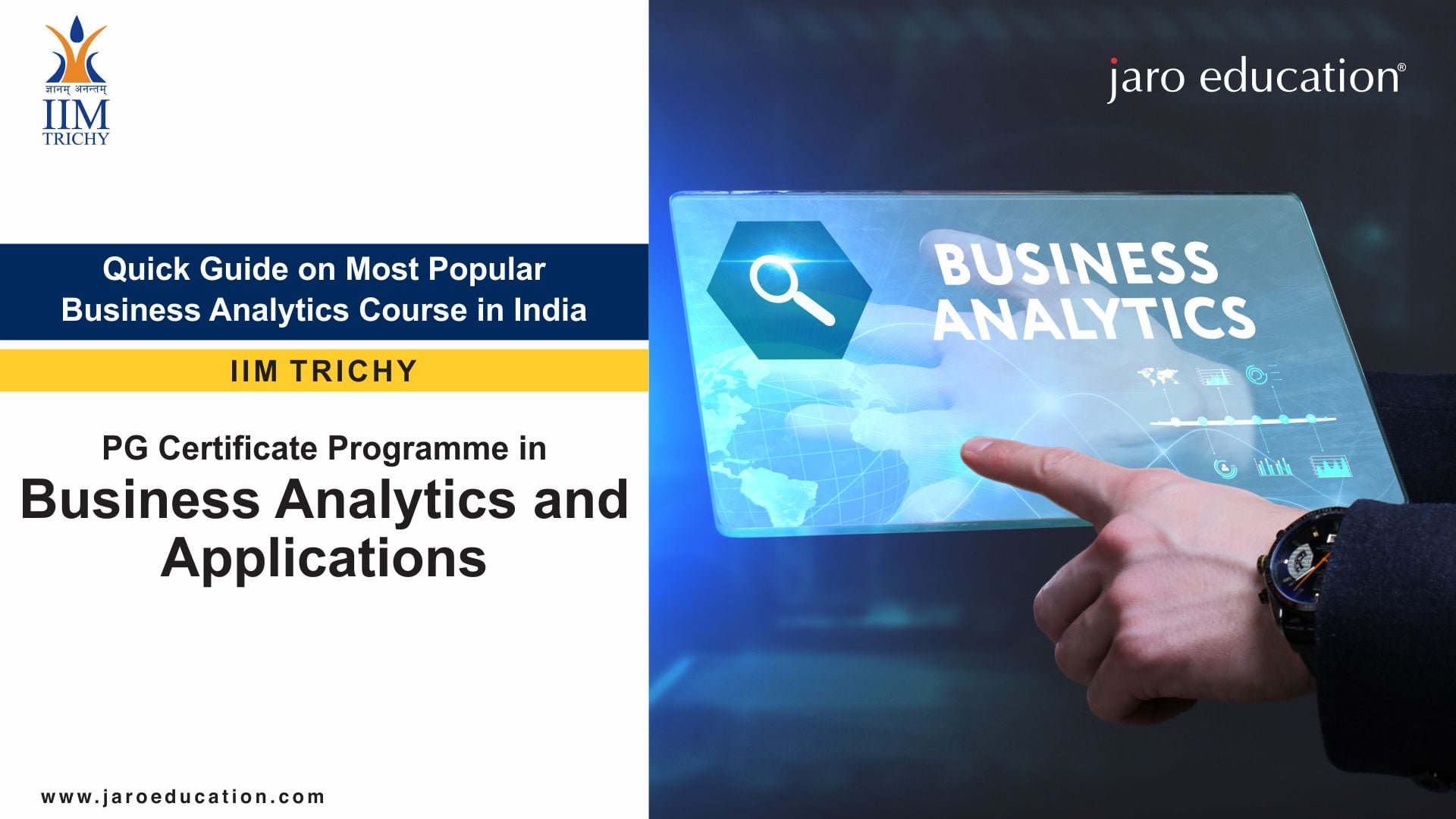 A guide on Business Analytics Course from IIM Trichy, India
Decode New Age Business Analytics Certification Couse
In the economic recovery, the Business Analytics field is ubiquitous. Professionals' needs to identify real-time and set early-stage trends in business analysis. In complex market dynamics, they require statistical, predictive, optimization and simulation models to shape tomorrow's business. The world of analytics depends on data-driven strategies to capture disruptive models.
Unearth new growth opportunities in Analytics and Applications, with IIM Trichy – Business Analytics and Application Programme. 
Becoming a Business analyst requires to upskill in the Business Analytics PG certification programme. Professionals will understand how to land their dream jobs in business analysis or its relevant profiles. 
Here's a quick guide on Business Analytics Course to get started with:
1. Esteemed Alumni Status
Get the most prestigious Alumni Status, after completing the PG Certificate in Business Analytics and Application Programme from IIM Trichy. Participants will be awarded a reputable alumnus tag from IIM Trichy which will enhance their credibility ratio. This status will give exposure to peer networking, students, faculty, industry experts, etc.

2. Deep Dive into Proven Pedagogy
The programme has Proven Pedagogy based on simulations and experiential learning that nurtures the students with the right nuances in business analytics. The curriculum will teach how to analyse, interpret analytical reports, monitor analytics performance to capture a fraction of potential values. Learners will be able to make use of these valuable insights for better decision making. 
3. Explore Capstone Projects
During a capstone experience, students will receive exposure to business acumen and learn about the challenges in implementing an analytics study. The Capstone Project serves as a culminating academic and intellectual experience for students. It will serve as a career base that's driven by essential aspects of the programme. Students will also have a comprehensive project at the end of the programme.
4. Discover New Age Tools and Techniques
Solve business problems using in-demand new-age technologies and user-friendly tools for analysis like R, Python, Power BI Predictive Modelling with R, AI and ML, etc. They will be able to turn data into insights for generating business growth. 
5. Insights on IIM Trichy- BAA Programme
This 13 Months programme in Business Analytics and Applications is curated for participants with a zeal to learn Analytics and its business applications. The programme is delivered in hybrid mode with asynchronous learning mode and two in-campus modules. After completing IIM Trichy- Business Analytics and Application Programme, students will gain relevant industry know-how intertwined to achieve a coherent goal in the business analytics field.
6. The Final Thought
Learn how to tackle data analytics and gain insights on quick evidence-based decisions. Students will understand how to glean such information using predictive analysis, optimization and simulation models. Bridge the knowledge gap in business analytics, overcome challenges and leveraging business growth.
After learning from eminent IIM Trichy's faculty, you will be able to escalate career growth opportunities in business analytics. These analytical methods will help directly to make smart and informed business decisions that drive rewarding results for organisations. Thus, it fills the shortage of analytics talent in recent times. 
Professionals looking up to decode the nuances of business acumen, analytics and its application for tomorrow's business must expand their horizons. Pursue the most promising and in-demand PG Certification Programme in Business Analytics and Applications by IIM Trichy.
Become an early applicant and drive change in the business analytics landscape.
Time to Subscribe to our blog and get started with IIM Trichy- BAA Programme.