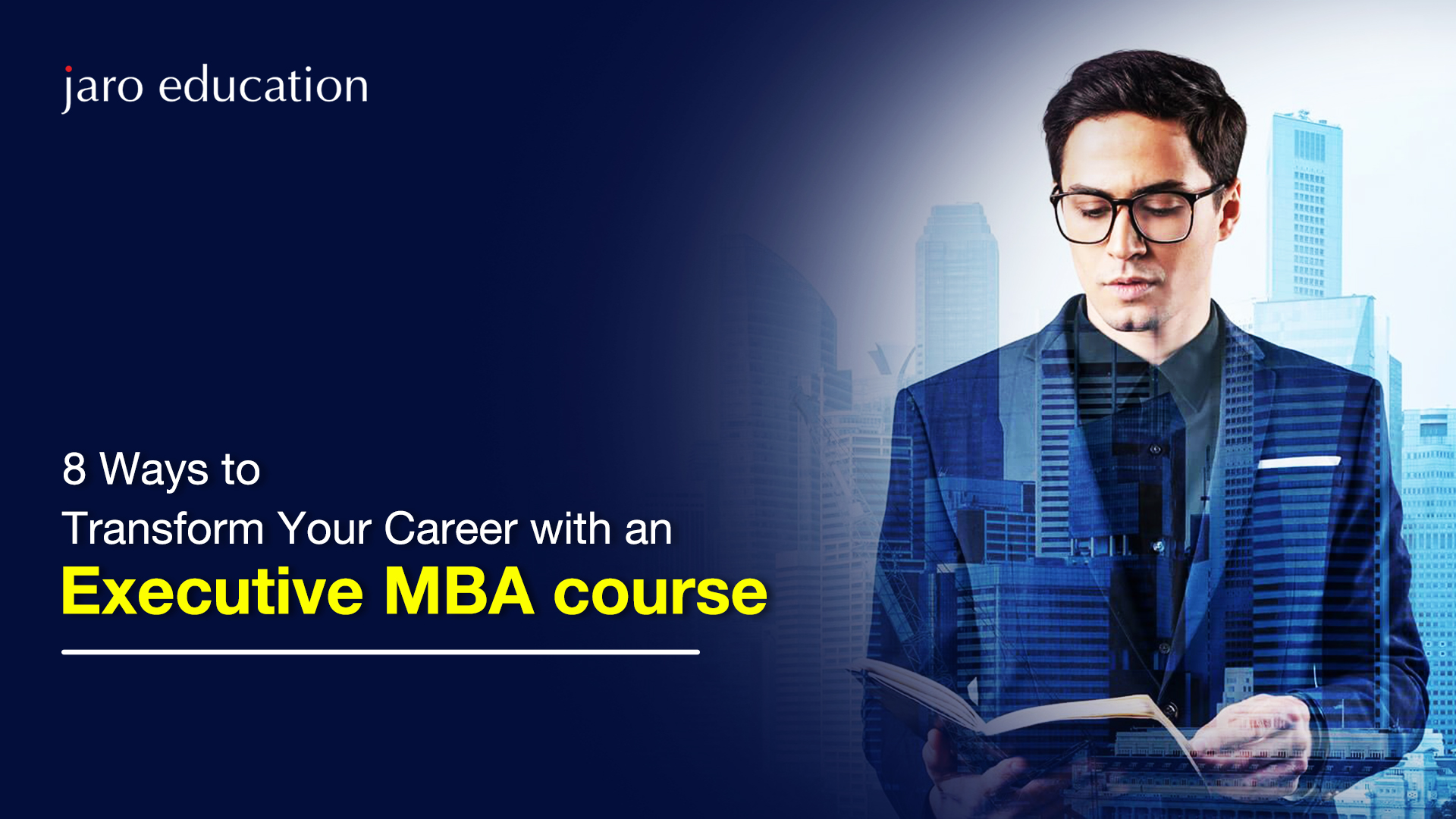 Graduates with an Executive MBA degree receive a considerable increase in their pay of roughly 14.1 percent after completing the course. In addition, enrolling in Executive MBA programs online has become a viable alternative for professionals, given the rising need for continuous growth. Dayananda Sagar University's Executive MBA Program is an excellent choice for individuals seeking to rise to management positions.
Ways to Transform your Career with an Executive MBA Course
With an EMBA degree, participants can opt for a new role or designation in another company. The DSU Executive MBA program offers multiple specializations for learners to opt for. In addition, participants can opt for their preferred specialization and venture into a fresh opportunity from another company. The program helps executives stay ahead of the market and get better job prospects by continuous upskilling.
Starting your venture is the best example of transforming your career with an Executive MBA. A highly noticeable trend is the surge in recent graduates who desire to assume sole ownership of their careers by launching new businesses. Many students take advantage of the chance to produce solid business plans while studying, generally with the guidance of both teachers and industry consultants.
Network for More Opportunities
An Executive MBA program attracts students from various fields, which improves any student's education experience by exposing the learner to new business traditions, techniques, and ideas. It even provides an opportunity to meet new people and learn new things. In addition, the Executive MBA Program at Dayananda Sagar University engages specialists from different fields of business and management as professors, allowing participants to broaden their network and area of interest.

Use the Learning for Better Job Performance
If you began your job without a professional degree, the Executive MBA program is an excellent approach to enhance your skills and polish your technical abilities. An EMBA degree can help you grasp your company's many functional areas and narrow the knowledge gap. With an EMBA, you may look at work difficulties differently. The mix of new ideas and abilities can surely help you advance in your job.
The practical learning experience obtained in the classroom can benefit you to develop your skills and create a business profile. You may use your newly gained abilities to solve real-world challenges at your workplace. As you contribute more to the organization and help increase productivity, you can ask for a raise. With the added advantage of an EMBA degree, it is fair to ask for a better position and salary hike.
Enhance your Leadership Skills
The variety of case studies and experiments taught in the Executive MBA program gives insight into market situations. It also offers a comprehensive understanding of the everyday obstacles encountered by a high-level executive in a firm. Consequently, when students make and defend judgments, they learn how to deal with misunderstandings and uncertainty.
Get Better Opportunities in the City of Your Choice
If you want to work abroad, your EMBA can help you improve your CV and make the contacts you require for an interesting career change. You could also have the opportunity to study in another city or country, which will provide you with essential insight into alternative markets and local work chances.
Elevate your Position in the Company
Case studies help learners to develop an understanding of real-world problems. Such hands-on experience is critical since it adds to the establishment of important insights for future leadership responsibilities. Dayananda Sagar University Executive MBA Program thoroughly equips the individual to deal with complex decision-making as a senior management expert
Conclusion
The Executive MBA program at Dayananda Sagar University is a one-of-a-kind program with ten specializations for industry executives with at least one year of full-time job experience. Professionals who enroll in the course can transform their careers in several ways. They can apply for higher posts, switch roles within or outside their organization, or even start their venture. The several various possibilities make Executive MBA programs online a must for mid-level and junior professionals.
FAQs
Are specializations offered in the Executive MBA?
Yes, DSU Executive MBA offers ten specializations. These specializations are Financial Management, Operations Management, Project Management, Logistics & Supply Chain Management, Marketing Management, Entrepreneurship & Innovation, Business Analytics, Human Resource Management, Global Business, and Information Technology Management.
What is the admission process of Executive MBA?
Students can apply online for admission to the Executive MBA program from Dayananda Sagar University. Applicants must provide their details and proof of experience for the university to validate. Lastly, applicants must submit the required fee to secure admission.
What is the fee structure of an Executive MBA?
The Executive MBA program from Dayananda Sagar University has a total fee of INR 2,25,000. This fee structure includes INR 1,000 application fees, INR 2,00,000 tuition fees, the exam fee (16*1250) of INR 20,000, library fee/ infrastructure fee of INR 2,000, and convocation fee of INR 2,000.
Are the Executive MBA programs recognized by the companies?
The Executive MBA program from Dayananda Sagar University is a UGC-approved program. In addition, all major corporate companies recognize the program.