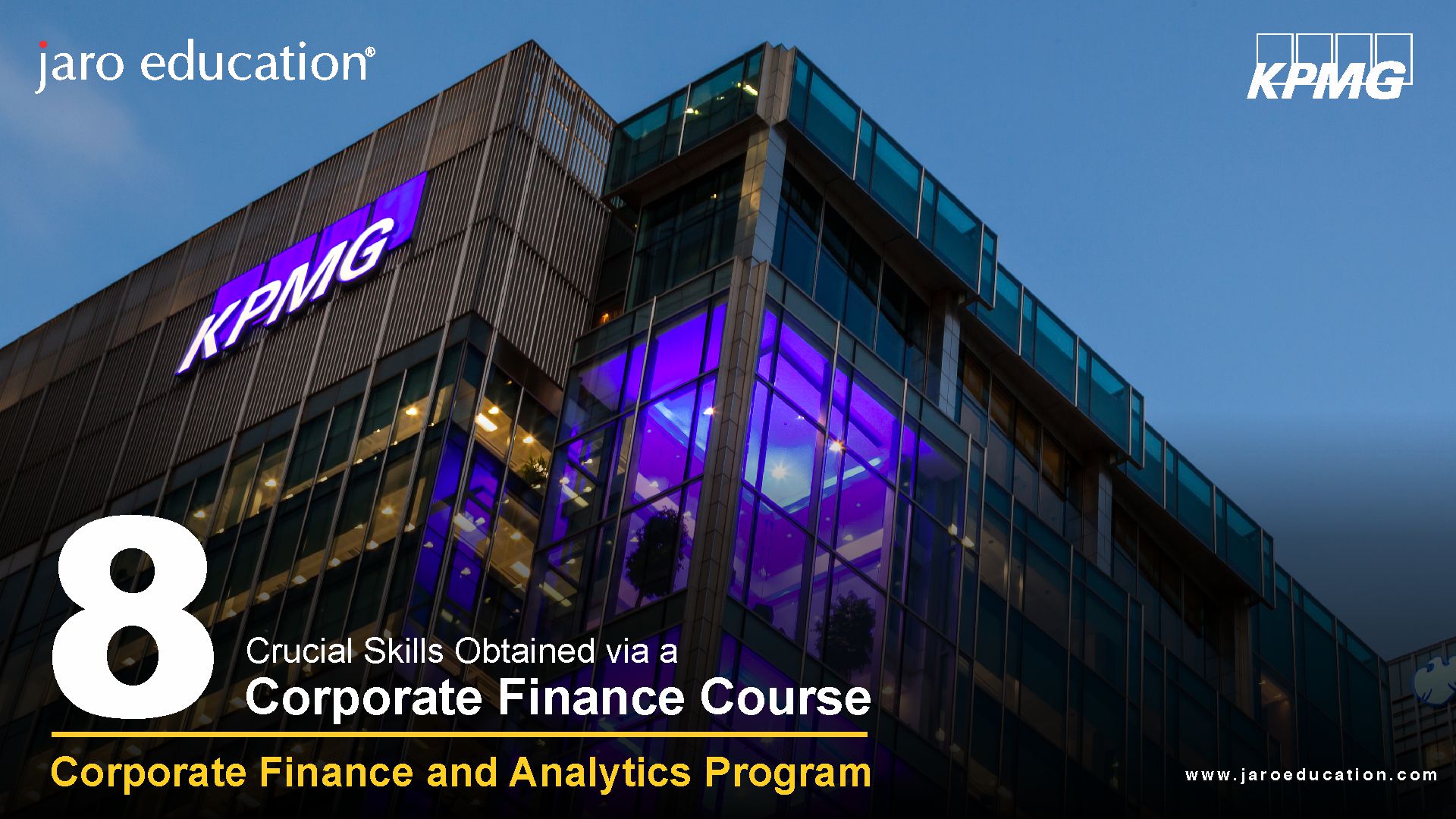 8 Crucial Skills Obtained via a Corporate Finance Course
Introduction
In the era of artificial intelligence and 5G technology, modern businesses are progressing to the next level of automation. For reputed business houses, analyzing past business performance indicators and statistics is essential to develop long-term strategies to remain competitive in a challenging future.
Why is Corporate Finance Important?
The corporate finance profession demands tremendous respect in the business world because corporate finance experts evaluate a business for critical decision-making tasks. The tasks include stock listing, needs for mergers and acquisitions, issuing IPOs, aligning the business on technological riders, and international business strategies, including investor relations, funds, and working capital management.
Demand for Corporate Finance Analytics
Most competitive organizations employ business analysts to help make data-driven decisions. Business analytics help businesses optimize financial flow and automatic business processes, thereby pushing companies to be more efficient and competitive.
Corporate Finance Analyst Course 
You may come across various corporate finance institute courses. They offer fast-track online courses for corporate finance. However, the right choice of course always has significant rewards. A short-duration virtual learning corporate finance analyst course could transform your career. The corporate finance course at Jaro Education is one of the most demanded programs in the finance industry. It is a unique opportunity to bag the certification from KPMG Corporate Finance India, a recognized industry leader in the field.
This certification course in Corporate Finance & Analytics includes industry-demanded skills in FP&A, Financial Modeling, AI, RPA, FinTech, Corporate Finance Analytics, and many more fields. This course from KPMG is designed by data analytics in corporate finance specialists and assessed by the field practitioners from the CFO Advisory of KPMG, India. The course entitles professionals to be considered on par with the KPMG corporate finance analysts.
The corporate course in data analytics offers a highly researched industry-driven curriculum that covers and integrates all functional business sectors. In addition to personal development through peer networking across various industries, you are assured of honing and fine-tuning your financial skills to cope with the high-tech market. You will be industry-ready with hands-on experience on new models relevant to finance and analytics in the data domain. Applied learning through demonstrated case studies and digital financial data using sophisticated tools and technology guarantees the financial professionals gain knowledge on par with any other technology domain professionals.
Eight Crucial Skills Obtained Through a Corporate Course in Data Analytics 
The eight crucial skills you can obtain through the corporate finance course are as follows.
Knowledge to help explain financial statements in strategic planning and decision-making

Analytical concepts, tools, and technology to analyze, visualize, and utilize smart data in corporate finance

Strategic finance and analytical skills to apply in the corporate finance domain

Understanding of technologies, such as analytics, principles of machine learning, the role of artificial intelligence in financial data, RPA, Blockchain, FinTech, and allied technologies

Ability to learn and apply financial principles to business challenges and strategies

Understanding of the impact of important business decisions regarding the corporate financial health and ability to take constructive initiatives

Ability to measure organizational efficiency and effectiveness in important business decisions

Development of key behavioral skills that help to lead a successful finance professional
Outcome of the Corporate Finance Course
The benefits of the corporate finance certificate course are,
Development of skills to match with modern financial sector needs

Access to high-level roles in corporate finance

Preparation to take on a finance analytical assignment
Course Providers: Jaro Education and KPMG
Jaro Education is a pioneer in the EdTech domain in India. Jaro Education provides various management and technology programs from universities and institutes that cater to a large number of working professionals.
KPMG is one of the four largest accounting firms with a track record in industries around the world. Its association with Jaro Education brings an essential institutional outcome, fulfilling the corporate finance demands of the present.
Conclusion
Aspiring finance managers and those who want to upgrade their skills through modern-day financial workflows should take advantage of the online certification course in corporate finance analytics. In addition to traditional finance, your skills get polished to handle the core features of financial management packaged in high-end technology platforms.
Time to Subscribe to our blog and get started with Corporate Finance and Analytics