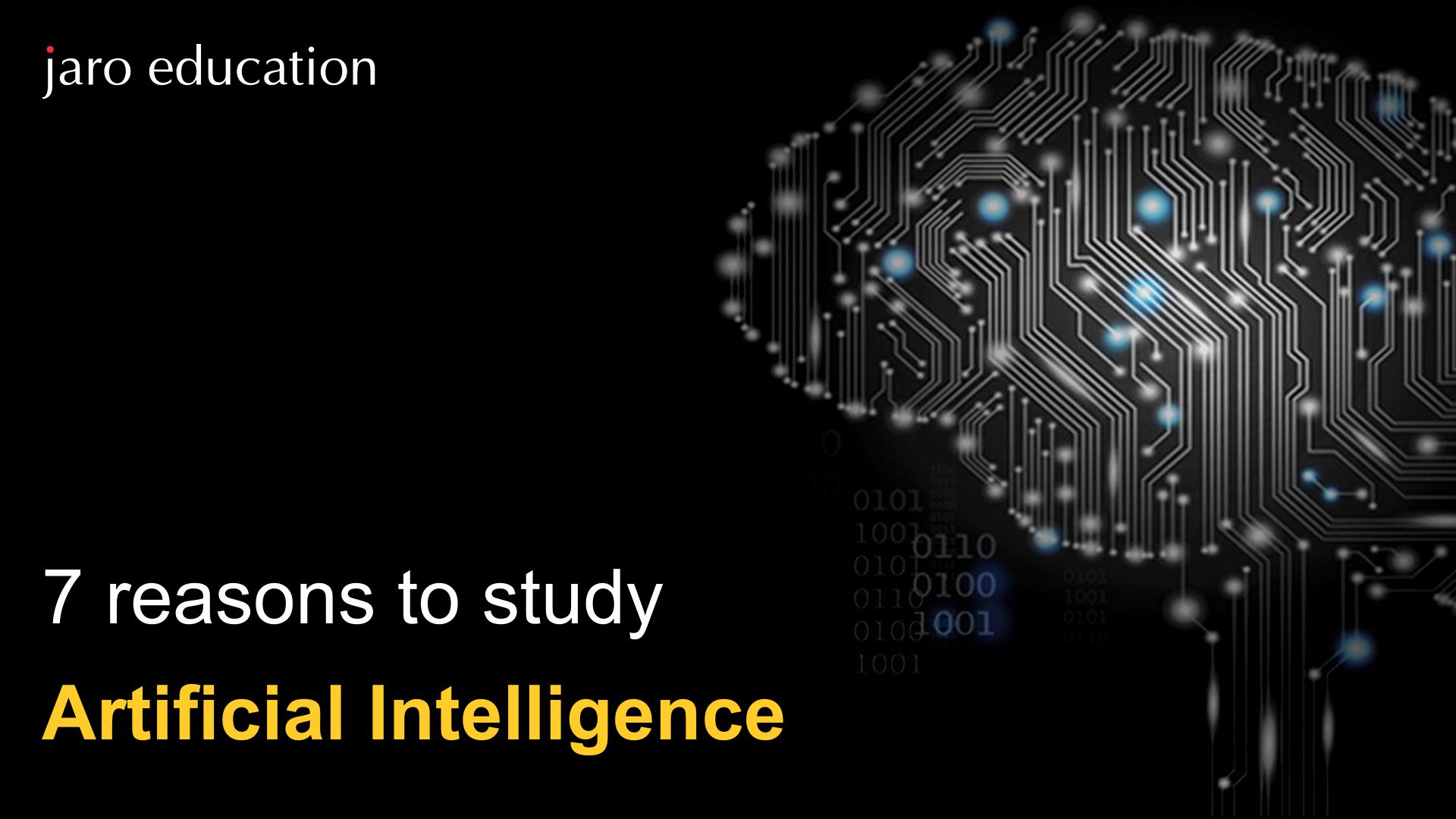 Introduction
From movie recommendations on Netflix and conversations with Siri and Google Assistant to AI helping a doctor diagnose his critical heart disease, Artificial Intelligence is everywhere today. It has revolutionized the way Computer Science and significant businesses have incorporated its functionality.
Simply put, AI is called the 'skill of the future.' Almost every industry uses AI to increase its productivity and profits. Therefore, they require individuals with advanced Artificial Intelligence knowledge and skills. But strangely, companies fail to find skilled professionals to fill their job vacancies.
So let us understand why you should study Artificial Intelligence and how this can make you a good fit in the leading AI companies.
7 Reasons to Study Artificial Intelligence
1. AI is a very versatile field
AI can assist doctors in checking a patient's condition. Its decision-making systems support doctors and healthcare workers by reducing possible errors in prescriptions and treatments of patients. Many companies, including Path AI, Curai Health, and Proscia, use AI to treat and diagnose many diseases, especially cancer.
There was a time when those who wanted to excel in computer science and space science studied Artificial Intelligence. Today, people opt for a Master's in AI and Machine Learning as artificial intelligence plays a substantial role in segments directly affecting the common person.
AI has found inroads into industries, such as healthcare, banking, automobile, finance, retail, and legal sectors.
2. AI is the skill of the century
The fear that AI will take over human jobs is not all true. AI will eliminate many human jobs only to open up new job avenues in many industries.
For example, self-driven cars seem to be the future of the automobile industry as many industry giants, including Google and Tesla, are working on them. These cars will not need drivers but AI specialists right from manufacturing to operations.
The future undeniably will be of AI. An M.Sc. in Artificial Intelligence will not only safeguard your career but make it unlikely to become obsolete.
3. AI for a lucrative career
Although AI has a remarkable presence in almost all industries, it is still evolving. The research and development of artificial intelligence in products to attain their optimum functionality have created many career avenues for AI professionals.
Very recently, Google had hired a 22-year-old AI engineer for an annual salary of INR 1.2 crores. Pursuing a Master's in AI will safeguard promising opportunities in the industry you aspire to work in and give you a better start in terms of salary.
4. AI for a resilient and safer world
Most AI-enabled software offers upgraded technology for disaster forecast and management, such as AIDR (Artificial Intelligence for Digital Response). In the case of a natural calamity, delayed action can increase the number of fatalities.
AI facilitates people and government organizations to respond quickly and efficiently in disaster-hit regions to keep fatalities to a minimum. An MS in AI can enable you to understand and analyze natural hazards and the influencing factors, which can help in mitigating disasters.
5. AI for the betterment of society
Our world constantly faces newer challenges, such as depleting groundwater levels, degradation in the quality of air, increasing global temperatures, or the very recent COVID-19 pandemic. Artificial Intelligence can transform human life for the good.
AI-based software has shown promising results, such as Outbreak Response Management and Analysis System (SORMAS) for epidemic control and Agrivi for management of farming-related issues. An MSc Artificial Intelligence degree can give you the technical skills to build such software.
6. AI for upgraded user experience
AI works to improve the already existing technology or devices by adding improved or new features to them. This enables an enhanced user experience. For example, predictive text while writing an email or voice assistance on our mobile phones.
7. AI for better management of data
The amount of data generated every day can be baffling, and it can be quite helpful in many areas if managed correctly. AI-enabled systems have made proper handling of big data possible. An online Master's in Artificial Intelligence can help you understand how AI enables analysis of the trends in data.
Conclusion
Our technology is getting smarter with each passing year. A degree in Artificial Intelligence is essential for enhancing your employability and promising a career that will stand the test of time. You can also opt for an online course that gives you the freedom to study and fulfill your other commitments. An online AI Master's Degree can help you learn the essential techniques for becoming an integral part of the evolving AI technology.
Find out more about the Master of Science Degree Programme (specialization in Artificial Intelligence) – IU International University of Applied Sciences, and enroll in the Artificial Intelligence revolution today!