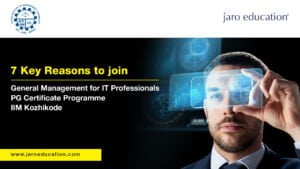 7 Reasons Why You Should Join the General Management for IT Professionals Certificate Programme
Introduction
Rapid globalization and advancements in technology are changing the landscape of business. Young and experienced IT professionals of this century need to expand their horizons to excel in their careers. They need to have a fundamental knowledge of management areas, such as visionary leadership, team building, strategy development, effective communication, and conflict management. They must be competent to perform managerial roles with resilience and astuteness alongside their functional or technical roles and domain skills. 
General management programmes or general management courses are gaining popularity among IT and software professionals. The meticulously designed curriculum builds and refines their management skills. The General Management Programme for IT professionals infuses new knowledge to enhance their potential and prepare them to take up the challenges of business management and leadership roles.
IIM Kozhikode offers a 12-month fully online IIM Kozhikode-General Management Programme for IT professionals (GMIT). It is a multi-disciplinary General Management Programme for IT Professionals that imparts learning in diverse management fields such as marketing, finance, strategy, information technology, business statistics, human resources, and operations and supply chain management. 
The GMIT programme gives contextual knowledge on the present-day general management principles, building the core business management skills of IT professionals. They get exposure to elementary management concepts and theories in diverse areas, such as business leadership, digitization, business analytics, design thinking, customer retention, and profitability drivers. A General Management Programme for IT Professionals helps develop a strategic mindset and strengthens their business acumen. These traits help them transition from performing technical non-managerial roles to core management functions. 
Seven Reasons to Join the General Management for IT Professionals Certificate Programme
Executive Alumni Status from IIM Kozhikode
On completing the prescribed GMIT programme, the students get the reputable executive alumni status from IIM Kozhikode.
General Management Certification from One of India's Premier B-School
On successfully meeting the assessment standards and other General Management Programme for IT Professionals requirements, including a minimum of 75% attendance, students get awarded the "Certificate of Completion," duly signed by the authorized heads of IIM Kozhikode.
The esteemed and preeminent faculty of IIM Kozhikode custom-design and handle the curriculum and pedagogy of the General Management online courses. They use innovative teaching methodologies to deliver immersive learning to the students. 
The teaching methodology for the General Management Programme for IT Professionals programme employs two-way interactive techniques, such as brainstorming, discussions, and feedback. These practices stimulate students to participate actively in the learning process. The IIM Kozhikode-General Management programme  for IT Professionals encompasses integrated and holistic teaching methodologies such as lectures, hands-on assignments, suggested readings, and case studies. Students work individually and in groups on various projects during the course term. They get the opportunity to apply theoretical learning to practical business problems and exhibit their management skills in the day-to-day work environment.
Expedient Direct to Device Learning
The seamless digital learning approach of the programme uses apps and browsers that stream conveniently on devices such as laptops, desktops, tabs, and mobile phones or smartphones.
High-impact Live Online Learning
The high-definition (HD) live online tutoring provides a highly impactful learning experience to the students. The instructors conduct doubt-clearing and discussion sessions on a real-time basis to connect with their students. IT professionals across the globe can enroll and attend virtual classes or lectures in the General Management Programme for IT Professionals Programme. 
Exposure to Real-World Case Studies
Alongside conceptual learning, students acquire hands-on knowledge of the general management principles through meticulous analysis and discussions on real-world case studies with peers and faculty members. They also get exposure to experiential projects, role-plays, and simulation games to gain insights into real-life corporate challenges.
Conclusion
As you embark on your journey in the business administration world, you will recognize the need for new-age management skills. The General Management course for IT professionals is a highly relevant programme for young working executives who aspire to progress to general management roles. The programme will advance your core business management skills and equip you to take on the challenges of the complex entrepreneurial world.
Jaro Education is an excellent EdTech platform to pursue the General Management Programme for IT Professionals from IIM Kozhikode. We use innovative means of imparting in-depth learning to our students. In partnership with the best national and global universities, our proficient panel of mentors provides appropriate guidance and attunes your transformative learning journey in line with your specific requirements.
Enroll now to rapidly advance your general management skills and progress in your career. Contact us for any queries on the GMIT programme, and be assured we will revert at the earliest!