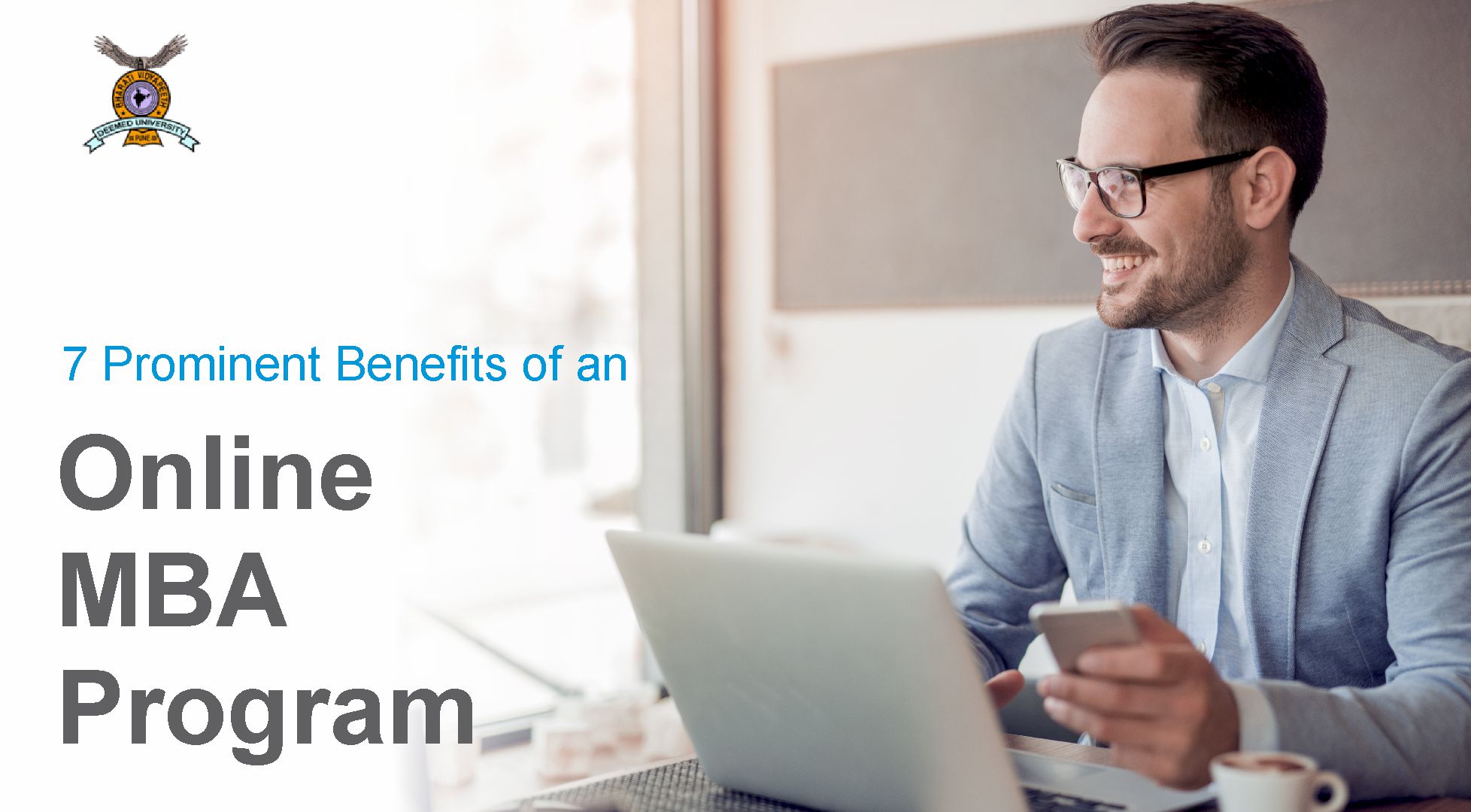 A few years of experience in the business world calls for making some progress in the career by opting for certain certification programs such as an online MBA. Previously, it was difficult for working individuals to get an MBA degree because they had to attend classes regularly, but the online MBA programs offered by various reputed colleges have resolved this issue, making it easier to get an advanced business degree. It is an added advantage of pursuing an Online MBA from reputed university like Bharati Vidyapeeth Deemed To Be University (BVDU) as it enhances chances of exposure to diverse peer groups. There has been a 41% rise in the demand for online courses in higher education and MBA dominates this sphere. Read on to learn its benefits.
Benefits of an Online MBA Program
Flexible schedule:

Working individuals prioritize work and life balance and in such a situation

online MBA

gives them the option of flexible learning hours from the comfort of their home. Universities

 

offer a hybrid structure where there are live classes and a few regular classes, which makes it easier for them to adapt to the tight work and family schedule. This results in a smoother educational process while working. As per

US News and World report, 91%

of online MBA students work while obtaining their degree.

Affordable compared to regular MBAs:

Regular MBAs in premier institutes are often very expensive. Those having a budget constraint but need to complete an MBA to move ahead in their career can easily do it by pursuing an

online MBA course

at a lesser price. Despite the affordability, there is no compromise in the education imparted to the candidates and is known to be very beneficial for the working professionals. Also, after successful completion of the course, the chances of getting a job with a higher package or promotion in the existing job increases.

Superior quality curriculum:

This is ensured through the use of the latest technology for learning on different interactive platforms such as Angel and Adobe. Tools such as Google Docs let students edit and share with their peers anywhere in the world; Zoom, Skype, VoiceThread, and other such tools make it easy for students and professors to conduct online meetings. 

Multiple specializations to fit a candidate's goals:

Just like a regular MBA course, an

online MBA

offers numerous specializations such as marketing, strategic management, general management, international business, finance, consulting, IT, operations management, entrepreneurship, and human resources. Some Universities

 

even offer dual specialization which upgrades a candidate's management capabilities and versatility in the job market.

Widening the business network:

People from various places pursue

online MBA

and in the program, they have general meetings where they get to know each other. This expands the business network, which proves advantageous while looking for better job opportunities in the future. Candidates also get access to an extensive alumni network, and a chance to learn from their experiences in dealing with critical business issues.

Learning advanced managerial skills from the safety of the home:

In the current pandemic situation where it is risky to step out of the home, an

online MBA program

helps candidates learn advanced managerial skills. These are crucial for helping a company succeed. The course enhances the leadership and management skills of people, helps them hire the top talents and improve employee retention in the firm, creates hierarchies that can help the firm thrive and easily deal with changing business situations with new challenges.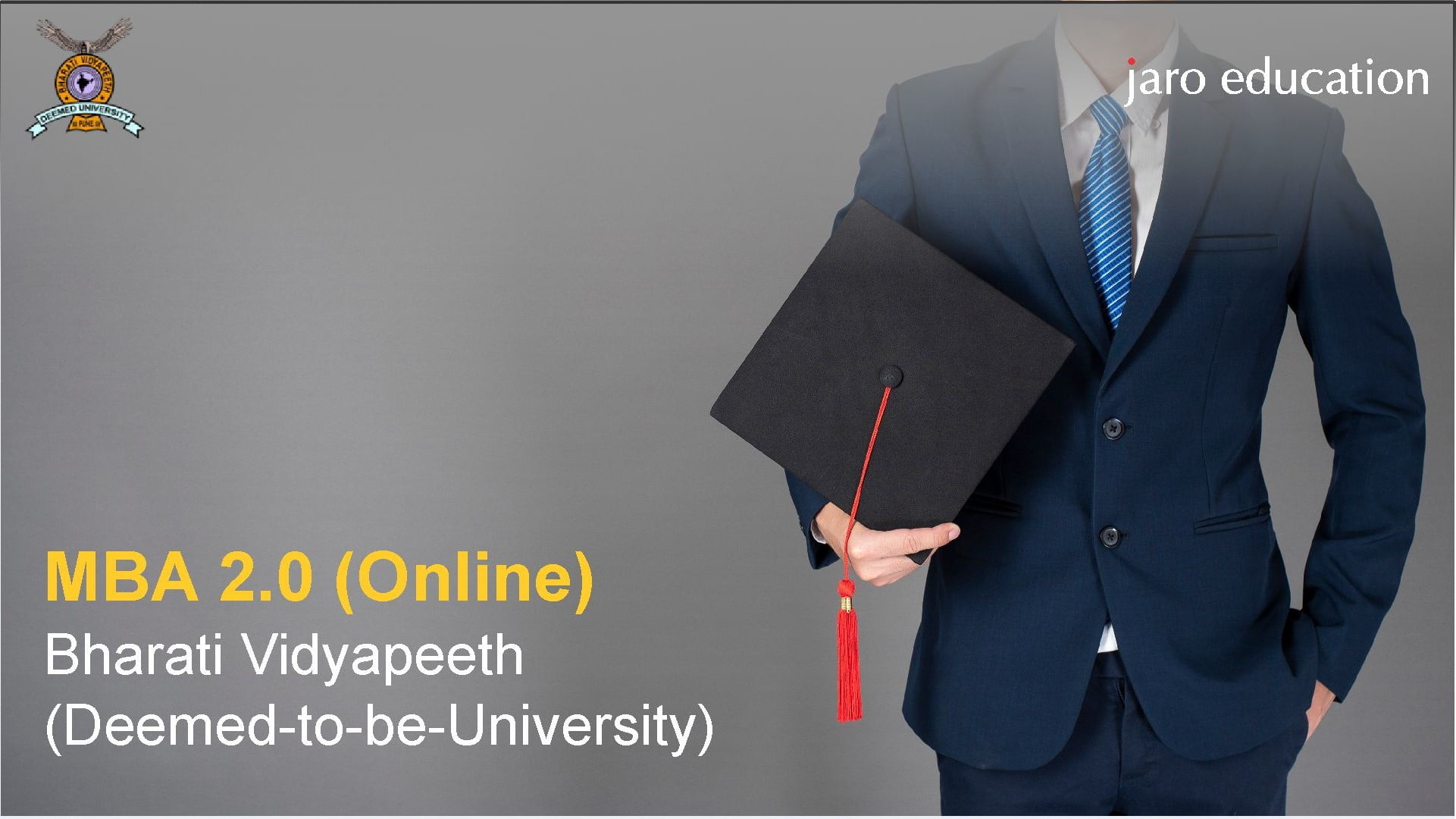 Conclusion:
Those planning to change their career, or become an entrepreneur to fulfil their dreams, can pursue Online MBA Programs In India from reputed universities such as Bharati Vidyapeeth Deemed To Be University (BVDU). It has experienced faculties and an interactive curriculum, to get the required skills to reach their goals and adapt to the changing market. Also, in the competitive market, only the most efficient businesses thrive and skilful MBA graduates can have a huge contribution to this. While levelling up one's career, the college where the Online MBA course is pursued plays a significant role, hence it needs to be chosen wisely.
 FAQs
What is an Online MBA Program?
Online MBA offers a convenient mode of learning new skills to move forward in one's career and efficiently face the tough challenges in the changing market scenarios. 
Who can do an Online MBA Program?
Individuals with a few years of work experience can do an online MBA program. The exact years of experience required by different institutions vary, so this needs to be checked before applying for the course.
How to apply for an Online MBA Program?
First, the eligibility criteria for admission to the course need to be checked and then the relevant forms and documents need to be submitted while applying for the online MBA program. 
Is an Online MBA Program worth it?
Yes, an online MBA offers the easiest, convenient and affordable way of learning new skills and moving ahead in one's career. One gets to know the alumni of the institution and learn from their experiences.