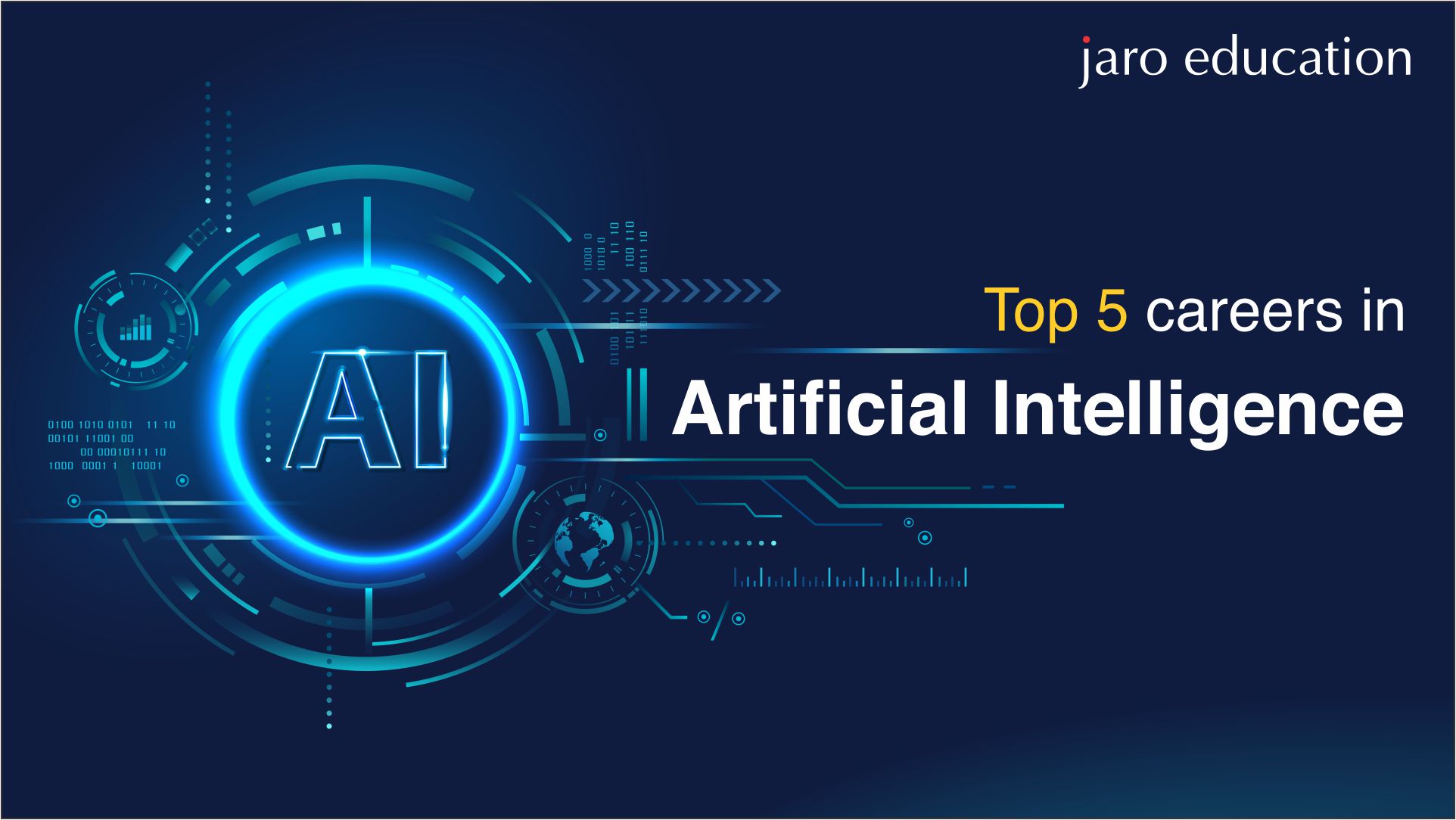 5 Top Careers in Artificial Intelligence
Finding the Sweet Spot in AI
In the ever-evolving world of work, Artificial Intelligence is creating a sweet spot where mathematical minds meet creativity and surging new pathways with vision. Artificial Intelligence has become a dogmatic buzzword in the era of changing times. Clutter of new-age careers is swooning over Artificial Intelligence, Machine Learning, and Natural Language Processing; creating a dramatic impact in the modern business world.
Even prominent banking to insurance companies is opening embracing new-age Artificial Intelligence technologies. Though uncertainty is on a rise, leveraging powerful AI tools will accelerate traditional business practices.
A recent report by Gartner states, "By 2023, a minimum 50% of enterprise applications will have embedded AI functionality built within the system giving a boost to the requirement of skilled AI professionals across the globe". 
Yes, Artificial Intelligence is growing in all industries like Education, Agriculture, Logistics, Automobile and much more. Professionals can effortlessly explore opportunities by upgrading their skill sets and qualifications. 
According to the World Economic Forum, an estimated 97 million new jobs will be created through Artificial Intelligence by 2025. Certainly, Artificial Intelligence is poised to fuel explosive growth.
Quick Tip | Hone your skills in Artificial Intelligence by pursuing new age prowess with Masters of Science (M.Sc.) in Artificial Intelligence.
If building AI models using the latest machine learning algorithms and deep learning neural networks stikes curiosity then you are in for the A-game. An AI Engineer has the responsibility of drawing business insights. Professionals must have a solid understanding of programming languages, software development and Data Science techniques.
Build following skills as AI Engineer:
Data-mining

Pattern matching

Pattern recognition

Enhancing Research to machine-learning algorithms

CS & Programming Language

Machine Learning Engineer
A typical Machine Learning Engineer job revolves around creating programmes and algorithms, retraining systems to execute tests, optimizing ML models & algorithms. Primarily, an ML Engineer will work on assessing, analyzing and organizing large amounts of data that enable machines to take actions without being directed. 
Must have skills for Machine Learning Engineer:
In-depth knowledge of advanced math and statistics skills.

Learn subjects like linear algebra, calculus and Bayesian statistics to 

Strong software engineering skills.

Programming languages- Python, Java, C++, C, R and JavaScript.

Deep insights on the working of ML frameworks.

Business Intelligence Developer
A Business Intelligence Developer is generally in charge of developing, deploying, and maintaining BI interfaces. To excel in your career as Business Intelligence Developer, you must enhance your key skills with the latest tools and techniques. 
Key skills for Business Intelligence Developer:
Experience with Business Intelligence (BI) Tools

New-age business analysis skills

Learn Debugging and troubleshooting techniques

Draft technical documents on the database

Robotic Scientist
To become a rigorous Robotic Scientist, a professional must learn how to build mechanical devices or robots that automate the mundane tasks performed by humans. A Robotic Scientist is responsible for designing operating systems, test operating functions, and much more. 
Skills needed for Robotic Scientist:
Insight on MATLAB to design controllers 

Programming – C, C++, Python, and Java

Good grasp of Mathematics 

Thinking creatively with an active mindset

AI Research Scientist
Acquire insights on multiple disciplines of AI such as ML, Computational Statistics, and Applied Mathematics. An AI Scientist is responsible for developing AI-based systems such as intelligent assistant systems and automated decision systems, funnelling the intersection of human and artificial intelligence.
Explore must-have technical skills:

Programming languages like Python, R, Java

Graphical models 

Reinforcement learning 

Computer perception 

Natural language processing
To transform the future of work with new-age Artificial Intelligence tools and techniques, join IU International University of Applied Sciences & LSBU- Masters of Sciences in Artificial Intelligence degree.
Professionals seeking growth opportunities in Artificial Intelligence is a field of computer science that focuses on the creation of a machine that can replicate human behaviour. New Era leaders are gaining momentum by creating impeccable new-age AI strategies. 
For marketers, to leverage all of the data at their disposal and achieve the desired growth Artificial intelligence (AI) is a concrete tool.
Future of Artificial Intelligence in Digital World
The Artificial Intelligence future seems flourishing and bright at large in India and around the world. Multiple enterprises are choosing new-age AI strategies for automation and development. Finding a suitable job role to hone your skill sets in the industry-driven AI businesses is easier than ever with IU International University of Applied Sciences. Focus on acquiring new age AI-driven skills to transform and gain a career edge.
Opportunities in AI are surging to new heights in the era of digitalization. Professionals who want to leverage the nuances of Artificial Intelligence must upskill with IU International University of Applied Sciences. 
Professionals must take an interdisciplinary approach in the most popular and evolving field of AI. Learn how the IU International University of Applied Sciences- Masters of Sciences in Artificial Intelligence degree can accelerate your career.
To map your future in the AI revolution, join IU International University of Applied Sciences & LSBU- Masters of Sciences in Artificial Intelligence degree.
Like this blog?
Never miss a single post, simply 'Subscribe' and gear up for a new age career edge in the field of Artificial Intelligence.