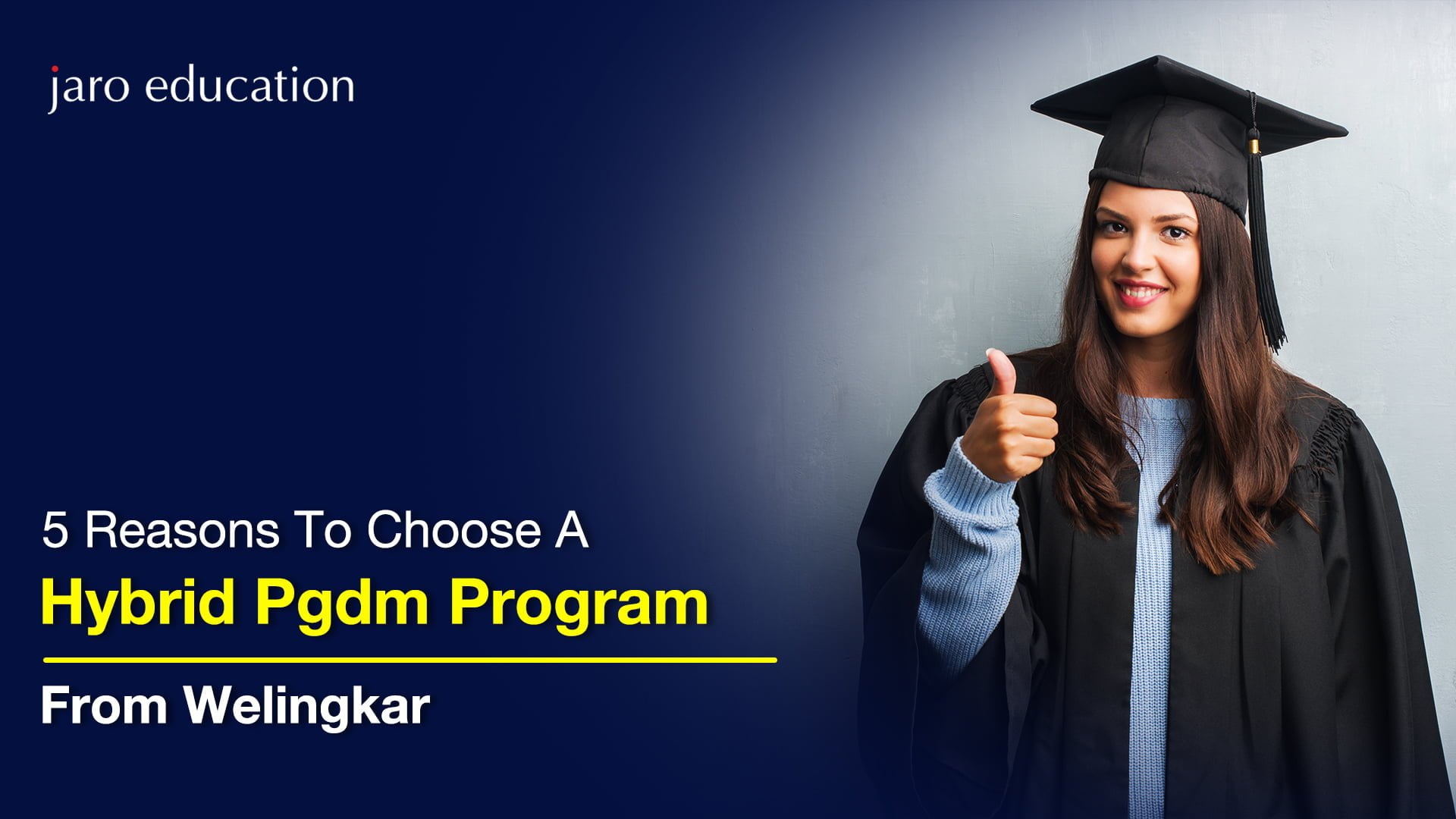 In the competitive business world, it is common for working professionals to seek certifications to upskill themselves. Hybrid PGDM is one such way to boost the career. The flexibility of learning while still being employed full time is the most attractive part of a Hybrid PGDM Program. The short accelerated series of classes in this program helps deliver important skills face-to-face and augment online learning. When done at reputed institutions like the Welingkar Institute of Management, it offers numerous benefits to the candidates. 
Choosing the right Hybrid PGDM program
Having a Hybrid PGDM certification will help professionals to bridge their industry know-how to enhance the modern business world. This course helps aspirants learn through a blended mode using different e-learning tools, workshops, and much more. An ideal Hybrid PGDM program has a curriculum designed to create the best managers who can develop with strategies for solving problems and making innovations. Some of the significant characteristics to look out for while choosing a Hybrid PGDM course include:
E-learning kit for ease of access to course's study materials.

Virtual classrooms for contacting the professors virtually at flexible times.

Experiential learning for personal development through games and workshops.

Personal contact facility for immediate clearance of doubts and even industrial visits for hands-on experience.
Also, candidates should select the university carefully as renowned institutes provide experienced faculties, providing them with a wider scope of learning, just like the Welingkar  Institute of Management.
 5 Reasons To Choose Hybrid PGDM Program From Welingkar
Industry experts have created the Welingkar Hybrid PGDM Program for creating world-class professionals who can bring innovation and advancement to their organizations. Graduates from any recognized national and international universities or working professionals can opt for the course.
Here are the advantages of joining the WeSchool Hybrid PGDM program from Welingkar:
Convenient access to study material
The Hybrid PGDM Program is designed in such a way that individuals can get access to a range of subjects that can be used for upskilling easily at their convenience. Online lectures, workshops, webinars ensure complete flexibility of learning. All the courses are easily accessible to the enrolled students. It even has an online library that is accessible 24×7.
This program has similar benefits to that of any traditional PGDM course. It is globally recognized and hence is a great booster to the professional journey of a candidate. Industry visits, teamwork, and other activities help in cultivating new perspectives and new ways of thinking. The course curriculum is designed to ensure that individuals are industry-ready by the end of the program.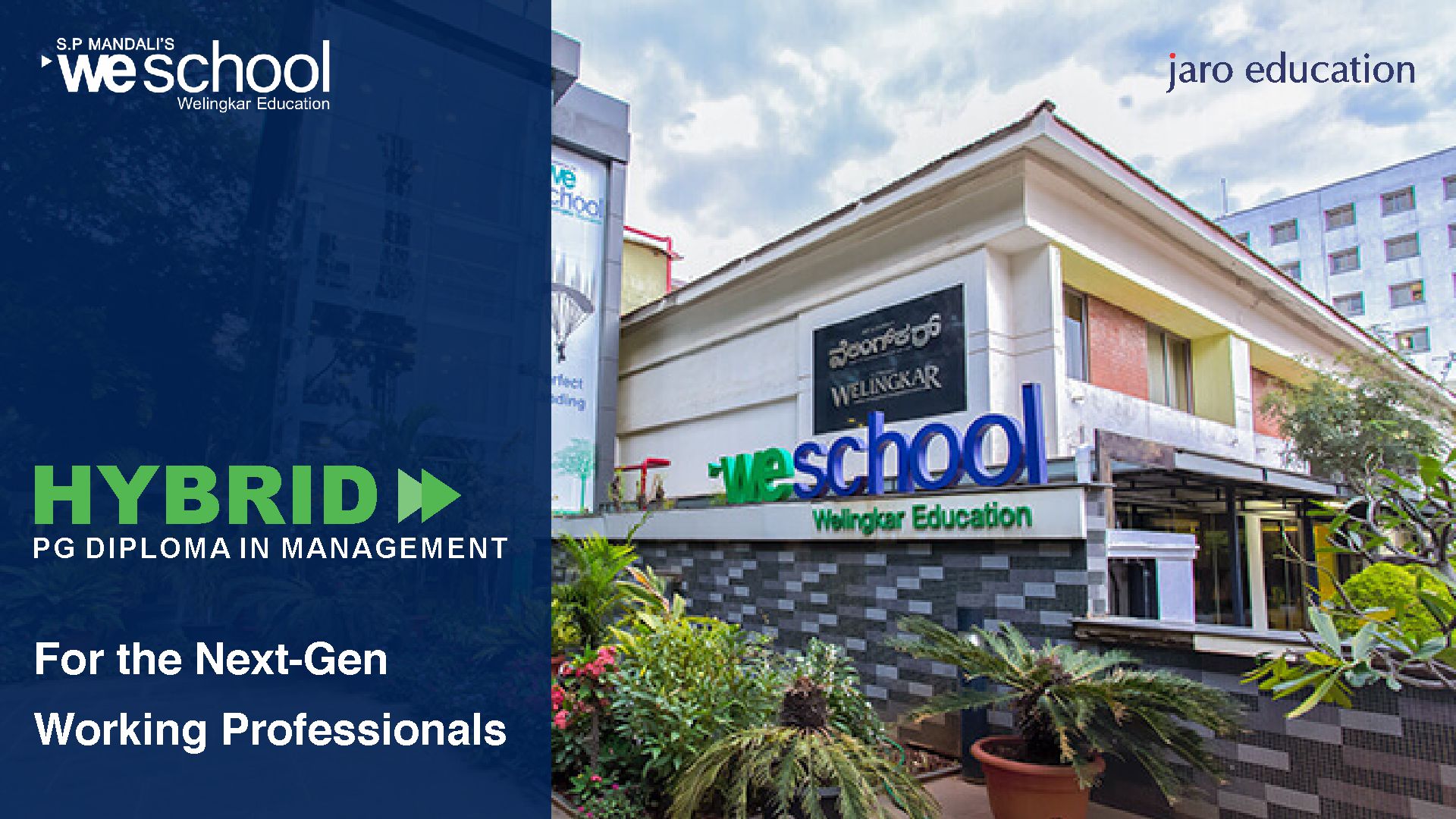 Establishing connections with peers and insightful learning
The Hybrid PGDM involves the flexibility of designing the assignment and scheduling classes as per the candidate's availability. Since all classes are equally important, a candidate learns to efficiently manage time and stay disciplined in work life. Also, there are candidates from various backgrounds in a class, which gives everyone a chance to interact and learn from their expertise in respective backgrounds. 
Learning at Welingkar institute uses E-learning kits, video lectures, experiential and collaborative techniques of learning, interactive workshop, and business stimulation.  Online and offline training is provided by the experts. All these make the process more engaging and keep the candidates focussed on yielding better results.
Options of specializations
There are 18 specializations offered at Welingkar. Candidates who find it difficult to identify the right specialization for themselves can take a test to find the best one that matches their career goals. E-business management, business administration, banking, marketing management, financial management, E-Commerce, international business, media, insurance, hospitality, health care, rural management, IT, and advertising are the various available options. This ensures that candidates can choose as per competency and proficiency.
Conclusion
Welingkar Hybrid PGDM Program has gained popularity and attention among working individuals as well as graduates because of its flexibility, convenience, and unique pedagogy. It is the best way of acquiring a degree without disrupting the professional work routine. The evolving global work environment calls for the potential to face the challenges efficiently with the right skill set. In such a scenario, the specialized Welingkar PGDM Hybrid Program helps candidates expound valuable ideas, create sound business philosophies and easily deal with problematic situations. Thus, making it easier for them to prosper in their career.
Want to upskill yourselves and have the best learning experience with experienced faculty?