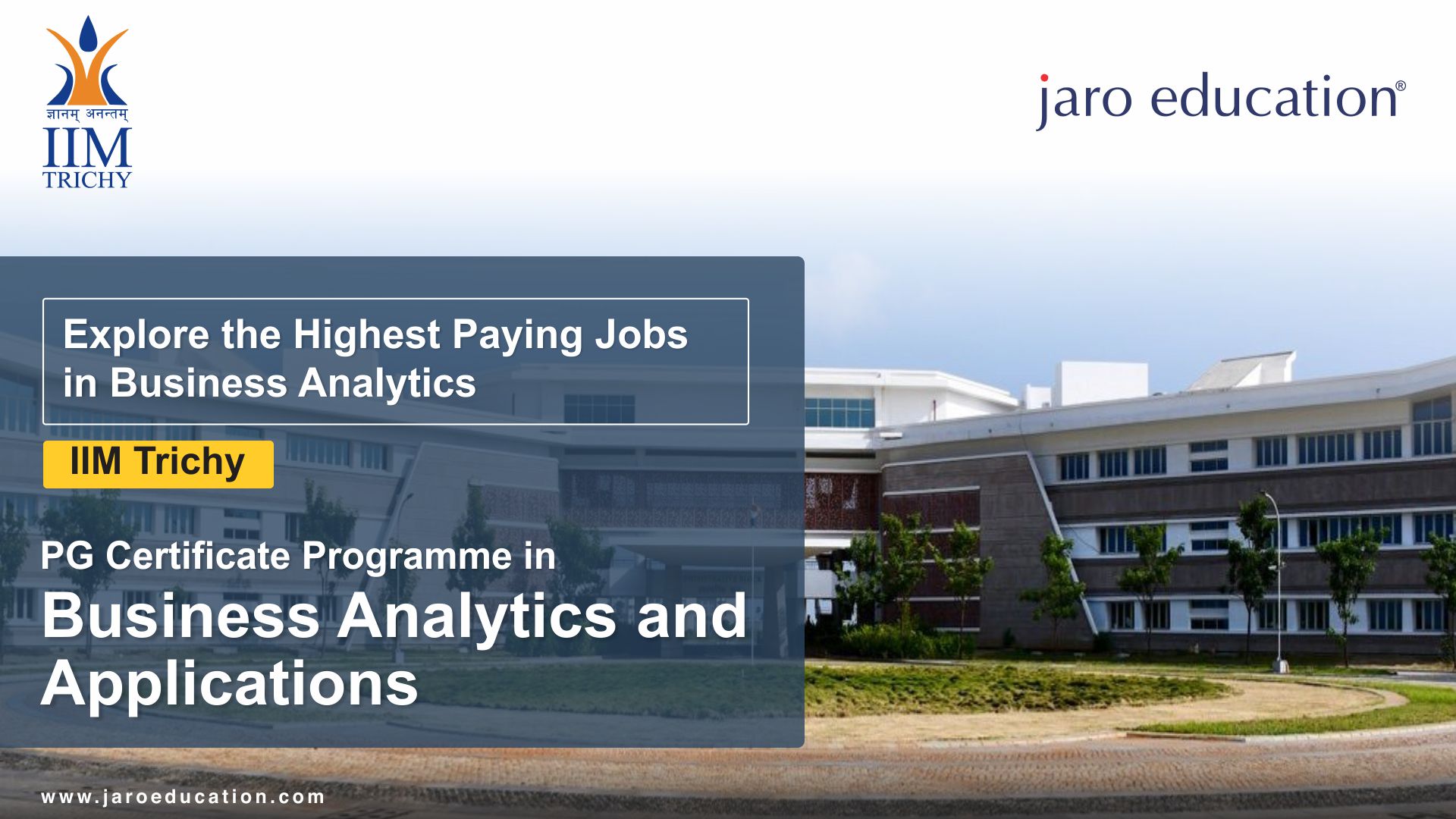 5 Highest Paying jobs after Certificate Program in Business Analytics and Applications
Owing to lockdown across the globe, Analytics upsurges the current business scenario. Business Analytics has become a powerful tool in the marketplace. New-age enterprises are paying lucrative packages for Business Analytics professionals.
Over the past decade, advances in Business Analytics is transforming how business operations. Learners will be able to calibrate the likelihood of strategy succeeding before they allocate resources.
Professionals with appropriate technical skills in business analytics, applications or data analytics and related fields can skyrocket their earring potential with high salary slabs.
Growing job profiles
Organisations are seeking employees who can enhance their brand value and become an asset for them. Skilled aspirants with an understanding of the latest trends in business analytics and applications bring scalable solutions to the organisation. A rigorous Business Analyst will provide smart analytics and data-driven decisions for the business. In light of that, organisations are looking to hire credible business analysts.
Explore highest paying Business Analytics jobs that pay more.
You can expect the following job profiles after completing PG Certificate Programme in Business Analytics and Applications.
1. Business Analyst
A business analyst plays a pivotal role in boosting business to its customers. They have challenging tasks such as examing sets of data and fact sheets to make smooth business operations. Identifies the needs of key audiences from their actions and captured data to devise new strategies. 
As an organisation's facilitator, the Business Analysts will create reports on data studies that help in making smart business decisions. Getting a PG Certification deems a participant to be a professional Business Analyst. 
Lucrative Payscale
In India, analytics is one of those degrees that are at the forefront of providing the highest salaries. Speaking of the highest salaries in Business Analytics or relevant field, the average salary ranging from between INR 7,00,000 to INR 17,00,000. This package ratio depends on the professional's experience levels. A business analyst course will full fill your career aspirations. 
2. Business Intelligence Analyst
A Business Intelligence Analyst guides and improves business management in sync between high-level managers and leaders. They demonstrate capabilities in business analytics skills application analysis and data modelling design for collecting data. Business Intelligence Analyst should be prolific in using modern analysis software and tools. According to Glassdoor, The national average salary for a Senior Business Intelligence Analyst is ₹9,00,000 per year in India.
3. Senior Data Analyst 
A senior data analyst works on collecting data, organising, and generating reports for their findings. These analysts mostly tend to be in marketing or financial domains where they can make the best use of data and fuel smart decisions. The primarily a Senior Data Analyst gathers information, extract, manipulate and analyse model data using multiple analytical and statistical tools. They enable oversight of data and a liaison between the internal teams and organisations. 
4. Quantitative Analyst
A Quantitative Analyst is a specialist who tends to apply mathematical and statistical methods to financial and risk management problems. They are responsible for Research and analyze market trends and statistics to make modelling decisions.
Report on Glassdoor suggests that the average salary of a quantitative modeller is INR 14,10,616 per year in India.
5. Business Analyst Manager
A business analyst manager will review the ongoing business processes and devise optimisation strategies. They stay abreast with the latest process developments and IT advancements, procedures and strategies across an organization.
IIM Trichy – Business Analytics and Applications is a specialised PG Certification Programme that prepares students for target roles. In the business analytics field, dive into various job roles, including a statistician, market research analyst, financial analyst, and business analyst. The programme will give you confidence in your business analytics skills. 
Subscribe now and get started with IIM Trichy- BAA Programme.