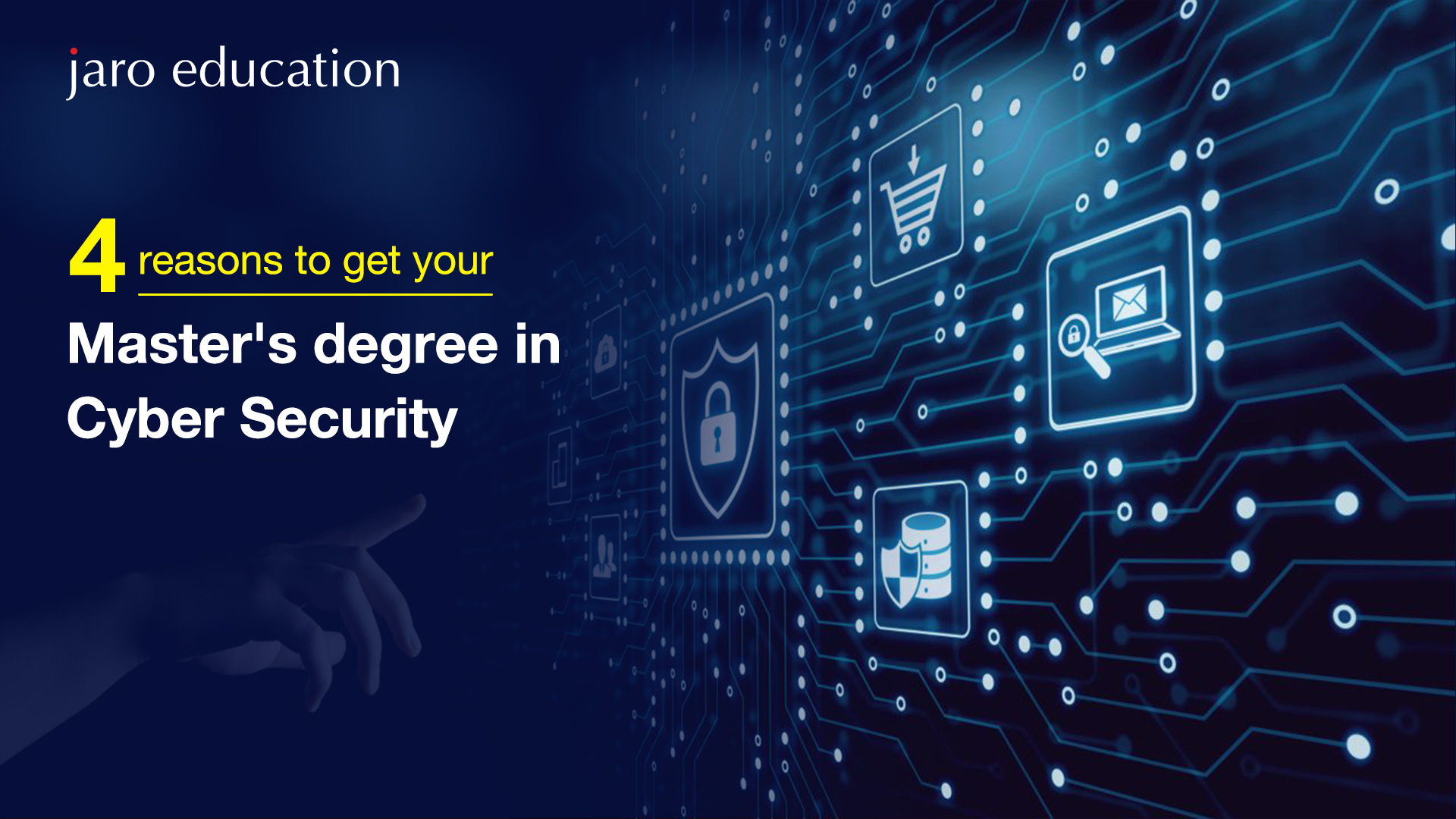 4 Reasons To Get Your Master's Degree In Cyber Security
The growing trend in cyber crimes
Cyber threats are growing with time. The World Economic Forum's 2020 Global Risk Report states that the rate of detection of cyberattacks (or action) in the US is as low as 0.05 percent. They are believed to be the fifth most dangerous threat since 2020 and have become a new norm in the public and private sectors. Locally, as reported in News18, more than 93,000 cybercrimes were recorded in India between 2017 and 2019. Also, 46 cases of cyber terrorism have been registered in the country during the same period, and FIRs have been registered under Section 66F of the Information Technology Act 2000 related to cyber terrorism.
The rate of cybercrime is on a constant increase. Due to the COVID-19 outbreak, an uptick in sophisticated phishing email schemes by cybercriminals has also increased. The rapid development of technologies, such as fast broadband, great gadgets, and cloud computing, has led to an increase in the number of connected devices.
How to counter cyber attacks?
Everyone is dependent on information and communication technology which means, for cybercriminals, there is an ever-growing criminal opportunity. Development in cloud storage and social media growth is making cyber-attacks more potent threats to cybersecurity. The burning challenges for every business, organization and government agency are to protect proprietary information, data, and secure systems, networks, and programs from cyber-attacks; this makes cyber security more important than ever. The responsibility of tackling cyber attacks lies with experts and qualified professionals in the cyber security domain.
Learning cyber security
Young graduates and aspirants looking into exploring careers in Computer Science and IT will find it interesting to look into the broad aspects of Cyber Security. Gaining a professional qualification specific to cyber security, through course like M.Sc. in Cyber Security. will be an assured credit to gain recognition and keep guard against cyber threats.
The following four reasons emphasize why a Masters in Cyber Security will be of great value in the future: 
According to the CISCO survey, nearly 2/3rd of the global population (~ 5.3 billion) will have internet access by 2023, and the ever-growing network devices (~29.3 billion) are prone to the vulnerability of cyber threats. The unexpected development in the Dark Web has led to the growth of the platform for possible cybercrimes. Making use of cyber security techniques and preventive measures can help minimize the impact of the dark web.  
Specialized cyber security
Common cyber-attacks, such as malware, phishing, DNS tunneling, drive-by attack; and uncommon attacks, such as business email compromising man-in-the-middle and drive-by attacks, are among the many high-end threats of crypto-jacking using which criminals compromise with your computer and use it to steal your resources, such as Bitcoin and other digital currencies. A specialization in cybersecurity, through an M.Sc. in Cyber Security, informs about all these attacks and prepares a young professional with the knowledge to secure yourself against them in the future.
Cyber security is a prime function
Every business on the net runs the risk of being targeted for cybercrime. Now that all financial and banking transactions are done online, sensitive information is stored on the cloud, increasing the risk of theft and misuse. In addition, the rise of social media has led to an increase in identity fraud. Knowledge in cyber security keeps one prepared at all times against these threats.
The average cost of cybercrime for an organization was about $13 million till a couple of years back. The NCBI research shows a sharp increase in information violations, including financial information, health records, trade secrets, personal data, and intellectual property. Cyber security initiative costs less and saves a lot on protecting your organization rather than losing the future through industrial espionage.
All cyber threats are less or more severe if not tackled on time. However, your knowledge and expertise in cyber security services are bound to keep you guarded against cybersecurity threats. Organizations today specially hire cyber security professionals to save themselves from monetary loss and wastage of time. These professionals are responsible for building cyber security. In today's world, this job is relevant and highly rewarding.
Conclusion
Cyber security is important because it protects you or your company from potential cyber threats. You can be in demand in cyber security by acquiring a prestigious qualification, such as M.Sc. in Cyber Security. A few prestigious institutes are providing Online Masters In Cyber Security.
Enroll now in the Masters of Science in Cyber Security offered by IU International University of Applied Sciences, and contribute towards making cyberspace safe for all!