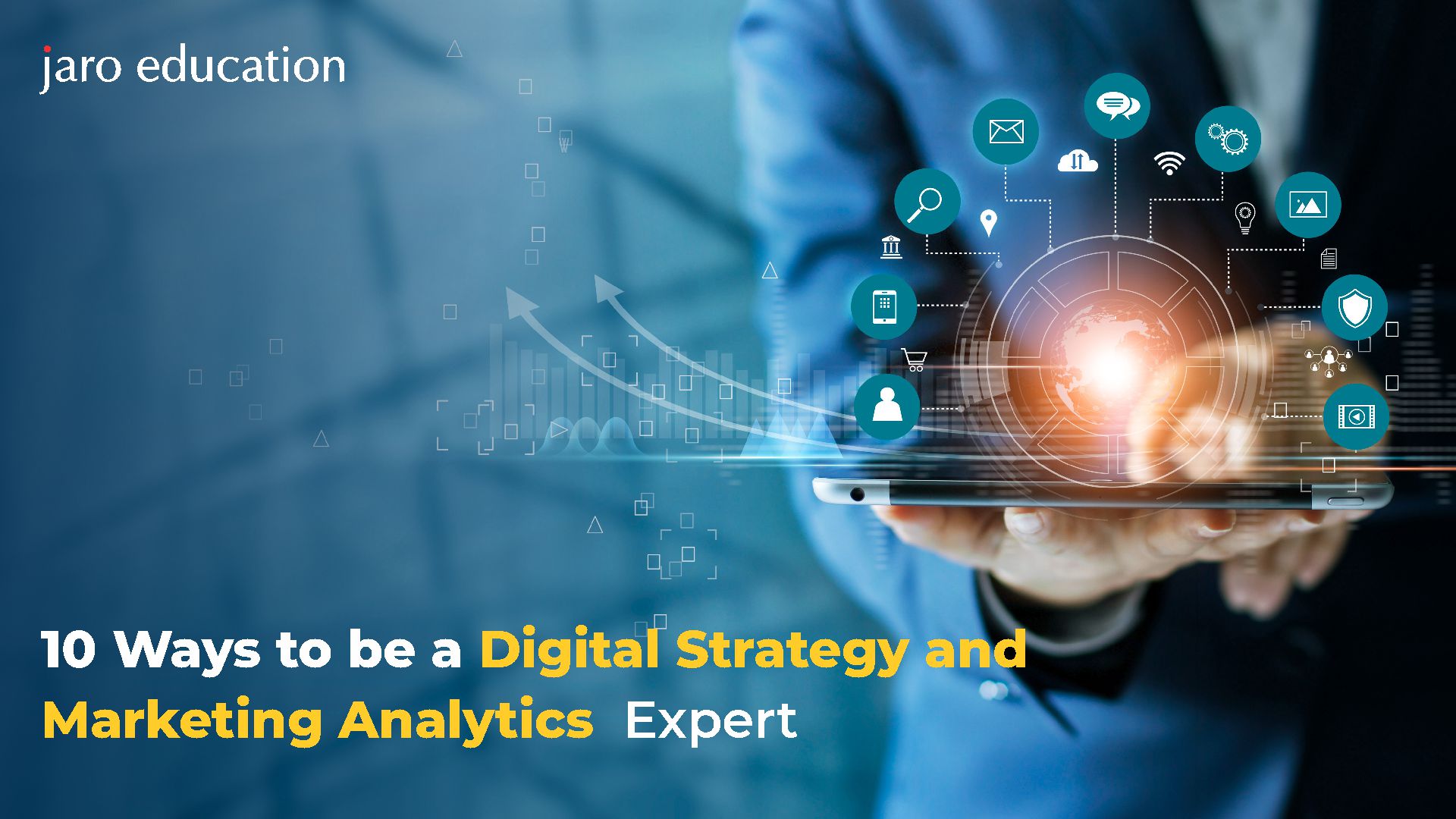 10 ways to be a Digital Strategy and Marketing Analytics expert
A well-trained digital strategist or marketing analyst knows how to play the role of a compelling storyteller in the modern world, transforming the essential character of any business into visually engaging and informative content for customers and clients.
The digital advertising industry has been experiencing an unprecedented boom in the last few years, leading to more and more people aspiring to pursue a career in this lucrative and exciting field. To meet this rising demand, many colleges have begun to offer digital marketing strategy courses online. 
Here are 10 ways to become a digital strategy and marketing analytics expert.
Customer relationship management skills
Monitoring customer experience is the key to formulating the best digital strategies. Hence, it is important to develop CRM skills for better outcomes. It is advantageous to learn and understand them on an emotional and personal level to gain loyal customers. Based on the data generated by studying the consumers, high-quality content is generated to meet the company goals and maximize return on investment.
SEO and SEM
Consistent updates of Google's algorithm make it important to use specific keywords for Search Engine Optimization. Technically-oriented people in a team can handle SEO's technical aspects. Besides, it is important to learn how to optimize various types of content for formulating successful digital marketing campaign strategies. SEM is equally crucial to push the content to the target audience.
Learn data analysis skills, brand management and integrated communication strategies in Digital world
A research analyst requires a strong background in analytical skills and extensive knowledge of Excel, SAS, R, SPSS, statistical software, and programming languages like Python and SQL. Apart from this, one needs to learn integrated marketing communication and brand management, shifting brand personalities, situational analysis and identifying strategic objectives and Digital Markstrat through simulation.
Learn key Social Media Marketing Skills
Knowing social media platforms like Instagram and Facebook well along with their business strategy and marketing analytics tools is essential. Each social media platform demands different approaches, and this is the only way to know which digital marketing strategy is applicable, appropriate, and effective on each platform. This is crucial because of the increasing public conversations on this platform. In such a scenario, digital marketers can convey relevant messages to the target audience by focusing on content quality, relevancy and audience engagement.
Every social media platform has its own algorithm. Understanding this can help businesses target their content for a specific audience to extract accurate data.
Pursue PG Certificate Programme in Digital Strategy and Marketing Analytics
The PG Certificate Programme in Digital Strategy and Marketing Analytics is essential for specializing in a particular field, especially for more strategic and techno-functional roles. While many are conducted in-person, some digital marketing analytics courses are also available to pursue online. The presentations, lessons, and workshops in such programs are crucial to building skillsets for the digital world.
Attend networking events
Join conferences and networking events in the field of digital marketing analytics. This offers invaluable opportunities to listen to and understand trends in the global industry, along with what experts have to say. It is also an exciting opportunity for networking with other digital marketing professionals. 
Learn from entrepreneurs spearheading digital marketing trends
Thought leaders in digital marketing can offer insightful and practical expertise through their own practical experiences. Learning the digital marketing trends from entrepreneurs is a great way to get insider information on what does and does not work in digital marketing. This is also beneficial to gauge potential career paths and chart out future plans. 
Connect with peers and like-minded individuals
Be an active part of online communities with like-minded people to understand how specific skills fit the big picture of business marketing and digital strategy and make upskilling choices accordingly. Pursuing a digital strategy course online provides one such avenue for networking, collaboration, and other key support systems.
Learning the use of social media data analysis tools
Knowing how to employ digital marketing tools for data analysis and report preparation is essential in digital strategy and marketing analytics roles. They are a valuable way of proving the effectiveness of specific digital strategies to clients. These tools include Google Analytics, Google Data Studio, Facebook Ads Reporting, Google Search Console, and SEMrush.
Stay up to date on digital marketing trends
Conduct research to stay updated on changing digital marketing and strategy trends. Algorithms are updated by Google every year. Similarly, platforms like Facebook change their features constantly. Keep up with these changes to efficiently face any challenges that come while exploring the world of digital marketing strategies.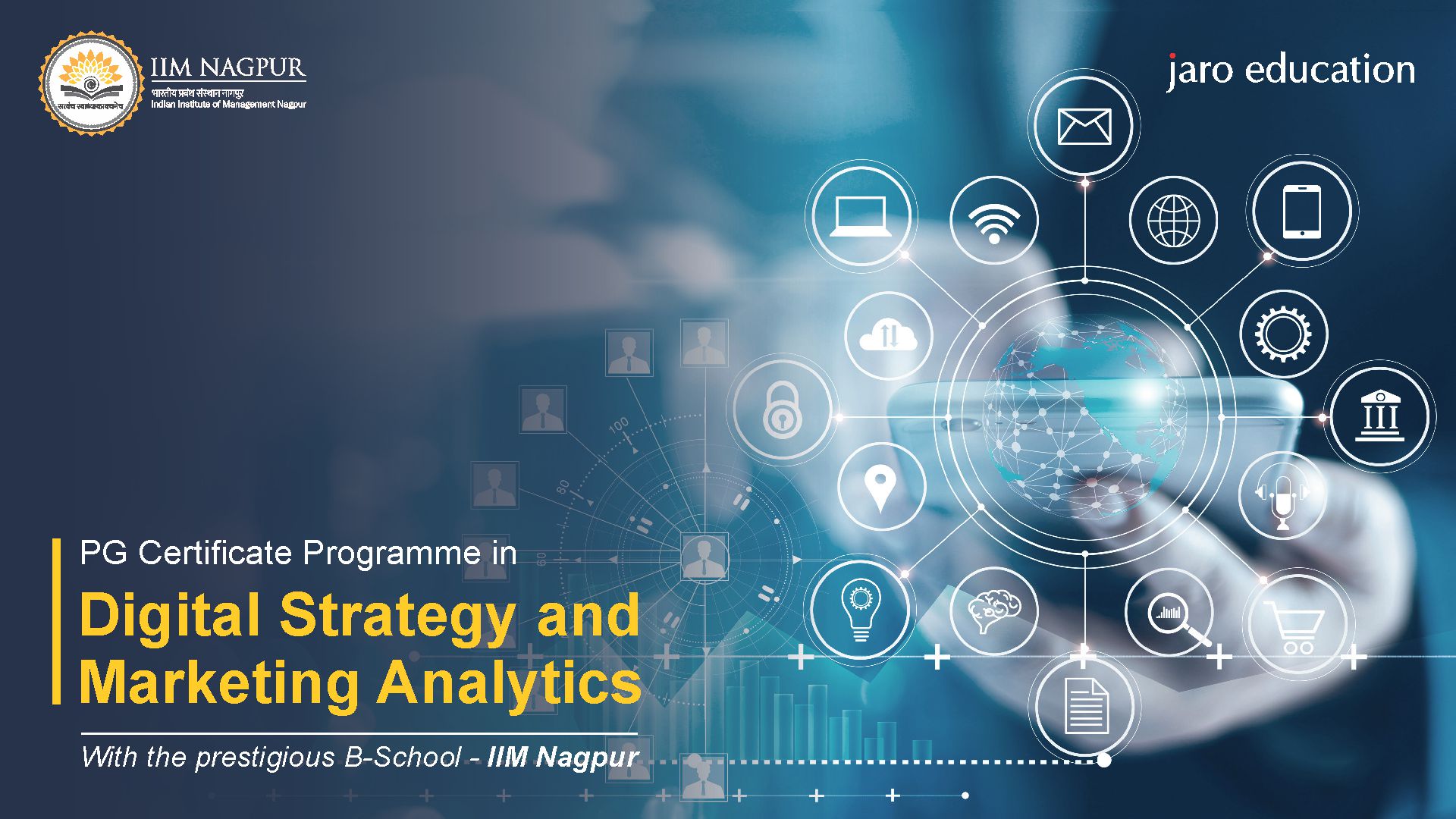 Conclusion
Digital marketing analysts are experts in understanding the needs and wants of customers. They utilize all data available to them to enhance a business's reach to its target audience. The role of a digital strategy and marketing analyst is dynamic and challenging, right as it is enormously rewarding. 
Aspirations to enter this exciting and challenging field are best complemented with robust training. It is, thus, essential to pursue a digital marketing strategy course from a reputed B-school to be well-prepared for this career. IIM Nagpur offers an opportunity to learn from the best faculty with classmates from diverse backgrounds and life experiences.
Want to stay ahead in the competitive industry with the right digital marketing skills? Join the PG Certificate Programme in Digital Strategy and Marketing Analytics offered by IIM Nagpur today.
FAQ's
Is digital marketing and marketing analytics the same?
No, marketing analytics is a part of digital marketing that involves learning the impact of marketing campaigns. It studies how these strategies have resulted in conversions, consumer behaviour, creative and regional preferences, and other factors. It aims to use these findings to optimise future strategies for better outcomes.
How is data analytics used in digital marketing?
Data analytics processes collected data to provide a business with actionable insights. An example of this is targeted marketing. 
What is a digital analytics strategy?
It is a structured approach for measuring, interpreting, and reporting data to make changes in digital marketing techniques to increase returns on investment.
How do you analyze a digital marketing strategy? 
This process involves reviewing a firm's goals, audience personas, competitor's marketing strategy investigation, researching online audience behaviour, languages, and needs. Based on these findings, marketing strategies are then rebuilt.