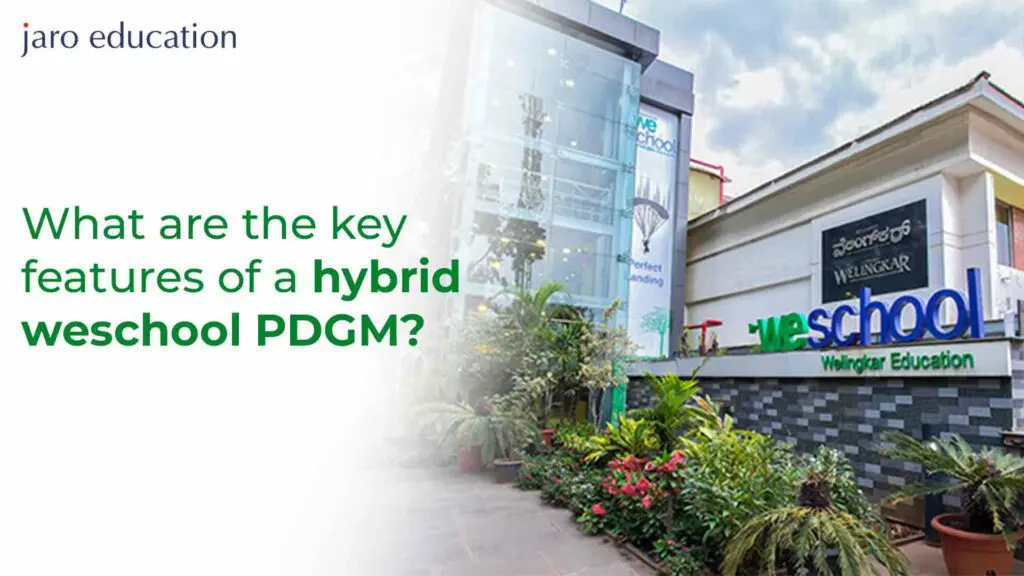 WeSchool's Hybrid PGDM Program combines the benefits of online and traditional classroom instruction. Students can participate in the Program by attending both in-person and online classes. Flexibility, technology-enabled learning, industry-relevant curriculum, are the main characteristics of this program.
Here are Some of the Key Features of Weschool PGDM Program:
Flexibility

These programs are made to meet the requirements of working professionals who want to advance their skills while working. The hybrid PGDM Program allows students to study at their own speed and time while simultaneously giving them the chance to interact with classmates and industry professionals. Students who want to balance work life, and higher education, increasingly favour this type of curriculum.

Offers Both Physical and Online Classes

Students opting for Hybrid PGDM Program – WeSchool, can take both in-person and online classes. They have the freedom to select the type of learning that suits them the best.

Customizable Learning Schedule

The flexibility of a Hybrid PGDM program's learning schedule is a vital component. In addition to choosing when to attend in-person or online classes, students can also decide how quickly they want to finish the Program. This enables students to manage their study with their work and other obligations.

Opportunity to Learn at your Own Pace

Learners have the option to study at their own speed while enrolled in this hybrid class. This implies that people can learn more slowly if a notion is challenging or more quickly if they already have a solid grasp of a subject. This also enables learners to balance their academic obligations with professional commitments like work.

Industry-Relevant Curriculum

Welingkar's Hybrid PGDM Program meant to be industry-relevant and to include the most recent business trends and practises. This aids in the development of the skills and information necessary for success in the contemporary business environment as well as helping students stay current with modern business practises and trends.

 Access to Online Learning Resources

This Hybrid PGDM Program give students access to a variety of online learning resources, such as e-books, videos, webinars, and podcasts. Students can access educational resources at any time, from any location, and at their own speed.

Emphasis on Practical Learning

The emphasis of a hybrid PGDM Program is on practical learning. This indicates that through workshops, industry visits, and students get the chance to apply their knowledge and skills to actual business situations.

So, what are you waiting for?

Become a new-age business leader with WeSchool's Hybrid PGDM Program.