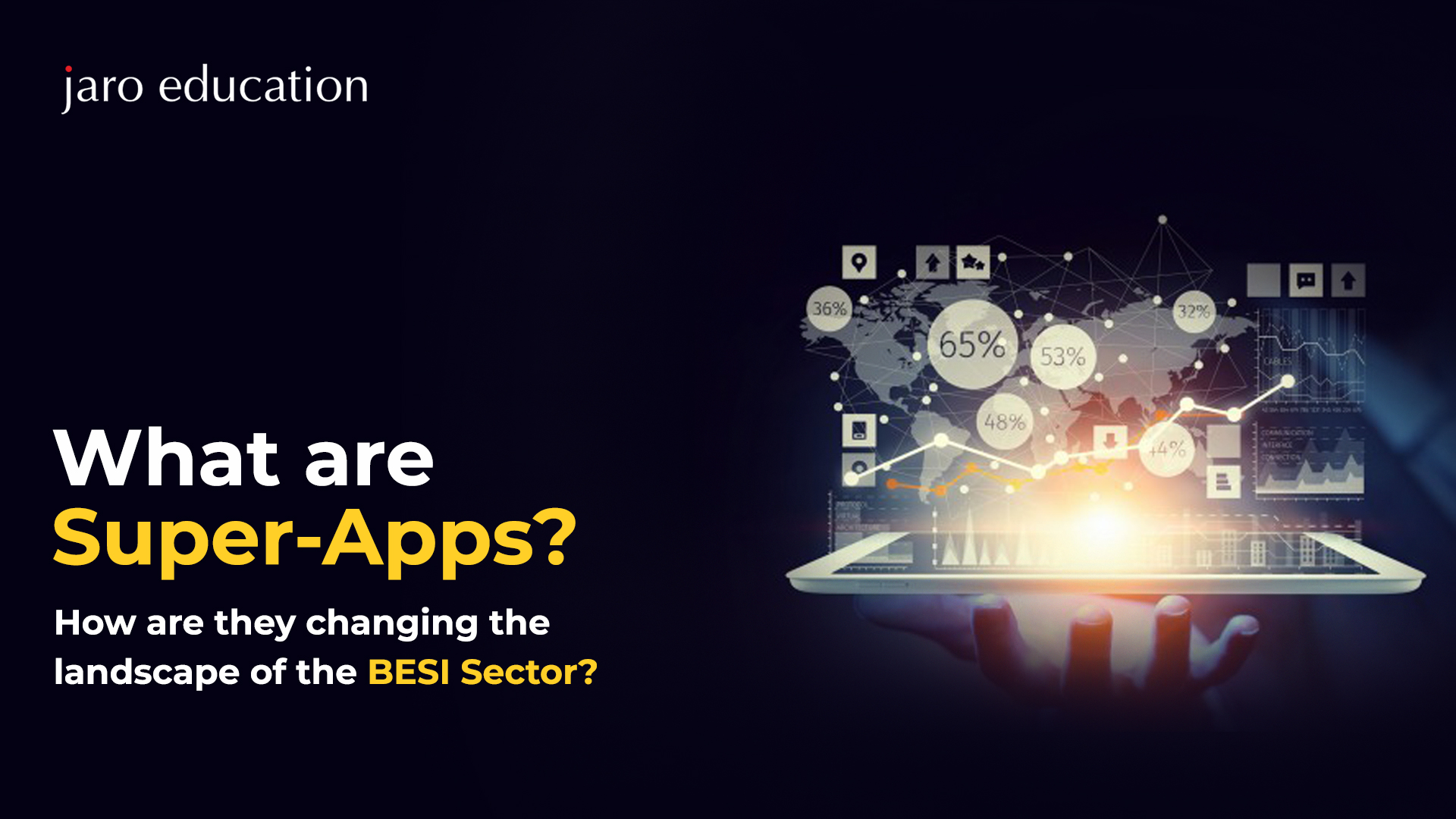 Super-apps have been around for some time now, but the pace at which it is getting adopted by end-users, they have exploded in recent times. Today, they are more like "digital front doors", which are offering a multitude of services and offerings within a single app-ecosystem through third-party integrations. 
Before proceeding further, it would be good to know that working professionals have the opportunity to earn Banking and Finance Courses or professional banking courses from IIM Trichy with PG Certificate Programme in Banking & Finance. The course is a 12-month online program and comes attached with the prestigious IIM brand name.
What are Super-Apps?
These are mobile applications that come with multiple uses and lets the user avail several services without the need for switching between multiple apps on the smartphone. Chatting, games, photo-sharing, buying tickets, paying for taxis, booking holidays, and even watching movies can be done over a single super-app.
In some cases, the app has gone beyond the confines of these services and also helps manage all financial affairs of the person without having to visit the bank's website. Users can apply for a loan, buy insurance and even manage investments within the same app. Every vendor offering their services over the app is part of the app's ecosystem and is directly integrated with the user interface or connected via a QR code.
Reasons why SuperApps are Changing the BFSI Landscape
With the ongoing pandemic situation, it has become pertinent for banks to rethink their business model and build services aligned to the interests of retail customers. This has made banks eager to be part of the ecosystem of such apps, where they can provide easy-to-use services to the end customer in a seamless and hassle-free manner. On top of that, such a transition will help banks to migrate their corporate customers to a new digital model to deliver unmatched services to a wider market covering more clients.
Every bank today is overflowing with an abundance of data. These super-apps will incredibly improve the data management and analytics capabilities of banks. They would utilise the available data and share it across to other lines of business for a better view of the audience. Currently, in markets like China, banks are already using the data to improve their operational processes.
For instance, online behaviour and transactional data are being scrutinised to risk-assess loan applicants. Banks are also using available data to rightly target individuals with financial products when they need it the most. In contrast, traditional banks with their siloed approach are likely to struggle and fall behind.
Easy Flow of Information and Data
These super-apps are designed using open data architecture that allows seamless flow of information between stakeholders. This will help support processes such as digital onboarding, real-time KYC, biometric and facial recognition, and other AI features to enable self-service. Altogether, it is likely to provide an omnichannel experience to the customer.
The omnichannel experience provided to the customer will help forge a strong relationship between the bank and the customer. It will help meet customers' expectations with ease and convenience. Importantly, it will shift the focus of banks from only conducting transactions to building meaningful relationships with their customers. These, in turn, will result in better customer retention and pave the way for new customers.
By far the most important transition will be towards a "holistic banking" where services are provided based on individual preference. The banks will only reach out only with personalised financial solutions, while the customer will have access to an ample number of services with a consistent user experience. Simultaneously, the customer will enjoy uninterrupted connectivity with the bank to simplify their lives by a fair margin. 
Final Thoughts
While there is likely to be a shift in the way banking gets done, aspirants seeking to upskill or join a banking career can join the PG Certificate Programme in Banking & Finance offered by IIM Trichy. This is one of those few courses that comes attached with the prestigious IIM brand.
The professional banking course or certificate course in banking and finance is specially designed for working professionals that seek to equip them with the latest new-age banking and financial developments. This interdisciplinary 12-month banking certificate course is created with high academic rigour with specially created courseware from IIM Trichy's experienced faculty. 
Click here for more on the course and its details!
Frequently Asked Questions (FAQs)
This is an all-encompassing app offering multiple services within a single app. Users need not switch between apps for availing services like banking, paying for taxis, gaming, or even watching movies. It curbs the need to download multiple mobile applications for different services.
What are the key elements of a super-app created by Banks?
Apart from the regular financial services (balance inquiries, cardless payments etc.) related to the bank, these super-apps allow the user to shop, buy movie tickets, buy and compare flight tickets, send money, pay utility bills, recharge mobile and DTH and so forth. 
Is the Banking and Finance Course a good course to start as a career?
Banking has been categorised as part of essential services and is needed by every individual regardless of their economic stature. Besides, it is a career that can be said to be partially immune to the ups and downs of the market. Therefore, it can be inferred that banking and finance are good career options.
What are the eligibility criteria for the Banking & Finance Programme?
This course requires a minimum 50% aggregate in graduation or post-graduation from a recognized university. Plus, five-year work experience post qualification is compulsory for enrolling for the course.