​​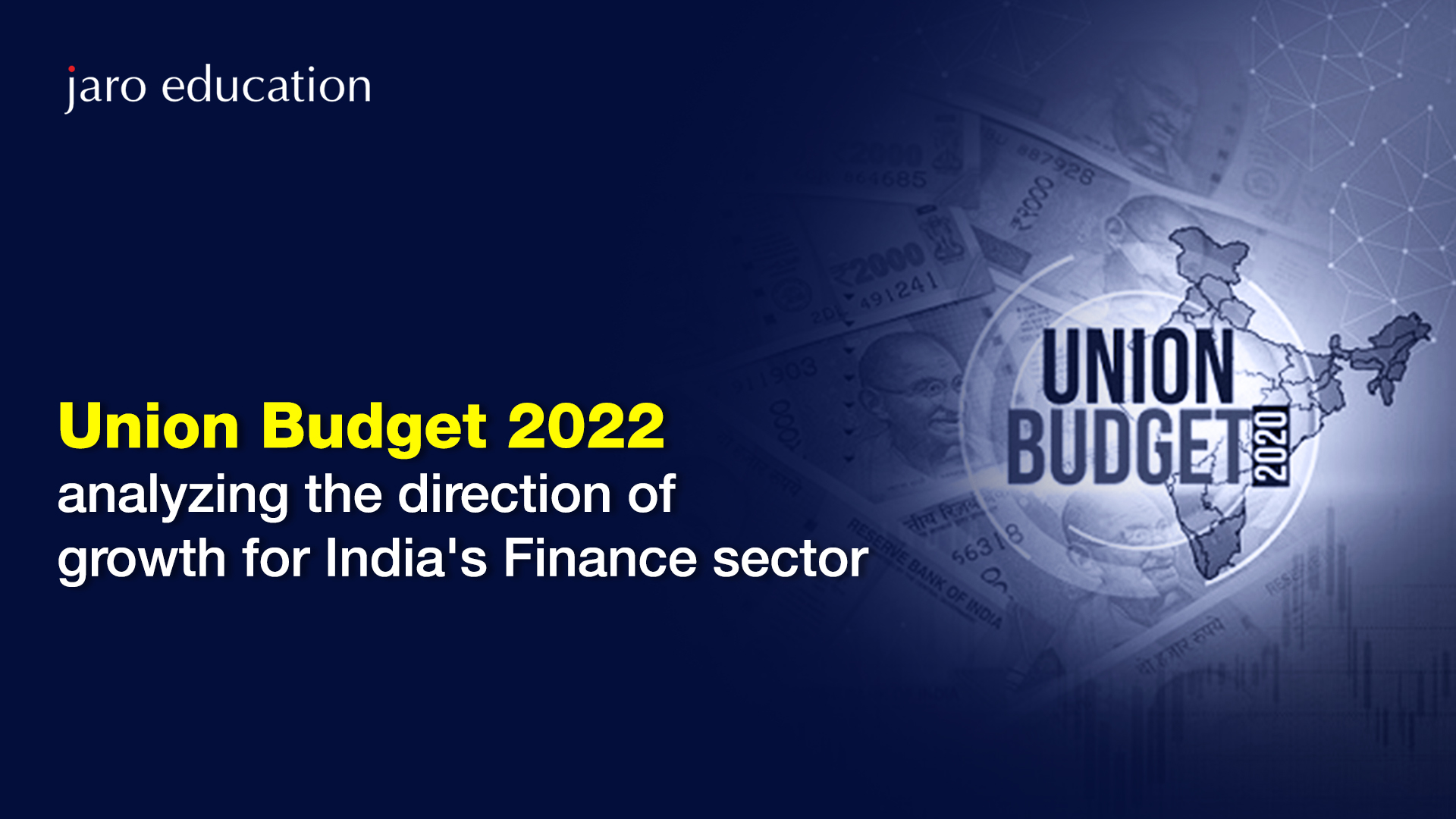 Despite the Covid pandemic, the Indian economy is expected to keep its position as the world's fastest-expanding economy. The industry finds solace in the Union Budget 2022-23, prioritizing long-term growth by increasing consumption. It has taken a respectable and audacious step by boosting capital spending by 35.4 percent. The Union Budget for 2022 expresses India's interest in financial technologies. It not only shows India's progress toward becoming a Fintech nation, but it also shows that FinTech is a rapidly growing industry with numerous career opportunities in the future.
FinTech courses in India can help you understand and analyze the Union Budget, and make financial projections accordingly. So, apply for the best FinTech course offered by IIM Nagpur.
Analyzing the Direction of Growth for India's Finance Sector in Union Budget 2022
The Union Budget 2022, according to Finance Minister Nirmala Sitaraman, lays the foundation for India's fiscal growth and development over the next 25 years. It was designed with long-term growth and outlook in mind. For the second year in a row, the budget prioritized development above fiscal austerity, dramatically increasing capital and infrastructure investment in the Union Budget, despite continuing global headwinds and economic uncertainties. The Union Budget 2022 included several announcements in the financial, banking, and FinTech sectors to open up various career prospects. The government has announced that the Reserve Bank of India will develop a Digital Rupee, a Central Bank Digital Currency (CBDC) based on blockchain technology. Credit Guarantee Fund Trust for Micro and Small Enterprises (CGTMSE) will also be redesigned with additional credit of 2 trillion to aid MSMEs affected by the epidemic and enhance employment possibilities in the finance sector.
The budget ideas aim to increase credit growth for banks and non-banking financial enterprises and introduce financial innovations. More than 35 crore post office deposit accounts would be brought into the banking and payments system, providing doors to career potential in the finance and Fintech businesses. With so many developments and career opportunities in the FinTech industry, the need to have professional financial knowledge also increases. So, improve your financial knowledge by taking various FinTech certifications. IIM Nagpur's PG Certificate Programme in FinTech is widely considered one of India's best FinTech online courses, stressing practical knowledge to solve real-world financial problems.
PG Certificate Programme in FinTech by IIM Nagpur
It's a 12-month financial course that lets you explore deeper into the latest financial technologies that have revolutionized the banking and financial industries. It stresses hands-on learning by allowing students to work on real-world financial business problems through projects and case studies. The PG Certificate Programme in FinTech covers essential areas such as financial supervisory technologies, wealth management, blockchain systems, banking payment systems, and so on, as well as the fundamentals of financial technology and practical applications. The following are some major takeaways from the PG Certificate Programme in FinTech at IIM Nagpur:
Students who complete the FinTech certification will receive a PG degree from IIM Nagpur and alumni status.

The financial technology course delivers direct mentorship from IIM faculty and business specialists through various online methods.

IIM Nagpur's FinTech course covers all aspects of the FinTech and finance industry, including banking, blockchain technology, and financial policy management, among other subjects.
Conclusion
FinTech is a rapidly growing industry that, according to the Union Budget 2022, will be India's future, with a wide range of professional opportunities. Enroll in the IIM Nagpur's PG Certificate Programme in FinTech to strengthen your financial technology skills and advance your career in this industry if you have a bachelor's degree with a minimum of 50% and at least three years of work experience.
Frequently Asked Questions
What is a fintech course?
The PG Certificate Programme in FinTech is a 12-month financial technology school that focuses on an industry-oriented case-study based curriculum that offers you an advantage over the competition by instilling new financial abilities that will help you advance in this sector.
Who can do the fintech course?
The PG Certificate Programme in FinTech is ideal for anyone interested in pursuing a career in finance or fintech. The FinTech course is open to anyone willing to learn about financial and blockchain technologies and at least three years of work experience in the IT/Finance business.
How to apply for a fintech course?
Working professionals with a bachelor's degree and at least three years of work experience should fill out the application form and pay the application costs for the IIM Nagpur's PG Certificate Programme in FinTech. Then, based on the students' profiles, a decision is made. The program fees must be paid by selected students.
Is the fintech course worth it?
FinTech's scope is quickly expanding at both the micro and macro levels, from faster financial services to digital currencies that connect buyers and sellers in industries. Completing a FinTech course gives you a competitive edge over others.