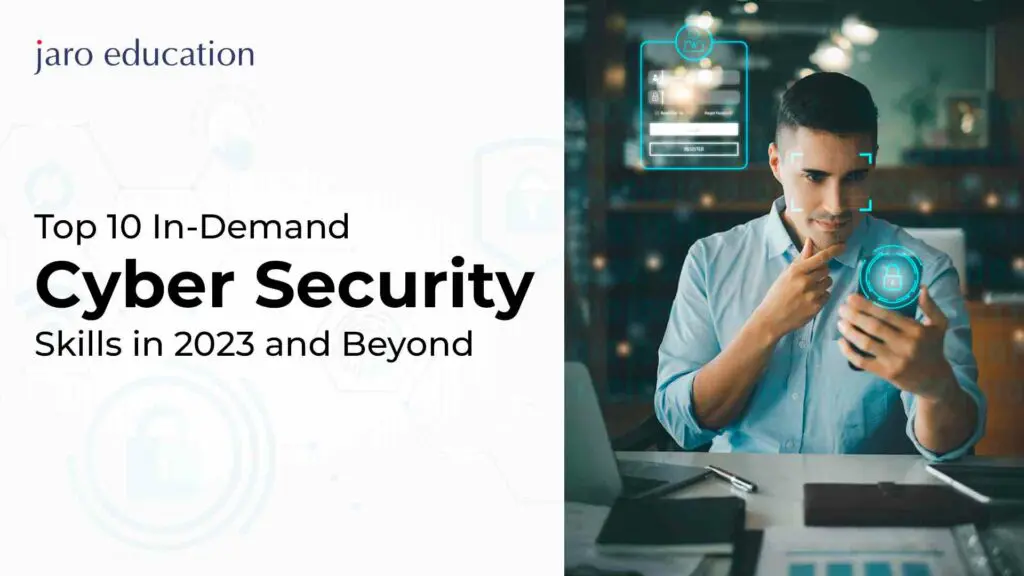 With the advancement of technology in today's world, the requirement for cybersecurity professionals has been amplified. Businesses rely on technology to store and manage their sensitive data. This is how information protection from cyber threats has become every firm's top priority. 
In 2023, the demand for professionals with the necessary skills has increased to save companies from cyber attacks. In this article, we will check out the top 10 cyber security skills employers seek in 2023. 
If you want to pursue this career or hone your skills in this field, enrolling in a cyber security programme by IIM Indore is an ideal course. Such cyber security courses online can help you equip yourself with the needed proficiency and ability employers require to tackle the challenges of cyber connected world. Join the Executive Programme in Cyber Security for Organizations and be cyber security professional.
Top 10 Cyber Security Skills
Cybersecurity is a rapidly growing but complex field. It requires a wide range of skills and expertise to save your data from mitigating threats. These are the top 10 most-sought cyber security skills in demand for every self-motivated tech professional.
Network security
Cybersecurity attacks happen on connected devices and networks. Companies that use technology to work together can also be at risk. To keep a company safe, you must be an expert in the network security skill. It is about protecting a network and its parts from unauthorised access and misuse. 
So, you must be familiar with the network protocols such as TCP/UCP, HTTP, ICMP, DNS, and SMTP. Other important things to learn include Network/Endpoint/Extended Detection and Response systems (NDR/EDR/XDR), Network Access Control (NAC), and Secure Access Service Edge (SASE).
Risk assessment and management
Cybersecurity experts use risk assessment to identify and analyse the potential risks in computer systems. Penetration testing is one way to do this. Artificial intelligence can also help by looking at lots of data to find patterns that show when something bad might happen, like a virus or scam. You should also know about SIEM software like Splunk. It collects data from different places and helps with risk assessment and security.
Identity and access management
Identity and access management (IAM) means controlling who gets to use a company's resources and information. It includes managing who can use the company's stuff, giving and taking away permission to use things, and making sure only the right people can see important information.
Cloud Security
Cloud security involves protecting data and applications hosted in the cloud. It includes implementing security measures such as encryption, access controls, and threat detection to protect data from unauthorised access, theft, and attacks.
Data security and encryption
Data security and encryption keep important information safe from attacks. It can be done by using some techniques, including secret codes, access controls and other security measures. Skilled individuals can earn more money in the near future as their needs are increasing exponentially.
Threat intelligence analysis
Threat intelligence means analysing data to find out about possible threats. This helps organisations protect themselves by creating strong defences and reducing risks to their finances, privacy, and data. A cyber intelligence threat analyst is responsible for doing this work. They keep an eye on cyber threats, find weaknesses, and use data to stop security breaches.
Incident response and management
Incident response and management is the process of responding to and managing security incidents, including detecting and investigating incidents, containing the damage, and implementing measures to prevent future incidents.
Application security development
Cybersecurity experts may need to test new applications being developed in addition to the existing systems. In application security development, they check the app for weaknesses and fix them before breachers can use them. This skill is becoming more in demand because companies want to release safer apps. Experts need to know how to test and analyse an application's performance to find and fix its weaknesses.
Penetration testing and ethical hacking
Penetration testing and ethical hacking involve testing an organisation's systems and networks for vulnerabilities by attempting to exploit them in a controlled environment. This helps to identify potential security weaknesses and helps organisations to better protect against real-world attacks.
Digital Forensics and Incident Response (DFIR)
When some incidents of data breach occur, you should have remarkable in handling digital forensics to investigate it. This means one should locate the attacker and draw a solution to keep it from happening again. You will also have knowledge about recovering lost data and improving cybersecurity to prevent it from occurring. For it, using forensic software like EnCase, Helix, XRY, and FTK is important.
The Final Thoughts
As technology becomes an integral part of various businesses, cyber security has become a major concern for them. In the future, companies will require hiring skilled people to keep their information and systems safe. By learning and improving cyber security skills, you can make yourself really useful to companies and help to safeguard companies against cyber attacks.
Pursuing the online cyber security course will equip you with the necessary skills to thrive in the current digital terrain.  The course provides you with practical training and a great industry interface to stand out from other professionals in this competitive environment. So, don't miss out on this chance and register today with Jaro Education!