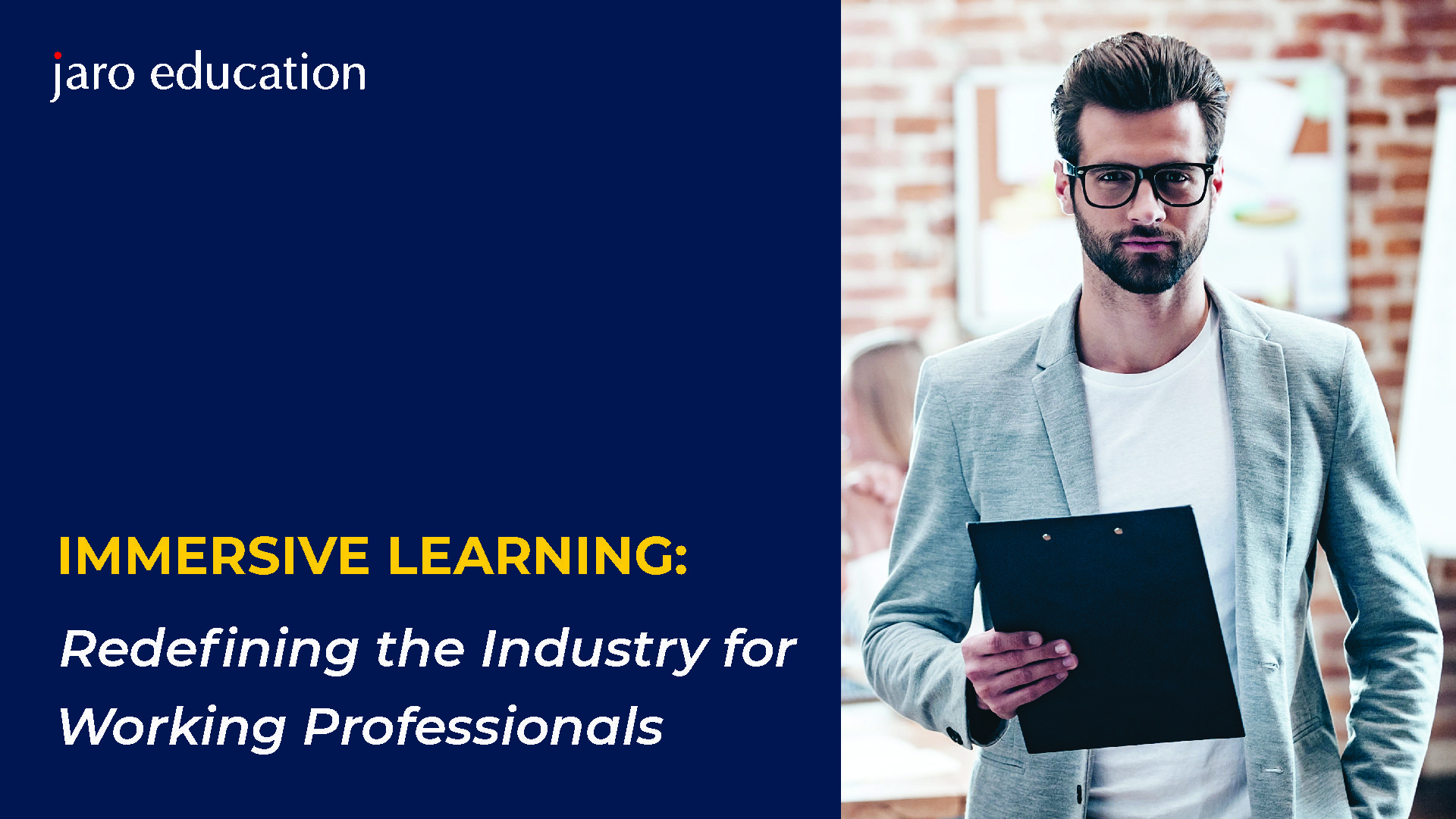 ​​
Traditional classroom-based learning is fast becoming a thing of the past as the world gets more technology-oriented. Creating a participatory atmosphere in the classroom, where instructors facilitate interactive learning, is becoming the new normal. Immersive learning, one such learning method, can be extremely advantageous to developing practical skills and a knowledge base.
It is based on the idea that to be effective, all learning must be practical. Therefore, training programs are tailored to help employees put their skills and knowledge into practice in their jobs. Many online MBA courses in India use an immersive learning method to educate management skills and enable working professionals to build crucial abilities practically. 
Let's learn about the value of immersive learning: how it is redefining the industry for working professionals in this article and its importance in helping an organisation stay ahead of the competition in this era of unparalleled uncertainty. Working professionals also need to learn critical management skills to advance their careers and stand out among the crowd. One way of doing this is through immersive learning. They learn management skills in a practical case-study-based method.
How immersive learning helps redefine the industry for working professionals?
Working professionals can have a fully immersive learning experience that will prepare them to face real-world business problems by modifying learning dynamics to produce solutions that mix traditional learning with technology. This is accomplished in online MBA programs for working professionals in the following ways:
Working professionals are immersed in a highly dynamic learning environment, where they learn practical skills by replicating real-world business problems.

Simulations and role-play are used in

online MBA courses

to assist professionals in learning and practice management skills.

Immersive learning demands peer connection, and

online MBA programs

offer discussion forums where working professionals can communicate and discuss with one another.

It helps in exposing students to real-world business circumstances in which they must apply critical management skills to find the best solutions. Group projects and real-world case studies are used in

online MBA courses in India.

Therefore, Immersive learning is critical for redefining skills and progressing in a profession. Working individuals should enrol in the top online MBA programs in India, especially those that combine academic and practical knowledge and emphasise an immersive learning style.
Top Online MBA Courses in India
Dr. D.Y. Patil Vidyapeeth (Deemed to be University) – Online MBA Degree Program
D.Y. Patil Vidyapeeth University's Online MBA Degree Program is one of India's best online MBA courses, allowing students to grasp vital management skills and seek a career in business management. It is a two-year online MBA program designed for working professionals who want to enhance their careers in business management and have a long-term career. The Online MBA Degree Program at Dr. D.Y Patil Vidyapeeth University requires a graduate degree with at least a 50 percent score.
Shiv Nadar University – MBA (Executive) Degree Program
MBA (Executive) Degree from Shiv Nadar University is a two-year online MBA course designed to give working people the knowledge and conceptual understanding they need to advance their business or professional careers without leaving their current jobs. The program is based on an industry-focused curriculum and follows an immersive learning approach. The MBA (Executive) Degree from Shiv Nadar University requires a bachelor's degree and two years of professional experience.
Dayanand Sagar University – Executive MBA Program
Dayananda Sagar University's 17-month Executive MBA program lays the groundwork for a long-term management career. Working individuals who want to advance their careers can benefit from the DSU – Executive MBA program. Working professionals can scale up in their business duties at their speed with the DSU – Executive MBA program, which offers online classes and alternate weekend sessions that can be attended from remote locations. Admission to the DSU – Executive MBA program requires a graduation degree with a minimum 50% score and one year of work experience.
GNIMS – Executive MBA Program
The GNIMS Executive MBA program is an 18-month online management MBA program geared toward working people. It offers excellent networking opportunities, mentorship from industry professionals, and coverage of functional business requirements at all levels. Admission to the GNIMS Executive MBA program requires a bachelor's degree and at least two years of professional experience.
Conclusion
Working professionals can apply to any of India's top online MBA courses if they are eligible for them. They should apply for online MBA programs to learn crucial management skills practically, using an immersive learning approach.
Frequently Asked Questions
What is Change Management in Project Management?
In project management, change management refers to the process of managing changes in operations, resources, and people engaged in a project. The team would then have to manage the modification to ensure that the project is completed on time.
What is Risk in Project Management?
Any unforeseen event that may have a negative or positive impact on your project is referred to as a risk. Processes, people, resources, and technology can all be impacted by risk.
How important is a Master's degree in Business Management?
In today's competitive business environment, a master's degree in business management can make you more marketable to potential employers and help you develop your career.
What salary should I expect with a business management degree?
An entry-level business management degree graduate earns roughly 5 lakh, according to PayScale, though this varies depending on the job profile. As one's experience grows, so does the average salary.