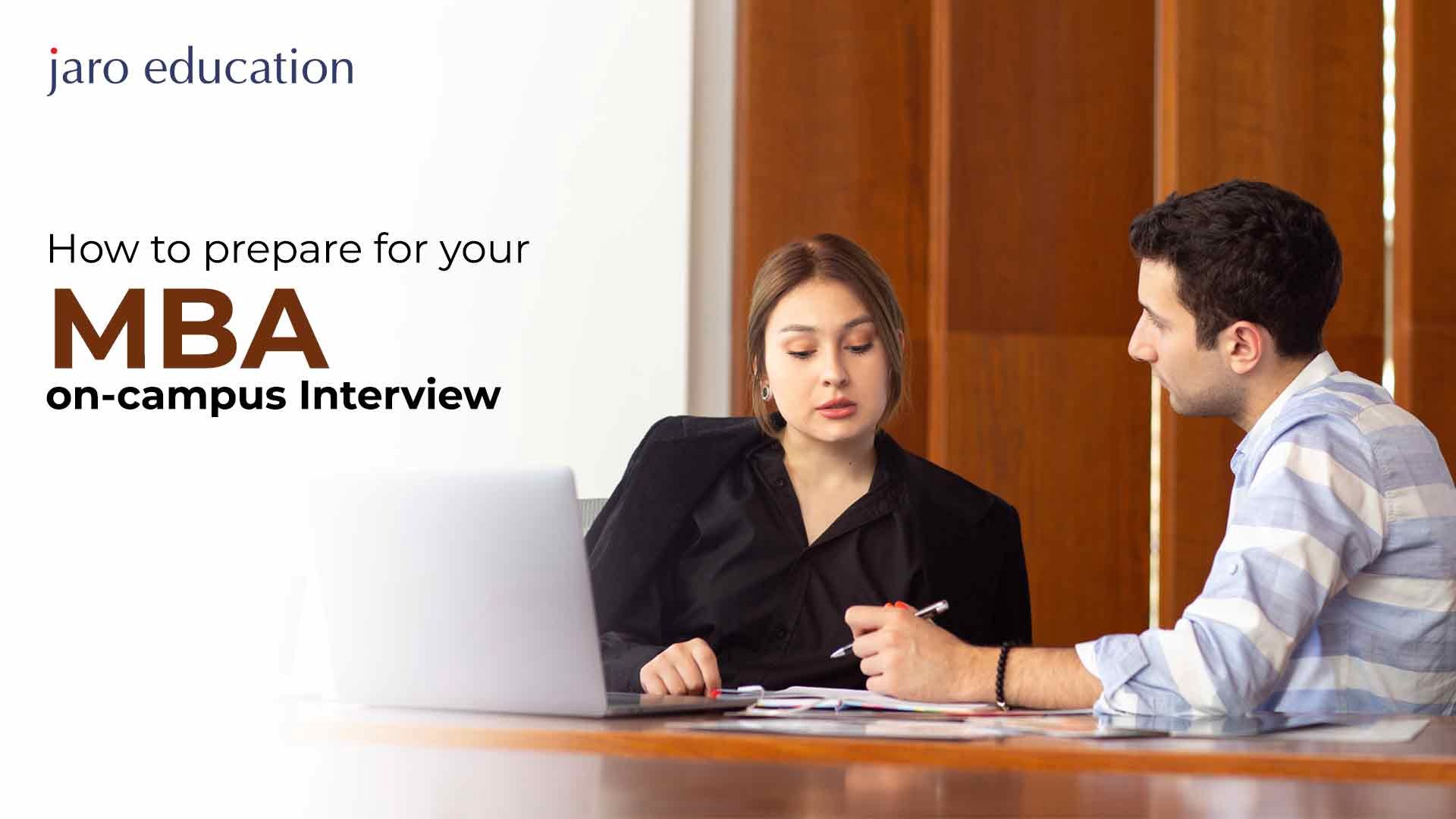 When you apply for the most sought-after courses like MBA in general management or MBA in product management, you will likely have to clear the interview stage to get in. The on-campus interview is your chance to show the school who you are as a person and how you will contribute to the school's community. The interviewer will be looking to see if you are a good fit for the school and if you have the qualities they are looking for in a student. Here are a few tips on how to prepare for your on-campus interview:
Do your research
To answer MBA interview questions well, you must research the school and program to which you apply. This will help you be prepared to answer any questions the interviewer may have about why you are interested in their school and what you hope to gain from the program. Additionally, research can help you anticipate possible interview questions and give you a better sense of what to expect from the interview process.
Know your story
Before you go on any interview, whether it's for an MBA program or a job, you need to know your story. This means articulating your accomplishments, why you want to pursue an MBA, and how you will contribute to the school. Your stories should be specific, and examples should be ready to support your claims. Be prepared to discuss your experience in leadership roles, team projects, and overcoming challenges.
Develop key messages
If you have ever wondered — how to prepare for MBA interviews? If yes, the most important thing is first to develop key messages that you want to communicate about your qualifications and candidacy. These key messages should be aligned with the goals and objectives of the school you are interviewing with. Once you have developed your key messages, practice communicating them concisely and clearly .

Be prepared to discuss how your qualifications and experiences align with the school's mission and values.
Practice, practice, practice
If you want to be successful in your on-campus interview, you need to practice, practice, practice. The best way to do this is to find a mock interviewer and have them ask you the same types of questions that you will be asked in your interview. This will help you get used to the format and give you a chance to perfect your answers.
Common questions asked in MBA interviews
When it comes to MBA general management interviews, a few questions seem to come up repeatedly. Here are a few of the most common questions asked in MBA interviews and how you can prepare for them:
1. Why do you want to pursue an MBA?
This is the most common question asked in MBA general management interviews. Your answer should be well thought out and tailored to the specific school you're interviewing with. Remember, schools are looking for students who will contribute to the intellectual vibrancy of their community and who have clear goals for what they hope to accomplish with their degree.
2. Why did you choose your current/previous job?
This question is designed to understand your motivations and career aspirations. Be honest in your answer and try to connect it back to your long-term goals. For example, if you're currently working in sales, you might say that you chose this job because you enjoy the challenge of meeting quotas and working in a fast-paced environment. But you could also talk about how this position has given you valuable experience in negotiating and building relationships – skills that will be useful in an MBA program and beyond.
It is recommended to do some online research about MBA interview questions and answers for freshers before giving an on-campus interview.
3. Tell me about a time when you faced a challenging situation at work/school?
This question is meant to test your problem-solving skills and your ability to operate under pressure and is most commonly asked in MBA product management interviews. Think of a time when you had to overcome an obstacle in your previous workplace or educational institution. The key to answering this question correctly is to be confident and articulate. Refrain from making up stories and if you cannot think about a challenging situation, be honest about it.
Conclusion
When you apply for online MBA programs in a top institution like Manipal University Jaipur, you will compete with students from across the country. The interview stage will be crucial, and it is in your best interest to not slack and be prompt. The key to success in any interview is preparation. The better prepared you are, the more confident you will feel and the more likely you will make a good impression. Follow the tips mentioned in our blog, and you will do better than others in your on-campus MBA interview.