​​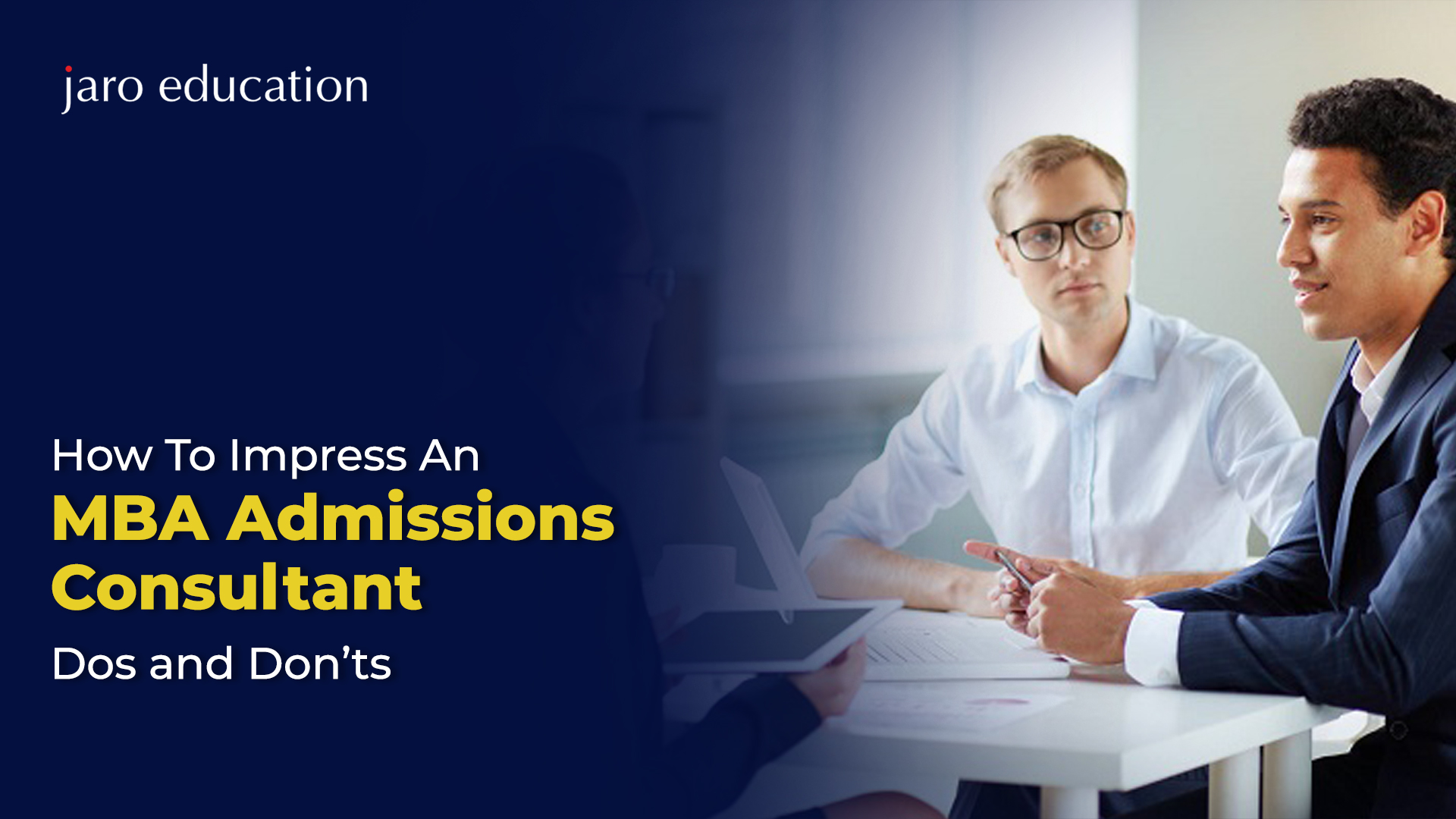 Getting into a prestigious B-school requires you to have a thorough idea of the prerequisites. One of them is impressing the admission committee of the B-school which chooses the perfect candidates for the MBA program. Every institution has its unique requirements, but there are certain qualities that they all look for in applicants. Let's check out the dos and don'ts of impressing the MBA admissions committee.
Dos of Impressing MBA Admissions Committee
Concise resume explaining your core skills
Your resume needs to have a 1-page length. It has to be precise and to the point while expressing how you have made an impact in the professional world so far. Singular words must never be used to describe your skills to avoid giving just an overview to the admissions committee. It needs to have clarity, and show your uniqueness and how you apply your core skills.
Essay expressing your key experiences
The essay in the MBA application reveals your personality rather than simply helping you in scoring better in GMAT. It requires introspection, so the key experiences need to be mentioned by tying them to your goals and leadership qualities cultivated so far. The details should be mentioned concisely in order to stand out among a large number of applicants for the MBA program.
An impressive GMAT or CAT score
A good GMAT/CAT score shows your academic skills. Therefore, you should check out the average GMAT/CAT score for the B-school you want to get into and prepare yourself to cross the average. In case you fail to achieve the target score on the first attempt, re-take the exam as there is no penalty for doing so. Instead, your score would be raised in the subsequent attempts, strengthening your application.
Know about the program you are willing to join
You should do this to have a good answer when you are asked by the admissions committee why you chose the specific program. In such a case, mentioning just a few points that you found from the website of the institute won't impress the committee. But if you attended the conferences and webinars, you would have a better answer as to why you selected the program, since you would be aware of the factors that the college must be seeking in the applicants. Besides this, such events are perfect networking opportunities, and you would be able to have good questions to ask the admission committee by attending them. Also, after the event, thanking them through a concise email and asking if any of the committee members would be open for an online dialogue will create pre-application networking. This will provide you an edge over other applicants with similar GMAT scores and resumes.
Don'ts of Impressing MBA Admissions committee
Avoid a lengthy resume. 

Do not try to lie about any facts in your essay as the admissions committee will be able to easily see through it.

Make sure to allow space to the other attendees, if any, while speaking to the committee. Aggressiveness while speaking can be a big negative point.

It is impolite to ask them if your profile is good. 

Mention at least 1-2 events that had a positive impact on you in the essay. These should be different from the ones mentioned in the resume.

If you have outstanding work experience, references, and other parameters, then only you can apply with a below-average GMAT score; otherwise, don't.
Conclusion
It doesn't matter if you are applying for a regular MBA or any of the Online MBA Programs with a reputed institute; just make sure to stick to the dos and don'ts if you want to impress the admissions committee. There are various prestigious institutes offering Online MBA Courses in India, and a thorough idea about the prerequisites will help you successfully get into your dream college. 
Planning to join one of the Online MBA Courses in a reputed institute? Check out the  Online MBA Degree Program offered by Dr. D.Y. Patil Vidyapeeth University to upskill yourself with the best faculties and get exposure to peer groups and alumni from various backgrounds. 
Frequently Asked Questions
Are specializations offered in the Online MBA Program?
The online MBA program offered by Dr. D.Y. Patil Vidyapeeth university has the following specializations: 
International Business Management (IBM)

Finance Management (FM)

Marketing Management (MM)

IT Management (ITM)

Project Management (PM)

Human Resource Management (HRM)

Operations Management (OM)

Hospital Administration and Healthcare Management (HAHCM)
What is the admission process of an Online MBA Program?
For joining the Online MBA Degree Program at Dr. D.Y. Patil Vidyapeeth, you need to have a Bachelor's degree in any discipline from a recognized university with 50% aggregate marks or 45% for reserved categories. You do not need to appear for any entrance exam for taking admission to the course. Those fulfilling the eligibility criteria can apply for the course.  
What is the fee structure of an Online MBA Program?
Online MBA has 4 semesters and for a general Indian civilian, the course fee is INR 35000 for the first two semesters and INR 30000 for the other two semesters. If paid in one full installment, the cost per semester is INR 35000 for Semester 1 and 2; INR 30000 for the third semester; and INR 27000 for the last semester.
Is an Online MBA Program recognized by the companies?
Yes, the Online MBA program by DY Patil University is recognized by firms as it has been recognized by DEB, UGC, AICTE, and AIU.