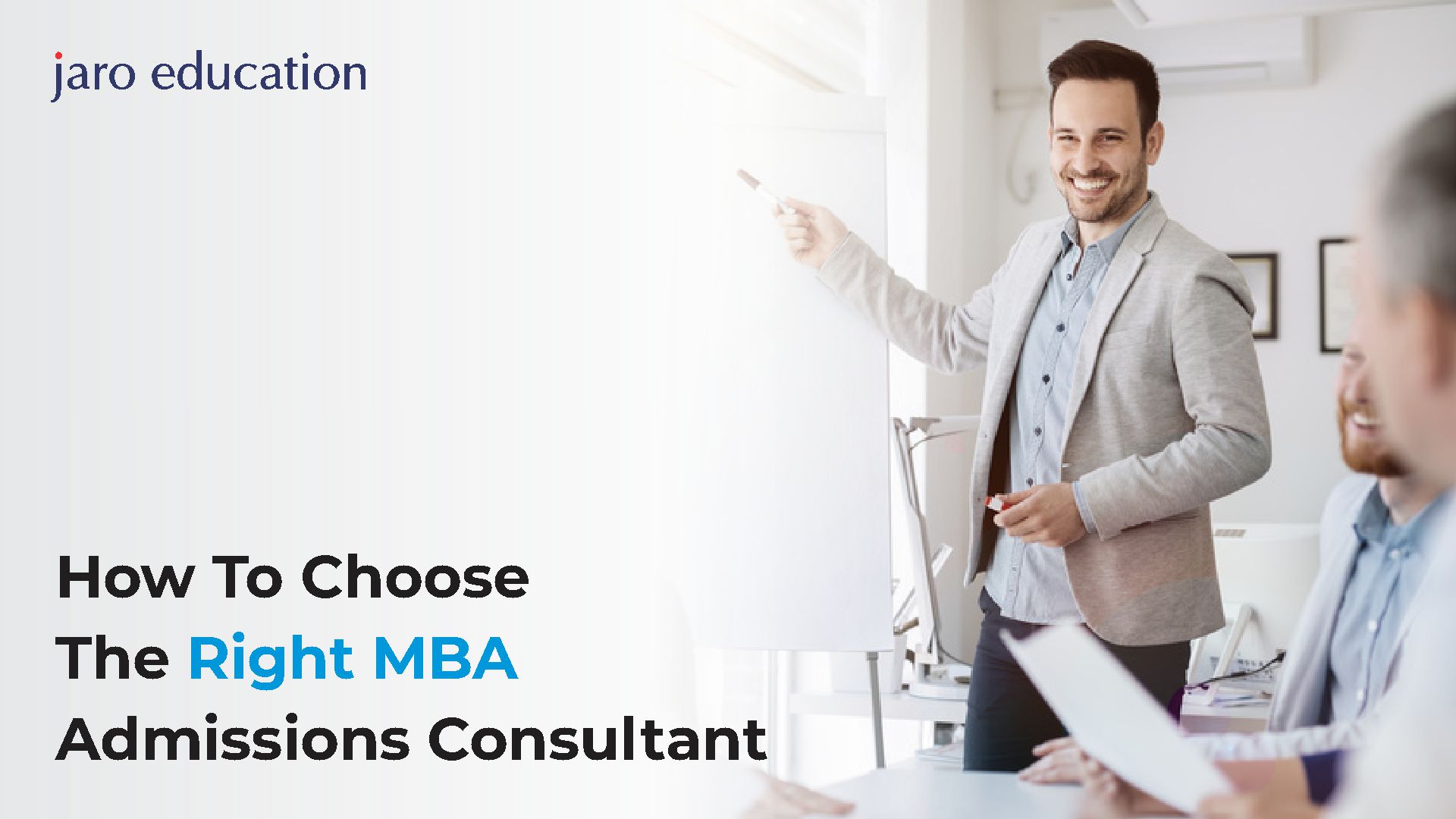 How To Choose The Right MBA Admissions Consultant?
MBA admission consultants help aspirants get into their dream B-School. Choosing the right consultant can make it easier for the candidate to dive through the complex selection criteria for joining an MBA program as they guide the applicants through every step. According to GMAC, the 2022 hiring trend shows that 89% of the organizations are interested in hiring MBA graduates. So, there is a rise in competition among candidates to upskill themselves, and hence numerous educational institutions are offering online MBA courses. Choosing the right university and getting admission might be challenging in this scenario. This is where the admission consultants prove helpful. But they are expensive, so, it is crucial to select them wisely. Read on to check out some simple tips to get the best MBA admission consultant.
Tips for deciding the right MBA admission consultant
The MBA Admissions Committee should have experience in reviewing the essays or guiding candidates through the complete admission process. An essay is crucial since the consultant has to monitor all aspects, including the deadline for completing it. Before choosing a consultant, check their testimonials and research if they had previously guided candidates into top B-schools despite below-average GMAT or GPA scores. In such a scenario, the way essays are framed creates a difference for the candidates, thus adding real value. 
Guiding throughout the application process:
An ideal consultant will guide the candidate through the complete application process by providing inputs during the writing process, right from brainstorming to drafting the final version of the essay without any extra billing. 
The MBA admission consultant should be flexible in communicating and making appointments because those charging for extra seconds are never reliable. Make sure to do a background check regarding the credibility of their team members. It is wise to get the maximum time from a star consultant for the hourly charges you are paying.
Check out for false promises:
An easy way to do this is to check the blogs of the consultant. If they are aware of what they are saying, the blogs would not have any generalized content with false promises, but they must be adding value to the aspirants. Check with your peers to see if anyone else has availed of their service previously to understand if they deliver what they promise. Experienced consultants never fail to mention their experience in their blog posts, tips, and the qualities that business schools look for. These things help the candidates understand the requirement better and prepare themselves.
Editing and reviewing skills:
Best MBA admission consultants have excellent skills for reviewing and editing. Check for shortest essays that need the least introspection or research that require you to purchase the least number of hours from the consultant, and if the consultant still helps you out. 
Conclusion
Choosing the right university for pursuing an online MBA is crucial for a better future. Numerous colleges are offering online MBA courses in India. So, it is natural to get confused among the numerous options. It is also the case when you want to join a regular MBA program. In such a scenario, a good MBA admission consultant plays a vital role by helping you get into the right college and fulfill your dreams.
Are you looking for one of the best institutes to pursue an Online MBA Degree Program and level up your career? Join Dr. D.Y. Patil Vidyapeeth university today to learn from experts and get exposure to over 1 lakh strong alumni networks across the world.
FAQs
What certificates will I be receiving for this Online MBA Program?
There will be an MBA certificate awarded to the candidates after completing the online MBA degree program from Dr. D.Y. Patil Vidyapeeth.
What payment plans are available for the Online MBA Program fee?
Payment for the online MBA program at Dr. D.Y. Patil Vidyapeeth can be done through installments or paid entirely at one time. The candidates from families of Indian Defense or those who are differently disabled can avail 5% scholarship during fees payment. There is a 15% scholarship for DPU Staff or alumni.
What kind of job will I get after completing the Online MBA Program?
Here are some jobs that you can get after completing the online MBA program:
Market Research Analyst

Project Manager

Business Development Executive

Information Systems Managers

Financial Analyst

Risk and Insurance Manager

Operations Manager
What salary will I get when I complete the Online MBA Program?
After completing the MBA program, one can expect a salary of INR 3.6-12 lakhs per annum (Glassdoor) approximately for various job roles. But this increases with an increase in work experience.