​​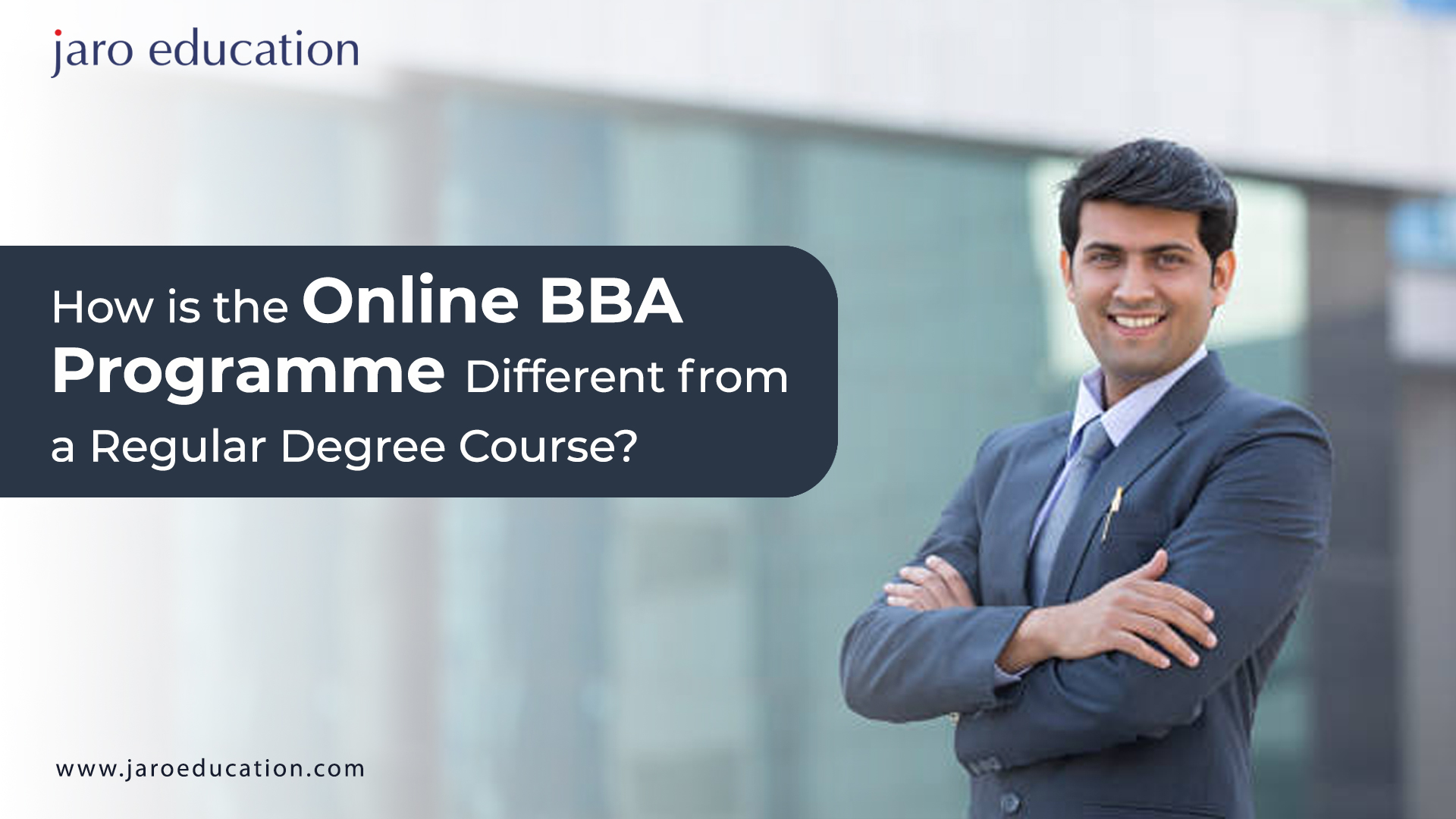 The corporate sector is becoming increasingly professional, favouring individuals who have earned at least a bachelor's degree. As a result, obtaining a specialised management degree can assist you in improving your job performance while also increasing your prospects of career development. If you want to improve your management skills and have a long-term career in business management, Bachelor's in Business Administration is ideal.
The Bachelor's in Business Administration degree can be obtained in one of two ways: through an online BBA programme or a regular BBA course. It is challenging to decide on this. Hence, in this article, let us look at the differences between an online BBA degree and a regular BBA degree and one of the best online BBA courses that Manipal University offers.
Differences Between Online BBA and Regular BBA
As the world becomes more digital, numerous educational institutions have begun to provide online BBA degrees to students. However, before selecting whether to enrol in an online BBA course, we must first grasp the similarities and differences between online and traditional BBA programmes.
The online and traditional BBA programmes follow an industry-accepted curriculum covering essential management topics. They are usually accredited by the UGC and NAAC, giving them international credibility. As employers do not differentiate between the two degrees, earning an online BBA degree will not hurt your professional aspirations. Before making a decision, a student must know the following differences:
While a traditional BBA degree may require relocation to a new place, an

online BBA degree

allows you to study from the comfort of your own home.

A traditional BBA degree only offers live classes, but an

online BBA course

provides live and recorded classes that can be watched again to revise topics.

An

online BBA degree

keeps its curriculum up to date based on industry demands, giving you the practical knowledge you need to perform better at work.

The schedule for a traditional BBA degree is pretty rigid, but the schedule for an

online BBA

programme is very flexible. Working professionals will benefit from this option as it allows them to continue working while pursuing their education.
Thus, pursuing an online BBA degree has more benefits than studying a regular BBA course. Now that we have learnt about the advantages of studying for an online BBA degree, let us look at one of India's best online BBA programmes.
Discover insights on Online BBA Programme by Manipal University
Manipal University is one of India's leading management schools, offering freshers and working professionals the opportunity to enrol in their Online BBA programme. This online BBA degree focuses on an industry-oriented curriculum that is updated regularly to ensure that students have the most up-to-date management expertise. It equips students with practical knowledge through case studies and group projects that can be applied to real-world business situations. The online BBA degree has world-class recognition thanks to accreditation from the UGC, NAAC, and other educational institutions. The following are the key highlights of the Online BBA programme by Manipal University:
The

Online BBA course

is a beautiful blend of academic and practical knowledge. It allows students to master essential management skills in a hands-on environment and apply them to real-world business problems.

Students enrolled in the online BBA programme get access to a dedicated discussion forum where they can interact with peers and instructors.

The

online BBA degree

is less expensive than a traditional BBA degree and the fees must be paid in six-semester instalments.
Conclusion
Students who pursue an online BBA degree have more flexibility and convenience than those who seek a regular BBA degree. It is also less expensive and allows you to work while studying. It is an excellent education option to strengthen management abilities, particularly for working professionals who cannot relocate to a new place, leaving their jobs behind. You are qualified for Manipal University's Online BBA Programme if you have completed your 12th examinations with a minimum 50% score from a recognised board. 
Apply for the online BBA course and immerse yourself in the cutting-edge management field.
Frequently Asked Questions (FAQs)
What are the admission requirements for the Online BBA?
Admission to the online BBA programme by Manipal University is relatively easier. Students who have completed their 12th examinations from a recognized board must fill out the application form for the online BBA degree.
What is the cost per course for the Online BBA programme?
The total tuition fee for the Online BBA programme is 1.2 lakhs, which has to be paid in 6-semester instalments. Therefore, each semester's fee is INR 20000/-.
How long will it take to complete the programme?
The Online BBA degree is a 36 months course, just like traditional BBA. It covers essential management topics, assignments, group projects, case study assessments, etc.

How many credit hours are required to complete the programme?
To complete the Online BBA degree, a student must earn 120 credit hours, an average of 20 credit hours every semester.