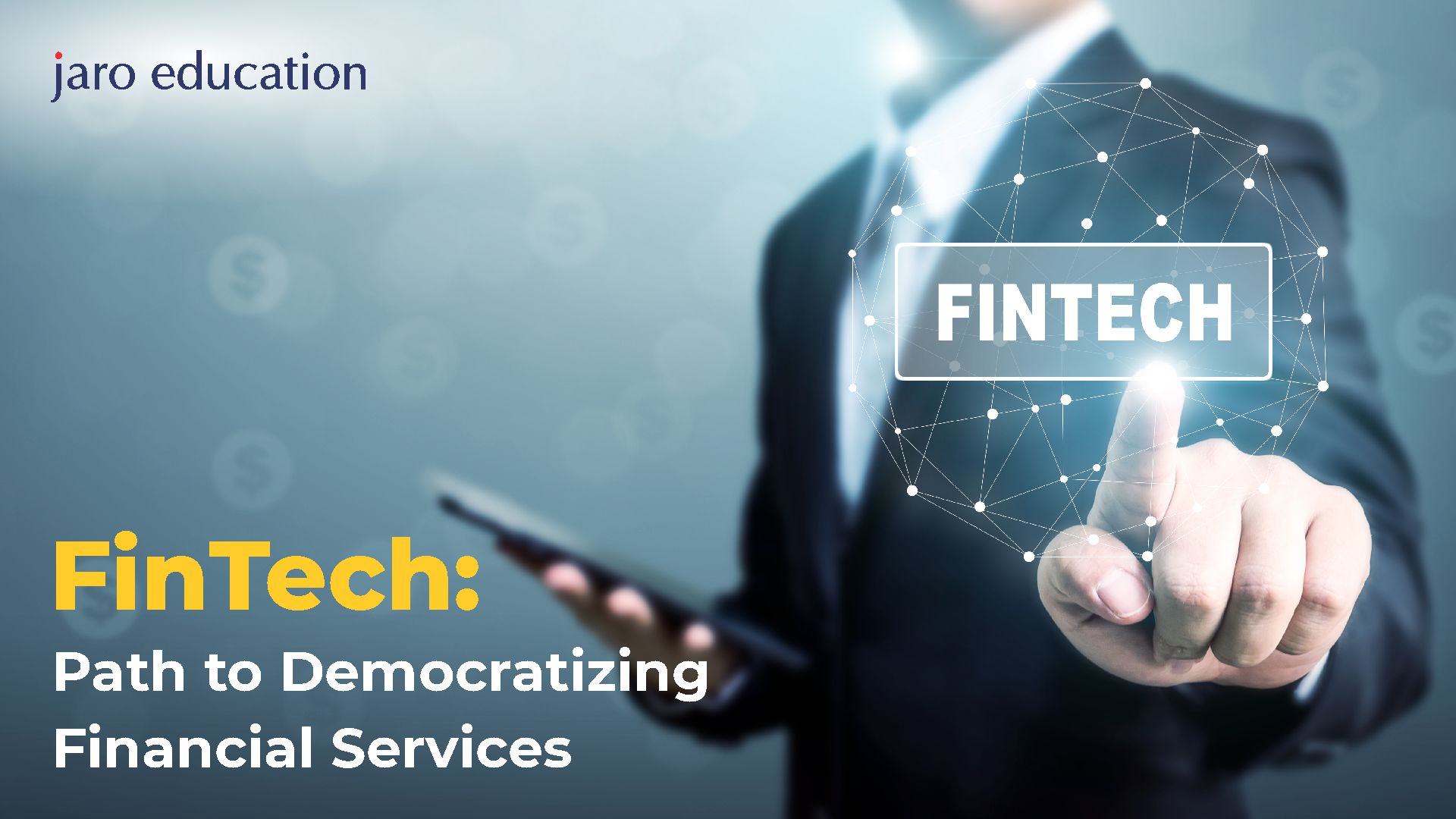 FinTech is the future of financial services because it aids in the democratization of financial services by allowing banks and other financial organizations to reach out to a larger number of individuals at a cheaper cost and without any barriers. It not only helps in the democratization of financial services, but new and advanced financial technologies are also taking over the finance world, boosting total financial services and making it easier for regular investors to manage the stock market, financial systems, and insurance business.
FinTech is a rapidly growing industry with a wide range of career opportunities. Let's look at the FinTech industry and its benefits, as well as how it democratizes financial services and one of the best FinTech courses in India offered by IIM Nagpur, the PG Certificate Programme in FinTech.
What is FinTech?
FinTech refers to technology that aims to automate the delivery of financial services. It uses sophisticated software and algorithms to assist business owners and customers in better managing their financial processes, operations, and lives. Entering the FinTech industry requires immense knowledge that can be learned using financial technology courses, such as the PG Certificate Programme in FinTech by IIM Nagpur helps students enter this ever-growing industry.
Benefits of FinTech
The following are some of FinTech's advantages that can be learned in greater depth by opting for FinTech online courses:
FinTech improves the quality of financial institutions by enhancing efficiency and productivity while also removing the worldwide barrier, allowing them to expand their horizons.

It not only saves money for businesses, but it also saves money for consumers.

FinTech innovations have allowed online lenders to complete the application and approval process in a single day, without any hassle.
Democratization of Financial Services
New financial technologies are democratizing financial services, allowing many more people to participate in the economy. FinTech companies can scale quicker and wider than ever before because of huge cost savings, worldwide distribution, and new legislative outlooks that encourage innovation. 
The FinTech industry is pioneering a new discipline, which allows businesses to quickly add financial technology to their offerings. Financial services businesses can use these integrations to grow customer relationships and interactions, increase revenue, and offer services without any barriers. FinTech is democratizing financial institutions in this way, offering a variety of career opportunities to aspiring FinTech experts. Complete professional FinTech courses, such as IIM Nagpur's PG Certificate Programme in FinTech, to break into this field.
PG Certificate Programme in FinTech – IIM Nagpur
IIM Nagpur's PG Certificate Programme in FinTech is widely regarded as one of India's premier FinTech courses, emphasizing practical knowledge to solve real-world financial challenges. It's a 12-month FinTech online course that allows you to delve deeper into the new technologies that have altered the banking and financial sector.
The following are the highlights of the PG Certificate Programme in FinTech offered by IIM Nagpur:
Professionals who complete the

FinTech certification

will receive a PG degree as well as IIM Nagpur alumni status.

Through multiple online channels, the

financial technology course

delivers direct mentorship from IIM faculty and business specialists.

IIM Nagpur's FinTech online course covers all aspects of the FinTech economy, including banking, wealth management, artificial intelligence, etc.
Conclusion
When it comes to dealing with large amounts of data and gaining operational advantages, the financial services industry has always been a quick user of new technologies. Changing with technology typically necessitates expertise, which can be acquired through IIM Nagpur's PG Certificate Programme in FinTech. If you have a bachelor's degree with a minimum of 50% and at least three years of work experience, you can pursue career options in the FinTech business by enrolling in the top FinTech course, the PG Certificate Programme in FinTech.
Enrol in the best financial technology course in India, the PG Certificate Programme in FinTech from IIM Nagpur, and contribute to financial services today! 
Frequently Asked Questions
What does the FinTech course fee cover?
The PG Certificate Programme in FinTech from IIM Nagpur includes online course delivery by IIM faculty, a discussion forum, integrative projects, a PG certificate, and IIM Nagpur's alumni status, among other things.
What documents are required for enrolling in a FinTech course?
Students interested in IIM Nagpur's PG Certificate Programme in FinTech must submit an ID proof, work experience proof and graduation degree certificate to enroll for the FinTech course.
Can I enrol in the FinTech programme while being in the final year of graduation/post-graduation?
No, anyone who wants to enroll for the PG Certificate Programme in FinTech must have work experience of at least three years specifically in the field of IT, financial services or banks.
What are the subjects in the FinTech course?
A few subjects of the FinTech certification are:
Artificial Intelligence

Strategic decision-making

P2P lending

FinTech regulations

Wealth management, etc.