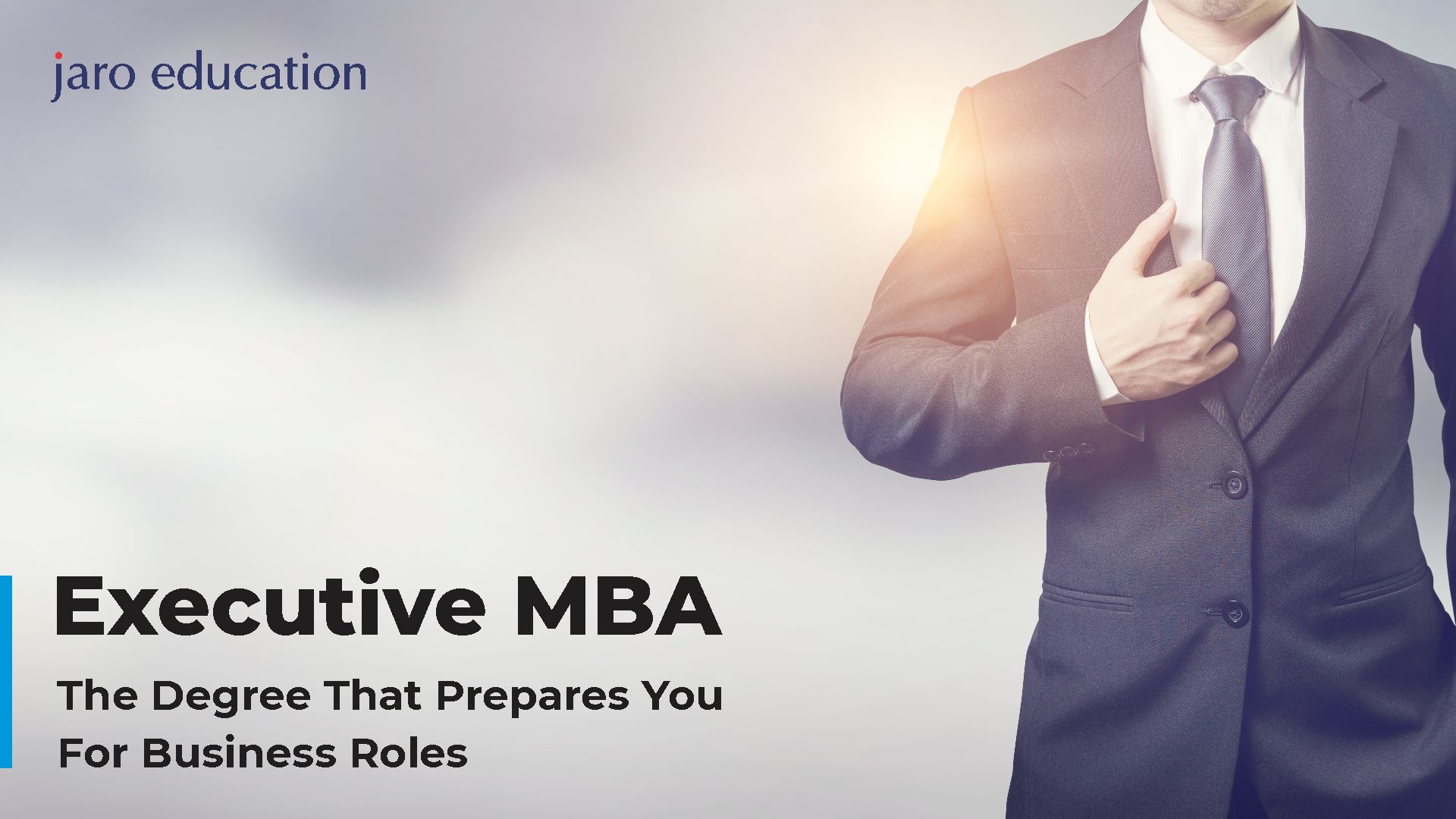 According to the Graduate Management Admission Council, Executive MBAs are currently preferred by 19 percent of Indians for professional advancement and preparation for business management roles. Are you interested in preparing for various management roles in business but don't know where to start? Don't worry. This blog will help you take the first steps to grow business management skills to perform business roles more efficiently through MBA Executive Online programs. Working professionals can learn the skills they need to fulfill diverse business roles such as marketing, sales, finance, and strategic decision-making by enrolling for MBA Executive Online.
The DSU Executive MBA program, which provides students with the necessary resources to prepare them for business management roles and enhance their careers, is one such way to gain management skills. 
Executive MBA – The Degree That Prepares You for Business Roles
Working professionals can prepare for a variety of business roles through the Executive MBA online programs, which teach them critical management skills.
Business Communication
Business communication is a crucial skill for everyone, but it is even more so for those who work in leadership roles. Your communication in business roles is expected to be well-articulated so that it can be easily understood by your audiences. As it is an important skill to have while preparing for any business role, the DSU Executive MBA emphasizes it and assists working professionals in developing this skill so that they can advance in various leadership roles.
Team Management Skills
When workers realize the value of working as a team and coordinating their efforts to help the firm flourish, a business runs smoothly. Regardless of a person's role and position in the firm, teamwork is essential, and MBA Executive Online courses can assist a candidate in developing it. Learners at the DSU Executive MBA programs are evaluated on a number of group activities, assignments, and projects, allowing them to gain valuable managerial experience and learn team management skills.
Strategic Decision-Making
Strategic decision-making skills, which are necessary for each business role, are one of the most important management skills. Managers must be able to analyze business problems and come up with solutions. It is a necessary skill for a range of business positions, including marketing, sales, and business decision-making, among others. The DSU Executive MBA program is one of the most prestigious MBA Executive online programs, emphasizing decision-making abilities through hands-on learning in which students are challenged to find solutions to case-study-based real-world problems. The program theoretically covers strategic decision-making under the third term syllabus.
Networking
Networking is important for anyone working in any business role. This is critical since networking with industry experts and alumni aids in gaining a practical understanding of business challenges. Working professionals from a variety of business roles, industries, and skills apply to the DSU Executive MBA program. As a result, it's a good place to expand one's business network and meet diverse working professionals, allowing students to gain some useful business management insights that will help them perform better in their business roles.
Dayananda Sagar University Executive MBA Program
The 17-month Executive MBA program at Dayananda Sagar University lays the groundwork for a variety of business roles and is designed for working individuals who desire to advance their careers. The DSU Executive MBA program is designed to provide working professionals with a strong foundation in basic management skills before focusing on their chosen business specialization. Working professionals can pick from ten distinct specializations in the DSU Executive MBA program, which is a perfect blend of theoretical and practical knowledge to enhance a career in business management.
Conclusion
The DSU Executive MBA program is one of the best MBA Executive online programs in India that follows an industry-based curriculum that prepares working professionals to excel in a variety of business roles. It teaches students important business management skills through group projects, case studies, and assignments.
You can apply for the DSU Executive MBA program if you have a bachelor's degree from a recognized university with a minimum score of 50% and at least one year of work experience.
A new-age MBA Executive online course can help you prepare for various business roles. If you have any questions, consult with our program experts.
Frequently Asked Questions
What are the benefits of pursuing an Executive MBA in India?
Executive MBA programs in India help working professionals learn essential management skills and advance in their careers. The DSU Executive MBA program prepares working professionals for various business roles.
What is the ideal age to pursue an executive MBA?
There is no such thing as an optimal age to learn, but according to CareerLabs, the best age to start an Executive MBA program is around 28 years.
How much minimum work experience is required for an Executive MBA?
An applicant must have at least one year of work experience to apply for the DSU Executive MBA program.
Which companies offer jobs to Executive MBA graduates?
Students of the DSU Executive MBA program are currently working at companies like Amazon, Accenture, Axis Bank, Wipro, etc.