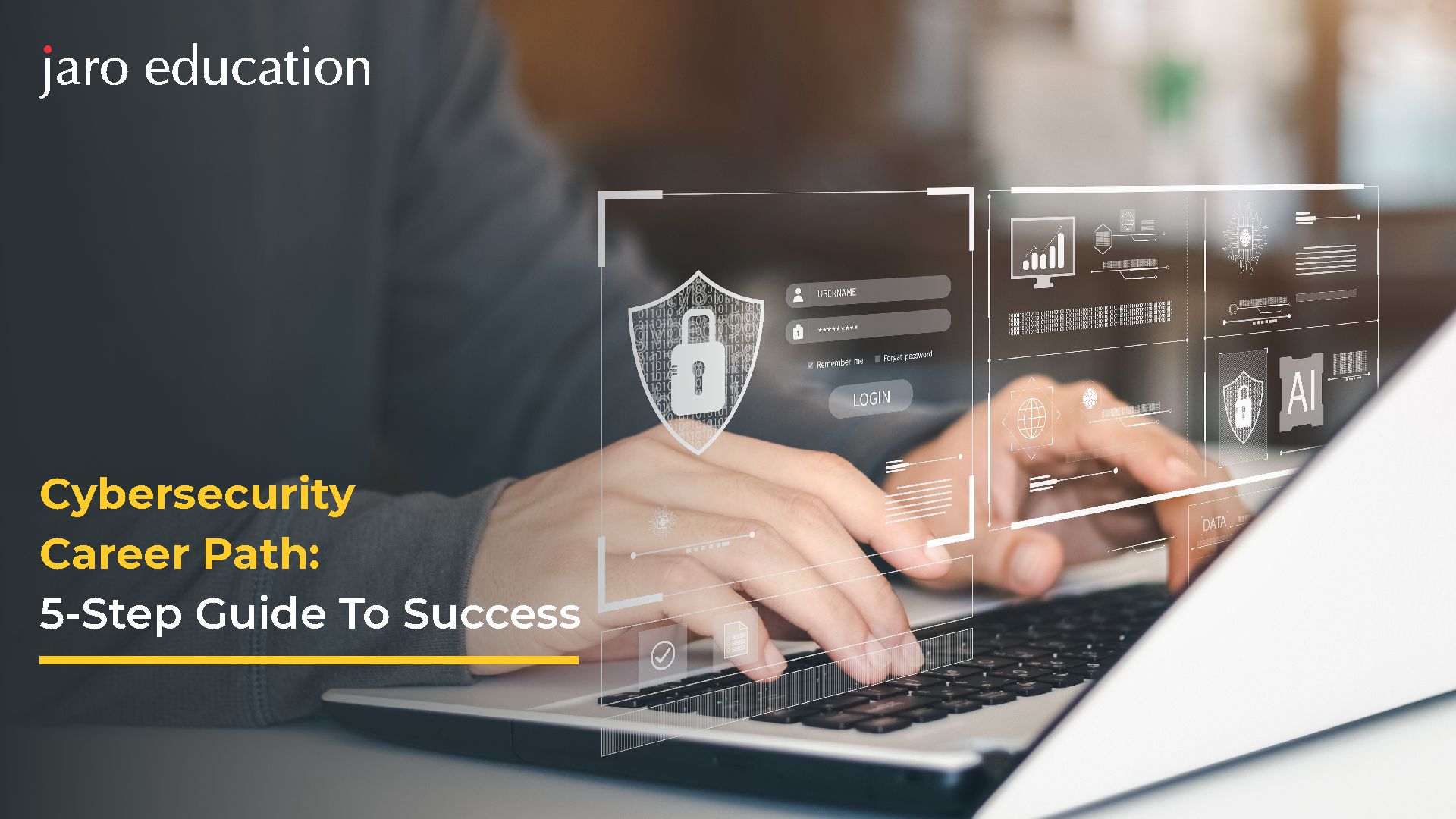 Cybersecurity: A Growing Industry
As we move into 2022, organizations all across the world are adapting to incorporate modern tools, techniques and technology. Our dependency on technology only increases three-fold as we dive deeper into the applications of machine learning, artificial intelligence, cloud-computing capabilities, and build automated systems into our industries. 
Thus, cyber-attacks are a major threat to any organization. The sheer impact of a simple data breach could hamper the very foundations of their businesses. Therefore, the demand for skilled cybersecurity analysts and managers is on the rise. While the world is on the brink of Industry 4.0, we see an exponential rise in the need for skilled personnel to act, manage and respond to cyber-attacks. 
Reflecting on the points above, let's look into the 5 steps one should focus on to build a successful career in the field of cybersecurity 
Cybersecurity Career Path
Looking into the right approach to develop expertise in the field of cybersecurity, one must start with the absolute basics. Understanding the foundations of cybersecurity is crucial, as it helps one gain general awareness and clarifies the challenges faced by organizations. This is better approached through real-life case studies and simulations.
The Joint International PG Certificate Programme in Cybersecurity Management and Data Science builds your expertise step-by-step. 
Pre-professional stage: This stage is for persons who have no prior experience in cybersecurity but wish to learn more about it. While cybersecurity professionals are expected to have formal training, there's no reason why someone with a commerce degree couldn't work in the field. This stage involves knowing more about the industry by applying for various Cyber Security Certifications for Beginners and Certification for Cyber Security.
Entry-level: Network administration and cybersecurity analyst are common entry-level employment, but those with no prior work experience, who are working on online Cyber Security Management programs may also find a job in entry-level positions. Entry-level employees are expected to improve their knowledge by completing a Cyber Security Degree to advance.
Mid-level: People have learned general cybersecurity principles and have begun developing the topics that interest them at this point in their cybersecurity careers by applying for Cyber Security Programs like Cyber Security Management and Data Science program by IIM Nagpur.
Senior-level: Employees at this stage in cybersecurity are in charge of pen testing, threat intelligence teams, and incident response teams. People with specialized knowledge often reach this position.
Security leader: Security leaders, often known as Chief of Cybersecurity, are cybersecurity veterans who have experience in managing complex projects and clients. Security leaders are expected to complete professional Data Science and Cyber Security programs like the one offered by IIM Nagpur.
Cyber Security Management And Data Science Program By IIM Nagpur
IIM Nagpur is a new generation IIM that is currently supervised by India's leading management institute, IIM Ahmedabad. IIM Nagpur offers an online degree in Cyber Security Management and Data Science that focuses on data science, artificial intelligence, and cybersecurity. It enables you to develop extensive knowledge in cybersecurity and data science that gives you a competitive advantage in the global job market and aids in the advancement of your cybersecurity career path.
Highlights Of Cyber Security Management And Data Science Program By IIM Nagpur
The IIM Nagpur's Cyber Security Programme has the following distinguishing features:
The course equips the participants with defensive and offensive approaches to cyber security.

The

Cyber Security Degree

enables students to visualize cyber datasets and data logs using effective dashboards.

The course is a perfect blend of practical and theoretical knowledge.

Students who complete this

Cyber Security Management and Data Science

course will receive a degree from IIM Nagpur.
Conclusion 
So now you know what a successful cybersecurity career path looks like. Before applying for a cybersecurity job, gather all the necessary skills and Certifications for Cyber Security so that your chances of being hired are always good, as professionals with a Cyber Security Degree receive more human experience while staying at the forefront of technological advancements. The Cyber Security Programme at IIM Nagpur can be completed after a graduation degree and at least 5 years of professional experience. Do you have any more doubts? Get answers to your questions from industry experts and IIM faculty.
To receive regular education updates, subscribe to our blog.
Q1. What is the eligibility criteria to apply for admission in a Cyber Security Management course?
The eligibility criteria

for

Cyber Security Management And Data Science Program By IIM Nagpur

is as follows:

Graduation degree

Minimum 5 years of work experience
Q2. What is the career prospect for a Cyber Security degree holder?
The cybersecurity industry follows a standardized career prospects path:

Pre-professional

Entry-level

Mid-level

Senior-level

Security leader
Q3. What is the duration of the Cyber Security Management course?
The

Cyber Security Management

program by IIM Nagpur

is a one-year online degree that focuses on data science, artificial intelligence, and cybersecurity.
Q4. Is it a correct decision to make a career in the Cyber Security domain?
Cybersecurity is a growing field these days with a lot of present and future opportunities, so a decision to make a career in the cybersecurity domain is a great career decision.