​​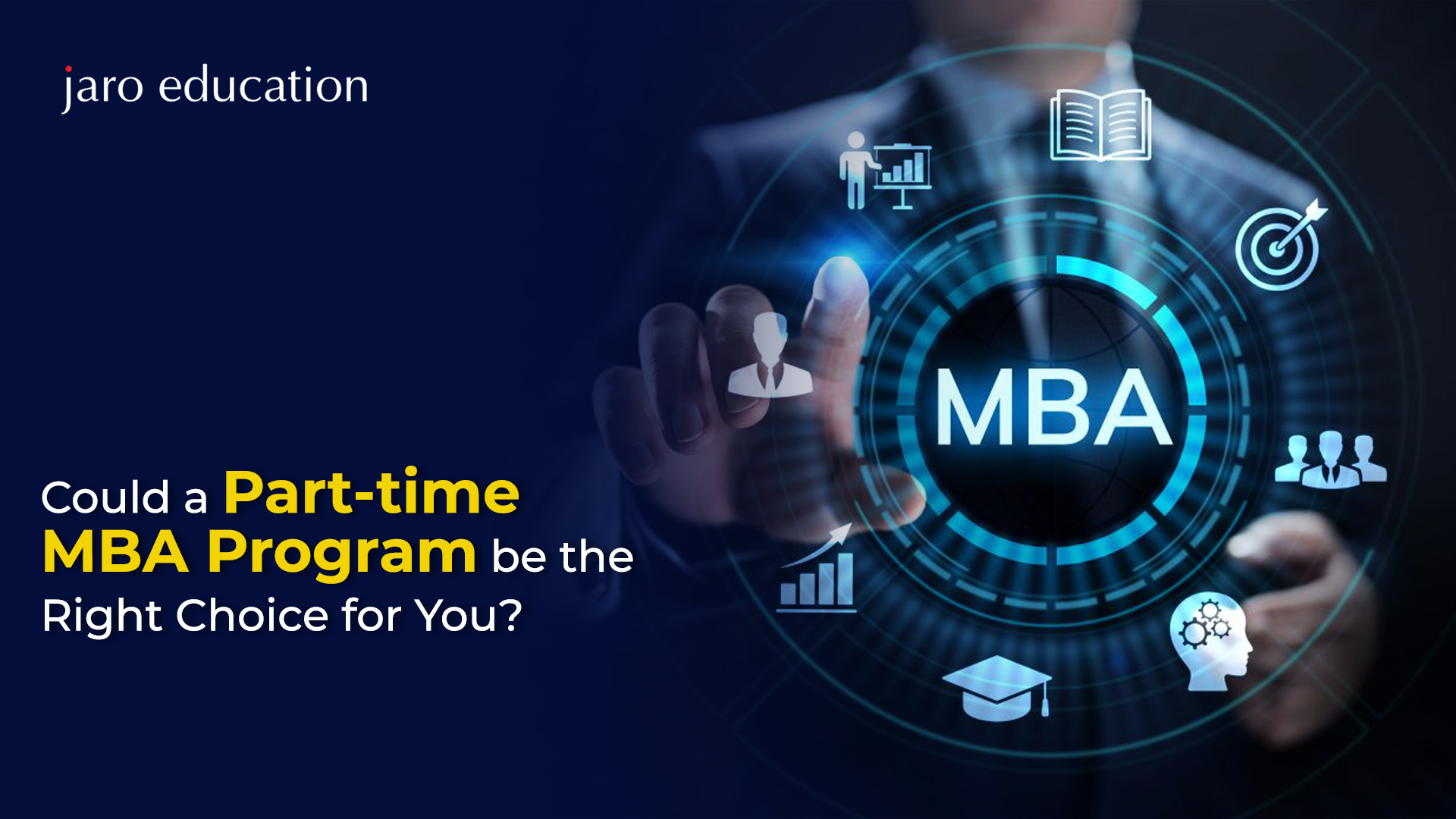 A full-time course is preferred for an MBA Executive Online program for most people. However, certain individuals cannot pursue a full-time course due to various circumstances, such as having family responsibilities or financial issues.
Such individuals opt for a part-time executive MBA course as it enables them to upskill themselves and advance their career without taking time off work or comprising on their other commitments. 
Looking at this need, many colleges and universities have started offering part-time courses, including MBA executive online courses. But are these part-time MBA programs worth it? And could a part-time MBA program be the right choice for you? Let's find out by looking at various parameters associated with part-time MBA programs.
Course Duration
Part-time Executive MBA courses generally last for two to three years. However, the best part is that the classes aren't held regularly compared to full-time courses. They happen mainly on the weekends or in the evenings for short durations. Nowadays, the classes are mostly held online, ensuring students can attend them anywhere.
For example, the classes for the DSU Executive MBA are held online and are flexible. There are also alternate weekend on-campus sessions that can be attended from remote locations giving complete flexibility to students. Lastly, the course duration is only seventeen months, much shorter than traditional part-time MBA executive Online programs.
Course Fee
The fees for a part-time MBA program are less compared to full-time programs. This proves helpful for individuals facing financial issues yet require an executive MBA degree for career growth.
For instance, the fees for a full-time MBA program can cost you anywhere from four to fourteen lakh rupees. On the other hand, the MBA Executive Online part-time program fee is only INR 2,25,000/-.
Flexibility
Part-time Executive MBA programs offer a high degree of flexibility. The courses are designed and targeted at working professionals. The classes are organized so that they don't interfere or hamper the student's professional career. Students can easily manage their job, family responsibilities, and studies when pursuing a part-time MBA degree.
For instance, DSU Executive MBA classes are held online and are highly flexible. The campus sessions are held on alternate weekends. They, too, can be availed remotely if the students can't attend them at the campus. Moreover, the exams are held on Saturdays and Sundays to avoid any issues related to working leaves.
Career Growth
A part-time MBA program allows individuals to develop the necessary skills for career growth, similar to a full-time MBA program. However, the added benefit of part-time programs is that individuals can continue working and adding to their work experience simultaneously.
Individuals completing a part-time program are offered the same promotions, incentives, and other career growth opportunities as full-time MBA graduates. Moreover, individuals can also get placed in top companies like Amazon, Accenture, and Wipro after completing a part-time MBA program and embarking on a new career journey.
Conclusion
If you can't undertake a full-time MBA Executive Online program, then a part-time program is your best option if you want to pursue a Master's Business Administration Degree. There are many exciting part-time MBA programs, such as Executive MBA Online – Dayananda Sagar University, Bengaluru, a short seventeen-month program designed especially for working professionals.
The program helps individuals upskill and helps with career development in the management field. The program offers a mix of online classes and on-campus sessions that can be attended from remote locations. Graduates from the course are currently working with the top global companies.
So, to sum it up, 
Yes! A Part-Time MBA Program can be the Right Choice for You. If you are a working professional who wants to upskill without compromising your professional commitments, you should opt for an Executive MBA program.
FAQs
What is the ideal age to pursue an Executive MBA?
Executive MBA programs are designed for working professionals who have relevant experience. Thus, the ideal age to pursue an MBA Executive Online program is twenty-seven to twenty-nine years old.
How much minimum work experience is required for an Executive MBA?
The minimum work experience required for Executive MBA varies and depends upon the college and university. For seeking admission to DSU Executive MBA, candidates must have a minimum of one year of full-time work experience.
Which companies offer jobs to Executive MBA graduates?
Executive MBA graduates get job offers from some of the most reputed companies from across the globe. DSU Executive MBA graduates are placed in top companies.
How much salary does one get after an Executive MBA?
Executive MBA graduates are offered lucrative salaries, in addition to attractive perks. After completing an Executive MBA, the average salary one can expect is 9-16 lakhs per annum, depending upon various factors.