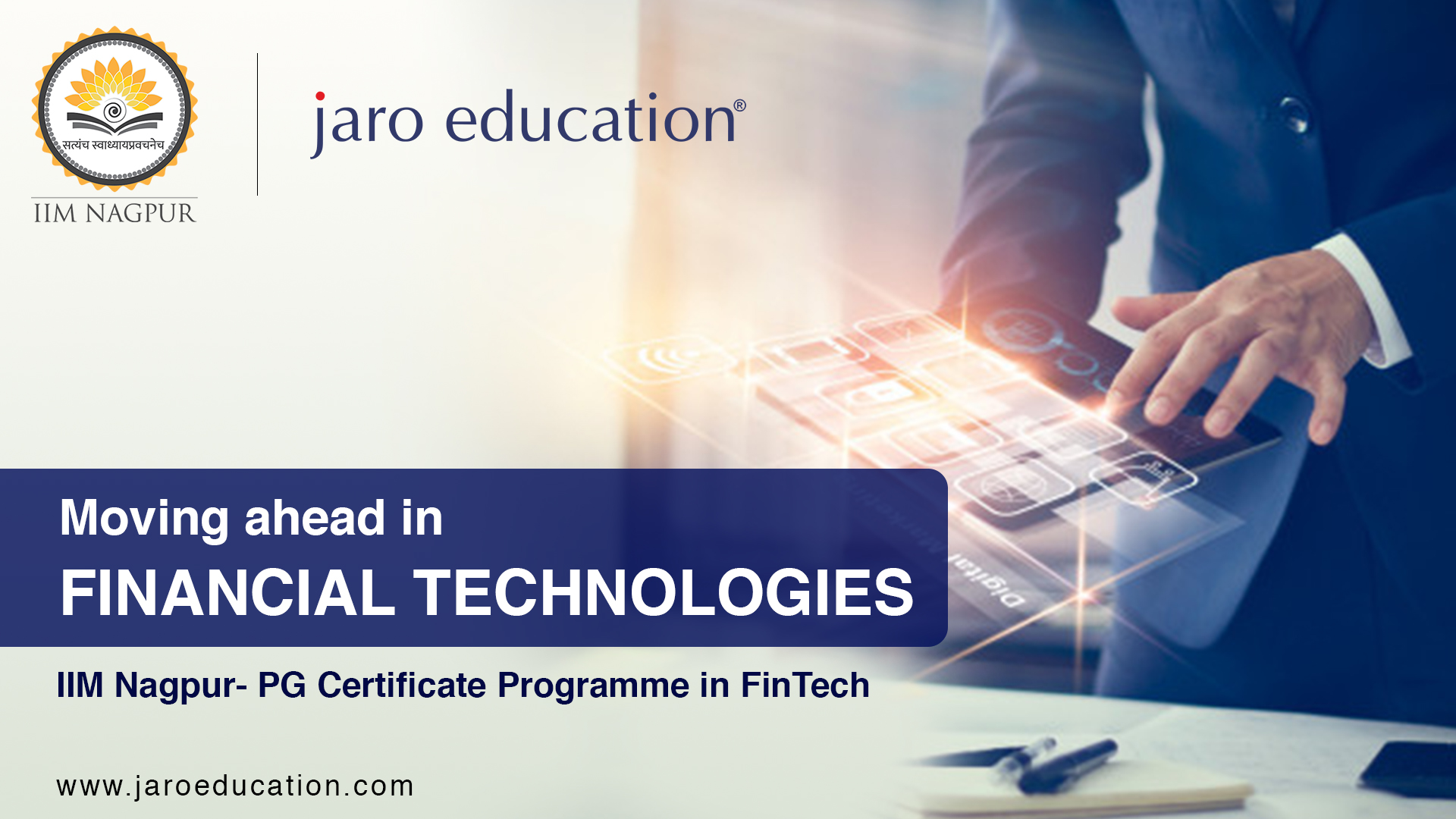 Introduction
Indian Institute of Management, Nagpur, commonly known as IIM Nagpur, is one of the most famous new generation IIMs currently being mentored by the country's top management institute – IIM Ahmedabad. Under this mentorship, IIM Nagpur, which is just five years old, was ranked 40th in the NIRF 2020 rankings. IIM Nagpur produces next-generation entrepreneurs in various sectors like FinTech through its FinTech Certification Programme. The FinTech industry is the merger of the two largest industries in the world: finance and technology. Companies and investors worldwide are investing billions of dollars in FinTech development efforts to stay ahead of the competition. It has spawned many new careers and entrepreneurial opportunities for professionals in this field.
IIM Nagpur has collaborated with Jaro Education to provide students with a deeper understanding of data science, finTech ecosystems, artificial intelligence, etc. PG Certification Programme in FinTech by IIM Nagpur is a complete guide for anyone who wants to enter the FinTech industry and grab future opportunities.
The FinTech Certificate Course Highlights
Often recognized as one of the best FinTech courses in India, IIM Nagpur's course on financial technology emphasizes providing practical knowledge to work on real-life business problems. For students' comfort, FinTech online courses in IIM Nagpur are made available online by Jaro Education.
Here are some insightful highlights of the FinTech Certificate Course by IIM Nagpur:
Offers students a PG degree as well as the alumni status of IIM Nagpur
Focuses on providing practical experience by working on real-world business problems
Direct mentorship by IIM faculty and business experts via various online platforms
Hands-on experience with different FinTech technologies such as artificial intelligence, blockchain technology, machine learning, and cryptocurrencies.
Complete focus on providing a clear understanding of fundamental knowledge to build a strong foundation of FinTech
Touches all sectors of FinTech economy like banking payment systems, wealth management, RoboAdvisory, and neo banking
Why Should You Enrol for This Course?
If you are still confused about whether to opt for FinTech certification or MBA FinTech program, these reasons will help you make a successful decision:
FinTech is developing rapidly, and IIM Nagpur created this professional certification to bridge the gap between actual advancement in this field and understanding how financial technology works and what we can do to grow our business.
The course on financial technology includes both the basic building blocks of financial technology and practical applications. It is how you get the perfect combination of theoretical and practical knowledge.
The course covers critical aspects such as technology for financial supervision, blockchain systems, wealth management, banking payment systems, etc. This certification will open up a wide range of opportunities for your career in the FinTech industry.
This kind of professional certification should be precious for future business leaders who want to stand at the forefront of financial technology innovation.
Moreover, completing this PG Diploma in FinTech will help you earn a postgraduate degree from IIM Nagpur.
Benefits of Doing a Courses in Finance
Many tend to ask, why FinTech? There are many advantages to doing a course on Financial Technology. Some of them are given below:-
The finance industry has now shifted towards being digital. So, it becomes crucial for you to understand Financial Technology to meet the requirements.
It will help you to become a pro in financial technology.
Extremely helpful for your career growth.
It will outfit you with the required knowledge and abilities so that you can make essential business decisions quickly.
Conclusion
The eligibility criteria of this FinTech Certification Course include a graduation degree from a recognized university with a minimum 50% score and a minimum of 3 years of work experience in the domain of information technology (IT).
If you fulfill all these eligibility requirements, there is no one stopping you from improving your knowledge and grabbing career opportunities in the FinTech industry. For any other queries related to a PG Certificate Programme in FinTech by IIM Nagpur, you can consult Jaro Education and IIM Nagpur experts. To enter the rapidly growing FinTech sector, enroll in India's best financial technology courses.
Subscribe to our Jaro Education's blog and stay updated with the latest information on PG Certificate Programme In Financial Technologies (FinTech) IIM Nagpur.