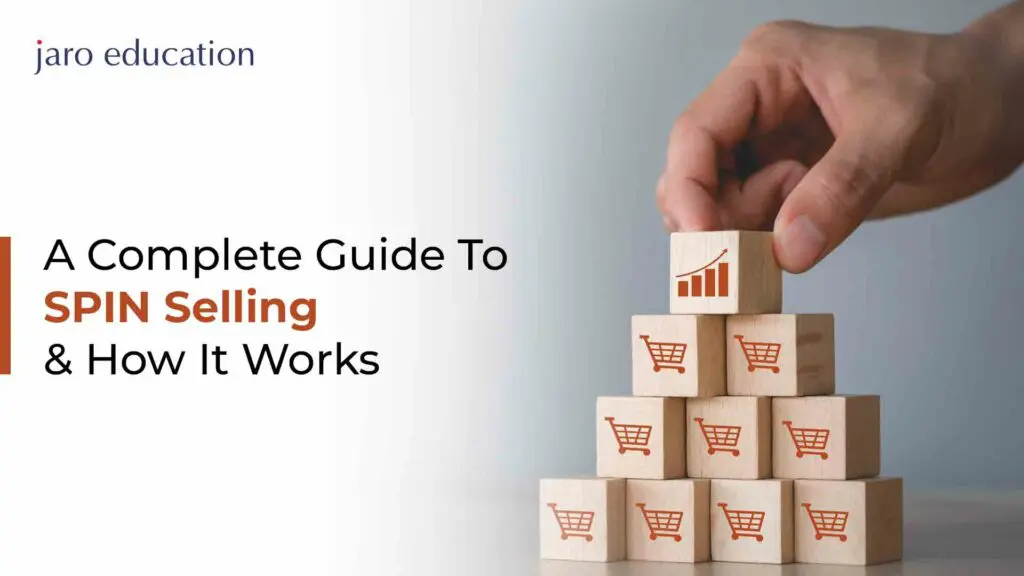 Do you struggle with closing sales? Then, it's time to master the art of SPIN selling. This powerful technique can transform how you interact with potential clients and increase your chances of closing deals. In this comprehensive guide, we'll dive deep into what SPIN selling is, and how you can apply it in real-world scenarios. Whether you're a seasoned sales professional delving into sales management, or just starting out, read on to learn everything about SPIN selling and take your game to the next level.
What is SPIN Selling?
SPIN selling is a sales method developed by Neil Rackham in the 1980s. It is based on the premise that there are four main types of questions that need to be asked in order to make a sale: situation, problem, implication, and need-payoff.
The acronym "SPIN" stands for situation, problem, implication, and need-payoff.
Four key steps in the
SPIN selling
process.
Situation questions help you understand your prospect's current circumstances. What is their business like? What industry are they in? What are their specific goals?

Problem questions help you identify your prospect's pain points. What challenges are they facing? Why haven't they been able to achieve their goals?

Implication questions help your prospect understand the consequences of not solving their problem. What will happen if they don't take action?

Need-payoff questions help your prospect see the value in taking action and working with you to solve their problem. How will solving their problem improve their business? What results can they expect to see?
4 Stages of SPIN Selling
In order to close a sale, the SPIN selling technique suggests that salespeople should go through four distinct stages:
Building Rapport
Sales representatives who can build rapport with their customers are more likely to be successful in making a sale. Selling a sales pitch right away might turn away a prospective client. This is why it is essential to open and build rapport with a potential customer. There are many ways to build rapport, but the following four tips are essential:
Be genuine and authentic
Your customers can tell if you're being sincere, so it's important to be genuine in your interactions. This doesn't mean you have to share your life story with them, but you should be open and honest about your intentions.
Listen more than you talk
Let your customers do most of the talking. By showing that you're interested in what they have to say, you'll build trust and credibility. You can also glean valuable information about their needs and wants, which will come in handy when trying to close the deal.
Find common ground
Look for things you have in common with your customer, whether it's a shared interest or background. This will help create a connection between you and make them more receptive to your sales pitch.
After establishing rapport, it is time to move on to the next step.
Identifying Past Problems Faced By Customers
Now that you have opened and established a connection with the lead, the next step is to identify their pain points. Learn about their needs and challenges, and what turned them away from your product or service or similar services in the past. Once you have a good understanding of the types of problems your customers have faced, you can start to look for patterns and commonalities. This will help you to develop a more targeted approach to solving their current problems.
Showcasing Problem Solving Ability
Sales professionals are always looking for new techniques to showcase their problem-solving ability and increase their sales figures. SPIN selling is one such technique that has been gaining popularity in recent years. The third step of the SPIN process is particularly concerned with problem-solving. 
In this phase, you have already created a rapport and have detailed information about their pain points. Now is the time to pitch your product or service, and connect it to the problem your customer is facing. For instance, if a company has a workforce which is scattered, and you are part of cloud-based software, then you can lay out the benefits of enlisting your services, such as easy access to important data across all devices. In this way, you can demonstrate your value and problem-solving ability.
Convert Prospective Lead Into New Customer
Finally, you need to close the sale and get a commitment from the prospective lead. This can be done by asking for the order or setting up a meeting to discuss further details. Apart from closing the deal with a new customer, this is also a great stage to learn about how to interact with a prospective client. A competent sales team can learn from past mistakes and optimise their SPIN approach to ensure having high-ticket customers in the future.
Learn SPIN Selling With Professional Certificate Programme in Strategic Sales Management and New Age Marketing, IIM Kozhikode
In the current, hypercompetitive business world, sales is one of the areas which faces major challenges when it comes to converting prospective leads into paying customers. This is where the Professional Certificate Programme in Strategic Sales Management and New Age Marketing, offered by IIM Kozhikode, comes into the picture. This comprehensive course includes key concepts of marketing, strategy, sales and leadership, including a dedicated segment to SPIN Selling. The pedagogy is designed to create competent sales and marketing managers through lectures, discussions, case studies and hands-on experience to drive the lessons home. Enroll in this IIM Kozhikode course today with Jaro Education and explore new opportunities in highly coveted positions such as Sales Manager, Marketing Executive, Sales Specialist and more.
Conclusion
SPIN selling is an effective and useful sales technique that can help you engage more effectively with your customers. Using questions to discover customer needs, understanding their decision-making processes, and developing creative solutions for them, allows salespeople to move beyond traditional product conversations.