[vc_row][vc_column][vc_column_text]
[/vc_column_text][/vc_column][/vc_row][vc_row][vc_column][vc_column_text]

7 Ways a Digital Strategy and Marketing Analytics Course Can Boost Your Career
Digital marketing is not just one of the fastest-growing sectors in the world; it is the future of marketing itself. It is one of the most exciting and lucrative areas to pursue a career in today. Professionals in these fields are in immense demand in almost all sectors.
Digital Marketing Growth
Digital marketing is not limited to online marketing but also includes many other things. According to a Global Data report, the rise of the Indian online business market is projected to leap INR 7 trillion by 2023. The sharp growth is mainly due to lockdown. 
To transform the entire ecosystem of public services through the use of information technology, the Government of India has launched the Digital India Program intending to transform India into a digitally empowered society and knowledge economy.
In 2020, there were 749 million Internet users across the country. According to Statista, this number will grow to 1.5 billion users by 2040. This forecast favours the potential for a large market in Internet services for the South Asian country.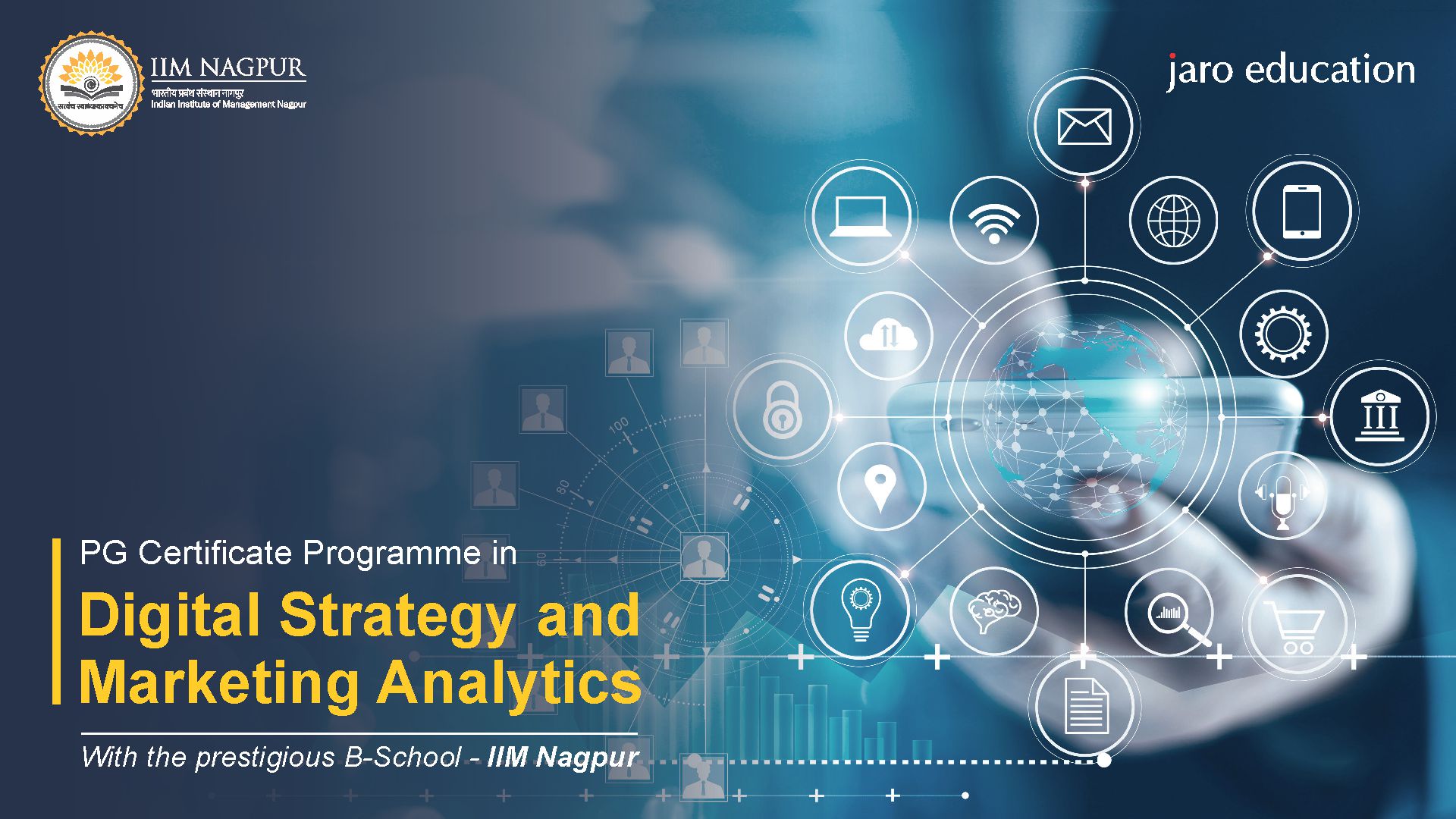 Career Boost
A reputed Digital Marketing Strategy course or a Digital Marketing Analytics course will increase your pay scale and provide you with more career opportunities in different verticals, but it will also give you more confidence about your position in the industry.
The Digital Marketing Strategy Online Courses help boost your career in 7 ways:
Be a key contributor to brand
You can become a driving force behind getting the brand value in the market. Your knowledge and expertise in digital marketing help grow your brand, and in turn, you can get fame and rewards.
Fast-growing digital technology-driven businesses are increasingly demanding expert analysts and marketers. Lack of supply increased the value of those characters in the field. People with the right skills get great rewards. For example, according to the payscale, the average salary of a digital marketer is INR 494k. 
Digital marketing is a business venture today. It is bound to stay with time and technology. The scope is constantly expanding over the years. Your skills will not be outdated and will not be retrenched.
A well-recognized qualification
There has been massive growth in digital marketing budgets over the years, and opportunities have arisen globally. The certification is recognized by industries around the world. Aspirants can choose to get a higher cadre position too.
The field is diversified and respectful
Being a digital marketer or digital strategist is not limited to any commodity or sector. You can apply the principles across the sectors and varied businesses. This widens the opportunity for you.
Traditional advertising strategies require additional costs to reach more people. However, marketing through digital media, say using social media platforms, provides a very profitable way to reach a global audience instantly and gain publicity.
Work with an exciting range of people from different walks of life
Social currency is ultimately your presence on a digital platform. The trades you enjoy in the digital marketing and analytics domain open up opportunities to work with different people every day and become creative. Working relationships add to the growth of your personality and the potential of influential people. 
Conclusion
Get a comprehensive understanding of the impact of digital marketing and a whole new model of customer understanding in this rapidly changing digital environment. Avail the best opportunity to learn digital marketing strategy through the online courses at high-quality universities like IIM Nagpur. The PG Certificate Programme in Digital Strategy and Marketing Analytics will help you reach the professional goals of the digital age. 
FAQ's
What does Digital Strategy and Marketing Analytics Course include?
The syllabus covers topics in the main domains:
Marketing transformation in the digital world, strategic marketing competencies.

Digital Marketing, modern trends and marketing analytical techniques.

Marketing Communication and Brand Management.

Marketing Strategic tactics and skill simulation.
What is the eligibility of Digital Strategy and Marketing Analytics Course?
Eligibility to join the nine-month Digital Strategy and Marketing Analytics programme is at least three years of work experience and a bachelor's degree from any recognized national/international university with 50% overall marks.
What are Digital Strategy and Marketing Analytics Course fees?
The total course fee for the PG Certification Program in Digital Strategy and Marketing Analytics is INR 2,25,000/- (excluding GST).
What is the use of the Digital Strategy and Marketing Analytics Course?
This course enables young entrepreneurs to develop new-age skills and abilities to work in management roles, tackle major digital marketing challenges, and move into a hyper-connected world.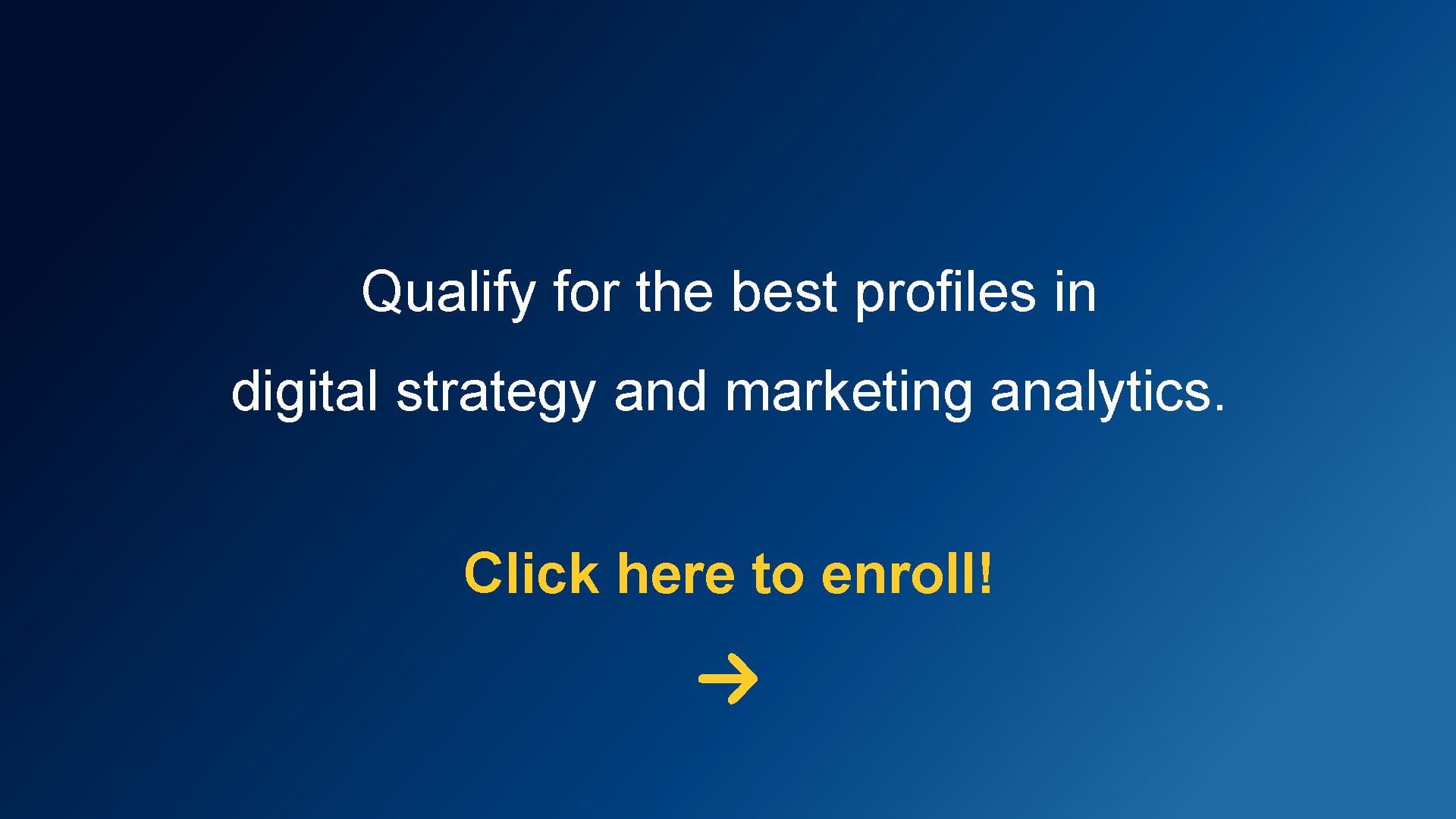 [/vc_column_text][vc_raw_html]JTNDc2NyaXB0JTIwdHlwZSUzRCUyMmFwcGxpY2F0aW9uJTJGbGQlMkJqc29uJTIyJTNFJTdCJTIyJTQwY29udGV4dCUyMiUzQSUyMmh0dHBzJTNBJTJGJTJGc2NoZW1hLm9yZyUyMiUyQyUyMiU0MHR5cGUlMjIlM0ElMjJGQVFQYWdlJTIyJTJDJTIybWFpbkVudGl0eSUyMiUzQSU1QiU3QiUyMiU0MHR5cGUlMjIlM0ElMjJRdWVzdGlvbiUyMiUyQyUyMm5hbWUlMjIlM0ElMjJXaGF0JTIwZG9lcyUyMERpZ2l0YWwlMjBTdHJhdGVneSUyMGFuZCUyME1hcmtldGluZyUyMEFuYWx5dGljcyUyMENvdXJzZSUyMGluY2x1ZGUlMjIlMkMlMjJhY2NlcHRlZEFuc3dlciUyMiUzQSU3QiUyMiU0MHR5cGUlMjIlM0ElMjJBbnN3ZXIlMjIlMkMlMjJ0ZXh0JTIyJTNBJTIyVGhlJTIwc3lsbGFidXMlMjBjb3ZlcnMlMjB0b3BpY3MlMjBpbiUyMHRoZSUyMG1haW4lMjBkb21haW5zJTNBJTNDYnIlM0UlNUNuJTNDdWwlM0UlNUNuJTNDbGklM0VNYXJrZXRpbmclMjB0cmFuc2Zvcm1hdGlvbiUyMGluJTIwdGhlJTIwZGlnaXRhbCUyMHdvcmxkJTJDJTIwc3RyYXRlZ2ljJTIwbWFya2V0aW5nJTIwY29tcGV0ZW5jaWVzLiUzQyUyRmxpJTNFJTVDbiUzQ2xpJTNFRGlnaXRhbCUyME1hcmtldGluZyUyQyUyMG1vZGVybiUyMHRyZW5kcyUyMGFuZCUyMG1hcmtldGluZyUyMGFuYWx5dGljYWwlMjB0ZWNobmlxdWVzLiUzQyUyRmxpJTNFJTVDbiUzQ2xpJTNFTWFya2V0aW5nJTIwQ29tbXVuaWNhdGlvbiUyMGFuZCUyMEJyYW5kJTIwTWFuYWdlbWVudC4lM0MlMkZsaSUzRSU1Q24lM0NsaSUzRU1hcmtldGluZyUyMFN0cmF0ZWdpYyUyMHRhY3RpY3MlMjBhbmQlMjBza2lsbCUyMHNpbXVsYXRpb24uJTNDJTJGbGklM0UlNUNuJTNDJTJGdWwlM0UlMjIlN0QlN0QlMkMlN0IlMjIlNDB0eXBlJTIyJTNBJTIyUXVlc3Rpb24lMjIlMkMlMjJuYW1lJTIyJTNBJTIyV2hhdCUyMGlzJTIwdGhlJTIwZWxpZ2liaWxpdHklMjBvZiUyMERpZ2l0YWwlMjBTdHJhdGVneSUyMGFuZCUyME1hcmtldGluZyUyMEFuYWx5dGljcyUyMENvdXJzZSUzRiUyMiUyQyUyMmFjY2VwdGVkQW5zd2VyJTIyJTNBJTdCJTIyJTQwdHlwZSUyMiUzQSUyMkFuc3dlciUyMiUyQyUyMnRleHQlMjIlM0ElMjJFbGlnaWJpbGl0eSUyMHRvJTIwam9pbiUyMHRoZSUyMG5pbmUtbW9udGglMjBEaWdpdGFsJTIwU3RyYXRlZ3klMjBhbmQlMjBNYXJrZXRpbmclMjBBbmFseXRpY3MlMjBwcm9ncmFtbWUlMjBpcyUyMGF0JTIwbGVhc3QlMjB0aHJlZSUyMHllYXJzJTIwb2YlMjB3b3JrJTIwZXhwZXJpZW5jZSUyMGFuZCUyMGElMjBiYWNoZWxvciVFMiU4MCU5OXMlMjBkZWdyZWUlMjBmcm9tJTIwYW55JTIwcmVjb2duaXplZCUyMG5hdGlvbmFsJTJGaW50ZXJuYXRpb25hbCUyMHVuaXZlcnNpdHklMjB3aXRoJTIwNTAlMjUlMjBvdmVyYWxsJTIwbWFya3MuJTIyJTdEJTdEJTJDJTdCJTIyJTQwdHlwZSUyMiUzQSUyMlF1ZXN0aW9uJTIyJTJDJTIybmFtZSUyMiUzQSUyMldoYXQlMjBhcmUlMjBEaWdpdGFsJTIwU3RyYXRlZ3klMjBhbmQlMjBNYXJrZXRpbmclMjBBbmFseXRpY3MlMjBDb3Vyc2UlMjBmZWVzJTNGJTIyJTJDJTIyYWNjZXB0ZWRBbnN3ZXIlMjIlM0ElN0IlMjIlNDB0eXBlJTIyJTNBJTIyQW5zd2VyJTIyJTJDJTIydGV4dCUyMiUzQSUyMlRoZSUyMHRvdGFsJTIwY291cnNlJTIwZmVlJTIwZm9yJTIwdGhlJTIwUEclMjBDZXJ0aWZpY2F0aW9uJTIwUHJvZ3JhbSUyMGluJTIwRGlnaXRhbCUyMFN0cmF0ZWd5JTIwYW5kJTIwTWFya2V0aW5nJTIwQW5hbHl0aWNzJTIwaXMlMjBJTlIlMjAyJTJDMjUlMkMwMDAlMkYtJTIwJTI4ZXhjbHVkaW5nJTIwR1NUJTI5LiUyMiU3RCU3RCUyQyU3QiUyMiU0MHR5cGUlMjIlM0ElMjJRdWVzdGlvbiUyMiUyQyUyMm5hbWUlMjIlM0ElMjJXaGF0JTIwaXMlMjB0aGUlMjB1c2UlMjBvZiUyMHRoZSUyMERpZ2l0YWwlMjBTdHJhdGVneSUyMGFuZCUyME1hcmtldGluZyUyMEFuYWx5dGljcyUyMENvdXJzZSUzRiUyMiUyQyUyMmFjY2VwdGVkQW5zd2VyJTIyJTNBJTdCJTIyJTQwdHlwZSUyMiUzQSUyMkFuc3dlciUyMiUyQyUyMnRleHQlMjIlM0ElMjJUaGlzJTIwY291cnNlJTIwZW5hYmxlcyUyMHlvdW5nJTIwZW50cmVwcmVuZXVycyUyMHRvJTIwZGV2ZWxvcCUyMG5ldy1hZ2UlMjBza2lsbHMlMjBhbmQlMjBhYmlsaXRpZXMlMjB0byUyMHdvcmslMjBpbiUyMG1hbmFnZW1lbnQlMjByb2xlcyUyQyUyMHRhY2tsZSUyMG1ham9yJTIwZGlnaXRhbCUyMG1hcmtldGluZyUyMGNoYWxsZW5nZXMlMkMlMjBhbmQlMjBtb3ZlJTIwaW50byUyMGElMjBoeXBlci1jb25uZWN0ZWQlMjB3b3JsZC4lMjIlN0QlN0QlNUQlN0QlM0MlMkZzY3JpcHQlM0UlM0MlMjEtLUZBUVBhZ2UlMjBDb2RlJTIwR2VuZXJhdGVkJTIwYnklMjBodHRwcyUzQSUyRiUyRnNhaWpvZ2VvcmdlLmNvbSUyRmpzb24tbGQtc2NoZW1hLWdlbmVyYXRvciUyRmZhcSUyRi0tJTNF[/vc_raw_html][/vc_column][/vc_row][vc_row][vc_column width="1/1″][show-testimonials alias="Author Bio"][/vc_column][/vc_row]