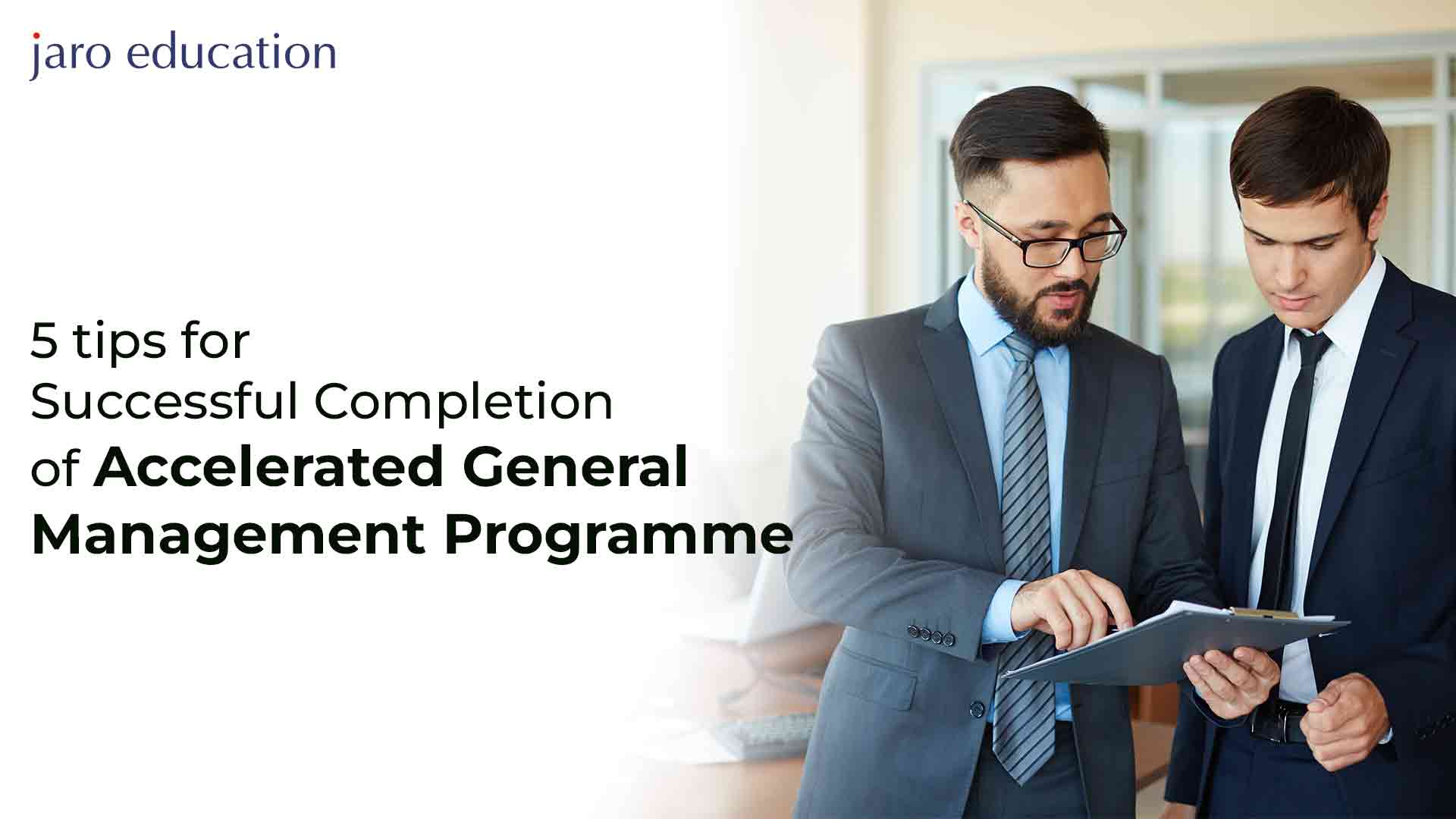 Have you recently enrolled in an accelerated general management programme? Getting through such a course can be incredibly challenging , especially when it is compressed into a short amount of time. However, the rewards for those who complete the programme successfully are immense. You will gain knowledge and skills across multiple disciplines and  may also find more career opportunities. To make sure that you have success with your accelerated general management programme completion, here are five tips on how to make the most of it
What is an Accelerated General Management Programme?
An Accelerated General Management Programme (AGMP) is a fast-track management development programme that enables managers to gain the necessary skills and knowledge to progress in their careers. The programme typically lasts for one year and is designed to allow participants  to learn from experienced managers, gain new insights into management theory and practice, and develop their own managerial style.
5 tips for successful completion of an AGMP
Here are some tips for successfully completing an AGMP
1. Get buy-in from your employer
Before embarking on an AGMP, it is important to get buy-in from your employer. This means ensuring that your employer is supportive of the programme and its objectives and is willing to release you for the required periods of time.
2. Manage your time wisely
An AGMP is a demanding programme, both in terms of the theoretical component and the work-based component. It is therefore important to manage your time wisely in order to complete the programme successfully. This means setting aside dedicated time each week to study and complete assignments and planning ahead for work commitments.
3. Stay focused and motivated
It can be easy to become overwhelmed or bogged down by the workload associated with an AGMP. Therefore, staying focused and motivated throughout the programme is important. One way to do this is by setting small goals along the way, such as completing a certain number of readings per week or writing a certain number of words for your dissertation. These small goals will help keep you on track and motivated towards completing the AGMP successfully.
4. Utilise available resources
It is important to make use of the resources available to you during an AGMP. This includes books, journals, online courses, and  other students and faculty who can provide guidance and support. Make sure to take advantage of these resources to help you stay on track and complete the programme successfully.
5. Take time for yourself
Finally, it is important to remember to take time for yourself during an AGMP. This means taking regular breaks from studying and work commitments in order to rest, relax and recharge. Taking time for yourself will help keep you motivated and focused throughout the programme, ultimately leading  to the successful completion of your AGMP.
What are the benefits of completing an AGMP?
Here are some of the benefits of completing an AGMP:
You will save time on your degree.

You will have the opportunity to get ahead in your career.

You will learn faster  and gain more knowledge than you would if you completed your degree at the traditional pace.

You will benefit from smaller class sizes and individualised attention from professors.

You will have the chance to take on leadership roles within the programme and build valuable skills for your future career.
Everything you need to know about AGMP from IIM Ahmedabad
A twice-a-week course designed to offer valuable insight from a leadership standpoint, the Accelerated General Management Programme is a special course offered by IIM Ahmedabad. Learn some core concepts of becoming a competent manager with modules such as Managerial Communication, Talent Management, Managing Negotiations and more. The year-long course ends with a capstone project, offering the students tangible, real-life experience to give them a kickstart in their managerial careers. Anyone who has already been in a managerial position for at least 10 years with a bachelor's  or master's degree is eligible for this AGMP.
Conclusion
There are many benefits to taking an Accelerated General Management Programme. With the right mindset, dedication and commitment, it can be a great way to help you achieve your goals in life. By following our five tips for the successful completion of the programme, you will have all the tools you need to make this program a success and take advantage of the opportunities that come with it. We wish you luck as you start your journey!