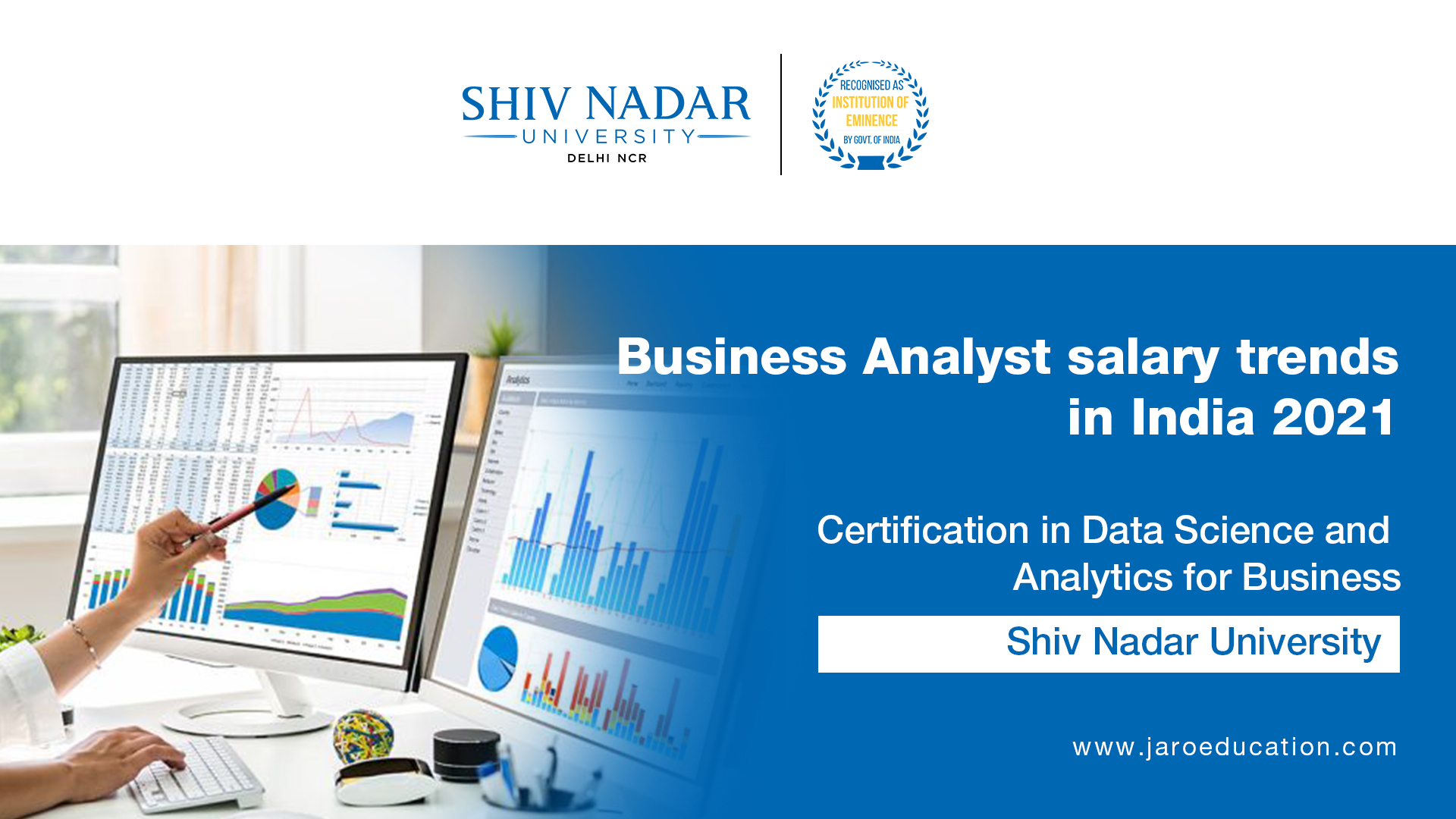 2021 Salary Trends of Business Analyst in India
Business analysts have been playing an instrumental role in shaping the business world for the better. They deal with problem-solving tasks and create data-driven insights for companies, to meet advancements in technology and stimulate business growth.
The demand for business analysts is very high among companies, small-scale options, and enterprises. Study estimates reveal that the job market for business analytics will grow at a CAGR of 14.3% by 2026. Companies are willing to pay higher salaries to analysts, especially certified expert-level professionals.
To earn more, get a data analysis certificate from a top-level educational facility like Shiv Nadar University. The certification will build your resume, improve your skills and career growth prospects. 
Read on to understand more about the salary trends of business analysts. 
Roles and Responsibilities of a Business Analyst
A business analyst understands the recent trends in the market and devises the business requirements, analyzes the operation processes, and shares business insights. The primary role of a data analyst is to relate data to decisions to improve the productivity and efficiency of the business. 
After completing training in data science or data analytics, you can apply for different data analytics-related positions. The responsibilities you would handle cover the following.
Review every business operation, whether newly planned or ongoing

Devise strategies and optimize them for the ongoing business benefits

Evaluate requirements that the business needs to work efficiently

Provide data-driven solutions for issues faced by the businesses

Work under product managers and provide insights and data that help the business in decision-making

Extract, or develop data that helps in analyzing real-world business practices

Prepare documents to support the insights and testing reports
Opt for the Certificate in Data Science and Analytics for Business – Shiv Nadar University to broaden your understanding of data analysis and its different aspects efficiently.
Salary Trends of a Business Analyst
Several factors affect salary trends, such as the company type, skill level, experience level, and location. Let us look at a brief overview of the current salary trends in the market. 
Salary Structure By Company
Many companies require business analysts in their teams. They offer different levels of salary packages to the applicants. 
Bigger enterprises such as TCS, Capgemini, and Accenture offer high annual salary packages, averaging around INR 6,96,132, INR 7,03,178, and INR 7,04,965, respectively.

Brands like Amazon also employ business analysts in their teams. They offer various salary packages based on seniority and experience. The average salary range of Amazon's data analytics department is INR 3,28,284 to INR 17,83,171 per year. 

Other companies, including CSC, HCL, and WIPRO, offer small pay grade structures, at INR 6,02,432, INR 5,21,246, and INR 6,02,432, respectively.
Hurry now and apply for the Certificate in Data Science and Analytics for Business – Shiv Nadar University to enhance your skills and gain better revenue in your career.
Professional Experience
The following are professional experience-based salary breakdowns in India for business analysts. The salaries mentioned here are approximate yearly figures and include bonuses, tips, and overtime pay.
Entry-level experts with less than one year of experience get INR 3,42,291. 

Analysts with one to four years of experience get INR 4,26,402. 

Mid-level data analysts earn INR 6,96,043 with five to nine years of experience. 

Experienced specialists in this profession that have 10 to 19 years of experience earn INR 9,34,951. 

Expert-level data analysts in businesses who hold over 20 years of experience can get INR 17,50,000.
City-based Salary Trends in India
The salary scale of a business analyst may vary from city to city in India. For example, if you work in Pune or Bangalore then there are chances that you may earn more. At the same time, if you work in Chennai, Hyderabad, or Noida, the percentage could be slightly less when compared to Pune or Bangalore. We are not giving exact stats here as it varies as per your designation, nature of the work, or company.
Conclusion
The salary trends in India for business analysts and data analysts are moving up the growth trajectory. Keep these trends in mind and make the right effort to improve your capabilities for high-paying positions at top brands.