Executive Programme in Cyber Security for Organizations [EPCSO]
First Session: 2.30 pm to 3.45 pm
Second Session: 4:00 pm to 5:15 pm
Sessions will be held on every Sunday
In today's digital age, cyber threats and crimes are increasing at a rapid pace. To tackle the pressing threats and challenges effectively, pursue an Executive Programme in Cyber Security for Organizations specifically designed for non-technical professionals, engineers, IT project managers, and early-career IT professionals who want to comprehensively understand the cyber security landscape. It is a multi-disciplinary programme that targets managers and other professionals who want to advance their careers in this field. The programme covers a range of topics, including designing security policy and postures, network security, threat intelligence, risk management, incident response, and more.
Throughout the programme, you will learn from experienced instructors and industry experts who will guide you through established principles and practices which are deployed in real-world scenarios. This programme is designed to provide participants with a holistic understanding of cybersecurity, including the latest technologies, industry best practices, and actionable insights to address emerging threats. You will also have the opportunity to network with other professionals in the industry, allowing you to build valuable connections and gain insights from their experiences.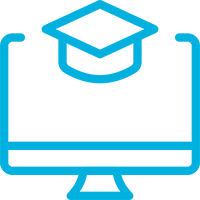 Executive Execution Alumni Status- IIM Indore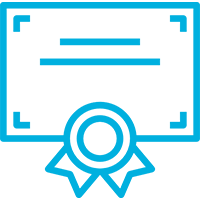 Certificate of Completion from IIM Indore

3 days On-campus Module

Holistic Curriculum

Interactive Online Learning

Capstone Project
Diploma (10+2+3)/Graduate/Post Graduate from Universities recognised by the Association of Indian Universities with minimum 50% marks in either diploma, graduation, or post-graduation (or its equivalent) with at least two years of work experience.
*Internships and Trainee experiences are not considered full-time work experience.
Management at the middle and upper levels, as well as senior functionaries in civil society organisations. This programme is primarily for those in Strategy and International Business, as well as those in other senior positions. Furthermore, participants with experience in Legal professionals in organisations, Economists & Research Scholars, C-Suite Professionals, Consulting Professionals, Political Leaders, Government roles, Defense Leaders, and so on are welcome to attend.
Introduction to Cybersecurity: Issues and Challenges
Introduction to Defensive and offensive Cybersecurity Landscape
Security in the inter-connected world: Cloud, Mobile, IoT
Incident Response and Digital Forensics
Identify and Access Management (IAM) Concepts
IAM Layers and Technology
Data Privacy, and Data Protection
Information Risk Management
Information Security: Strategy and Policy
Information Security Governance
Designing Cyber Security Framework for an Organization
Cyber Security Audit in Organizations
Overview of Prevailing Cyber Law
Capstone Project: Student Boardroom Role Play to prepare Cyber security roadmap for an organisation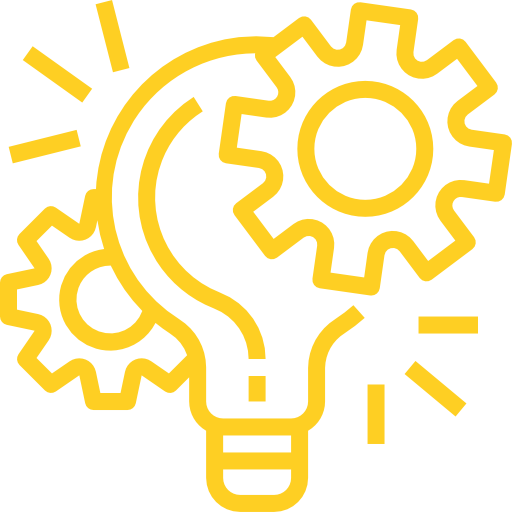 Term papers and Assignments

IIM Indore is in the forefront of providing carefully curated programmes which cater to the needs of executives. IIM Indore is renowned for its focus on academic excellence which is reinforced by the Triple Crown accreditation that IIM Indore has achieved. Being the second IIM to receive this achievement and being among the top 1% of business schools globally to have the Triple Crown accreditation, our executive education programmes are contextually relevant to meet the demands of contemporary business challenges. The institute has also ranked among the Top 100 business schools globally, as well as among the top institutions in India.
39th
FT Executive Education Rankings Business Standard 2022
1st
NIRF – Management Category 2022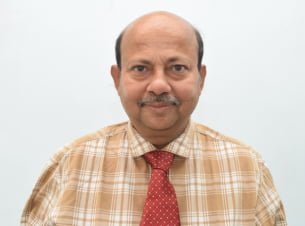 Prof. Prabin Kumar Panigrahi
Participants who successfully meet the evaluation criteria will receive the prestigious 'Certificate of Completion' from IIM Indore.
Note: The sample certificate is indicative. The Institute reserves the right to revise it.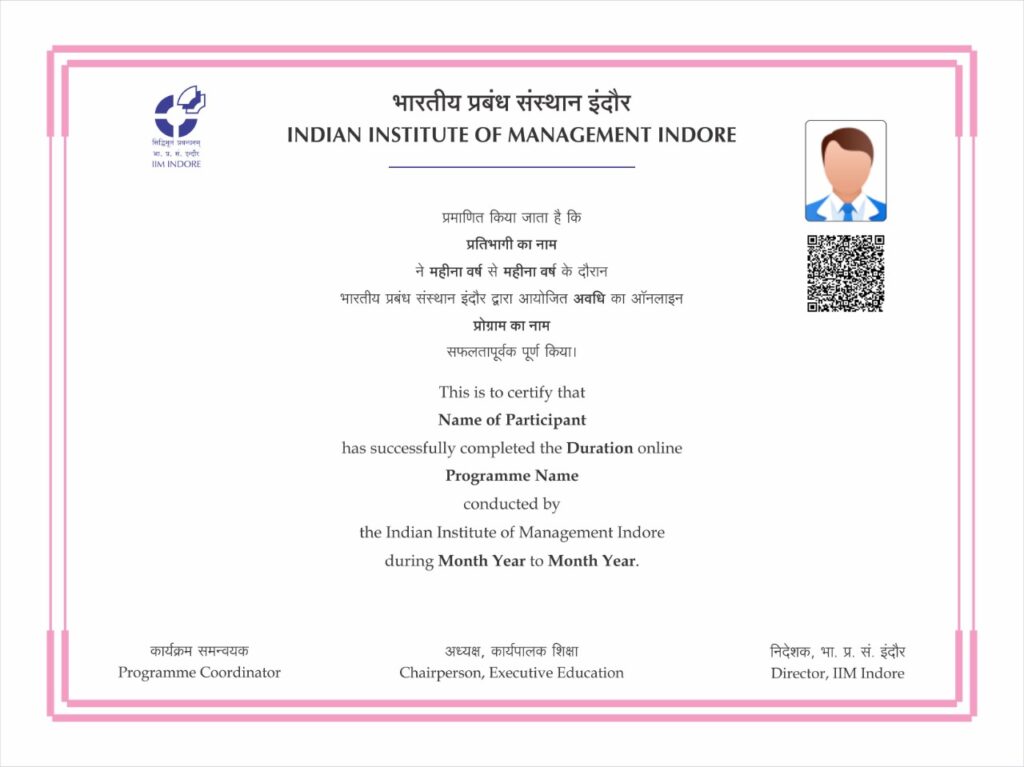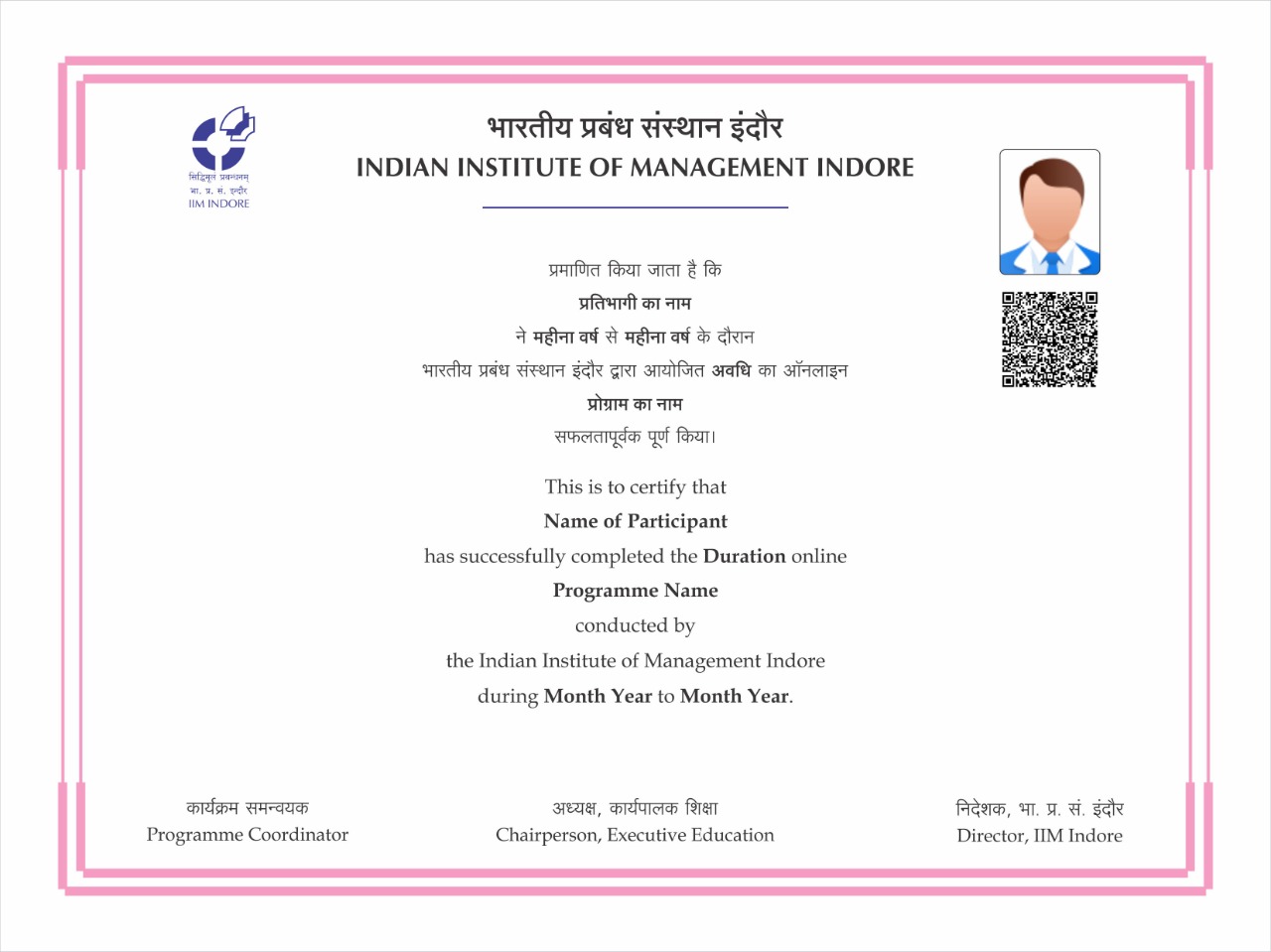 Programme Fees
INR 2,30,000/-
*All the above fee is exclusive of GST.
*Registration fee is non- refundable.
*The above fee does not included Executive Education Alumni fee.
1st Instalment
(Payable at the time of admission)
INR 90,000/-
2nd Instalment
INR 70,000/-
3rd Instalment
INR 70,000/-
*The above fee is exclusive of GST
Note: *All the amounts mentioned above are exclusive of GST.
Build 21st-Century Skill set to Gain Career Edge in the VUCA World
Learn from the best minds and eminent faculty to become the next industry expert.
By clicking Start Application, you agree to our terms and conditions and our privacy policy.
Frequently Asked Questions