​​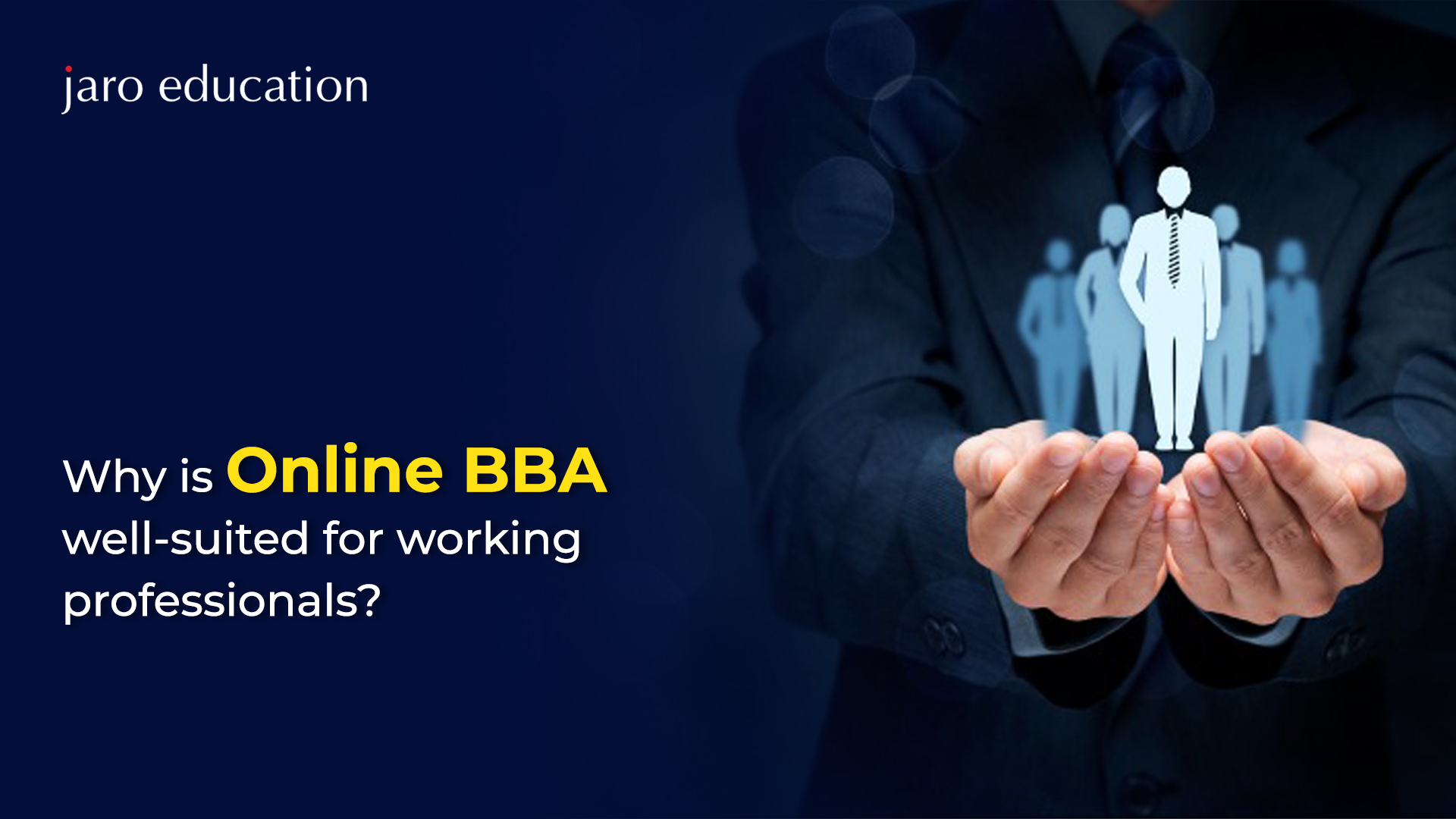 Indian education institutes have changed their focus to online education in anticipation of the growth of digital learning. Online education is still relatively new compared to traditional degree programs, yet it is the best option for working professionals.
If you are employed and wish to improve your management skills or pursue a career in business management, an online Bachelor of Business Administration degree is the finest option. Working professionals can earn a solid foundation in business administration and management through an online BBA degree. Acquire in-depth insights on the advantages of pursuing an online BBA course for working professionals, as well as the best online BBA degree offered by Manipal University.
How can Working Professionals benefit from an Online BBA Degree?
Working individuals can gain critical management skills with the Online BBA. It equips leaders with an industry-relevant curriculum and critical skills that will aid them in managing a company. Here are a few reasons why working professionals should consider pursuing an Online BBA degree:
Convenience:

An

online BBA degree

is ideal for working individuals who want to better their careers and gain valuable management skills. It allows working professionals to continue working while studying. This satisfies the need of working professionals to make money while learning.

Practical knowledge:

Working professionals gain knowledge through case studies and group projects, which allow them to apply what they've learned in real-world situations. Solving simulated real-world scenarios increases one's depth of learning, helping working professionals to perform better at work.

Cost-effective:

Traditional BBA programs are expensive, and they may entail migration to a new city, which would result in additional costs such as rent, transportation, and food. Not only can an online BBA degree have a lower tuition fee, but it also saves you money on other additional expenses.

Career advancement:

An online BBA can help you advance your career in marketing, finance, sales, and other fields. As a result, working professionals have the option to change careers or management domains. Working people with corporate experience and enhanced management skills can benefit from an online BBA degree, which can help them earn a higher salary. An online BBA graduate earns an average salary of 4.77 lakhs, according to

PayScale

, which varies based on the firm and experience.
So, an Online BBA degree is an excellent option for working professionals who want to strengthen their management skills and pursue a long-term career in business administration. Let's take a look at Manipal University's Online BBA Program, which is considered one of the best online BBA courses in India.
Online BBA Programme by Manipal University
Manipal University is one of the best education institutes in India that focuses on providing working individuals with the skills they need to advance their careers. The online BBA programme at Manipal University takes 36 months to complete, much like a traditional BBA programme. It provides students with cutting-edge business management knowledge from Manipal University's highly qualified teachers. It provides students with both recorded and live classes that they must attend via the internet and a computer or smartphone from the convenience of their own homes. Some highlights of Manipal University's Online BBA programme are as follows:
Manipal University's Online BBA degree

has been accredited by the UGC and NAAC, giving it international recognition.

It provides students with e-libraries and study resources so that they can learn at their own pace.

Manipal University's tuition charge for an

Online BBA degree

is only 1.2 lakhs, which can be paid in convenient instalments, compared to the traditional BBA course fee.

Online BBA graduates are in high demand by prominent business enterprises because they follow an industry-focused syllabus and focus on practical learning.

When students complete the online BBA program at Manipal University, they are awarded a degree and alumni status.

Conclusion
A traditional BBA degree is time-consuming, costly, and difficult to obtain. Particularly for working professionals who may be obliged to relocate to a new place for educational purposes, leaving their jobs behind. Working professionals will find that online BBA is the ideal option as it allows them to earn their BBA degree while continuing to work.
Anyone who has completed the 12th examinations from a recognized board with at least a 50 percent score is eligible for the Online BBA Program by Manipal University. So, if you meet the eligibility requirements, enrol for the online BBA degree and boost your business career.
Frequently Asked Questions (FAQs)
How can I know if I'm ready for online learning?
Anyone with a desire to learn can benefit from online education. So, if you're serious about improving your management skills without sacrificing your job, you're ready for online education and should apply for the Online BBA degree.
How do I apply for graduation?
If you have completed your 12th examinations with a minimum 50 percent score, then you can enrol in the Online BBA Program by Manipal University through Jaro Education.
Is an Online BBA program worth it?
The Online BBA Program follows an industry-oriented curriculum that is taught to working professionals using case studies and projects. This method of learning is highly appreciated by various companies, and thus they prefer recruiting online BBA graduates.
What can I do after completing an Online BBA program?
Working professionals can either start their own business, advance their career in the existing company, or look for a new company after completing the online BBA course. Following are a few recruiters of the online BBA graduates:
HDFC Bank

EY

TCS

Zomato and many more