​​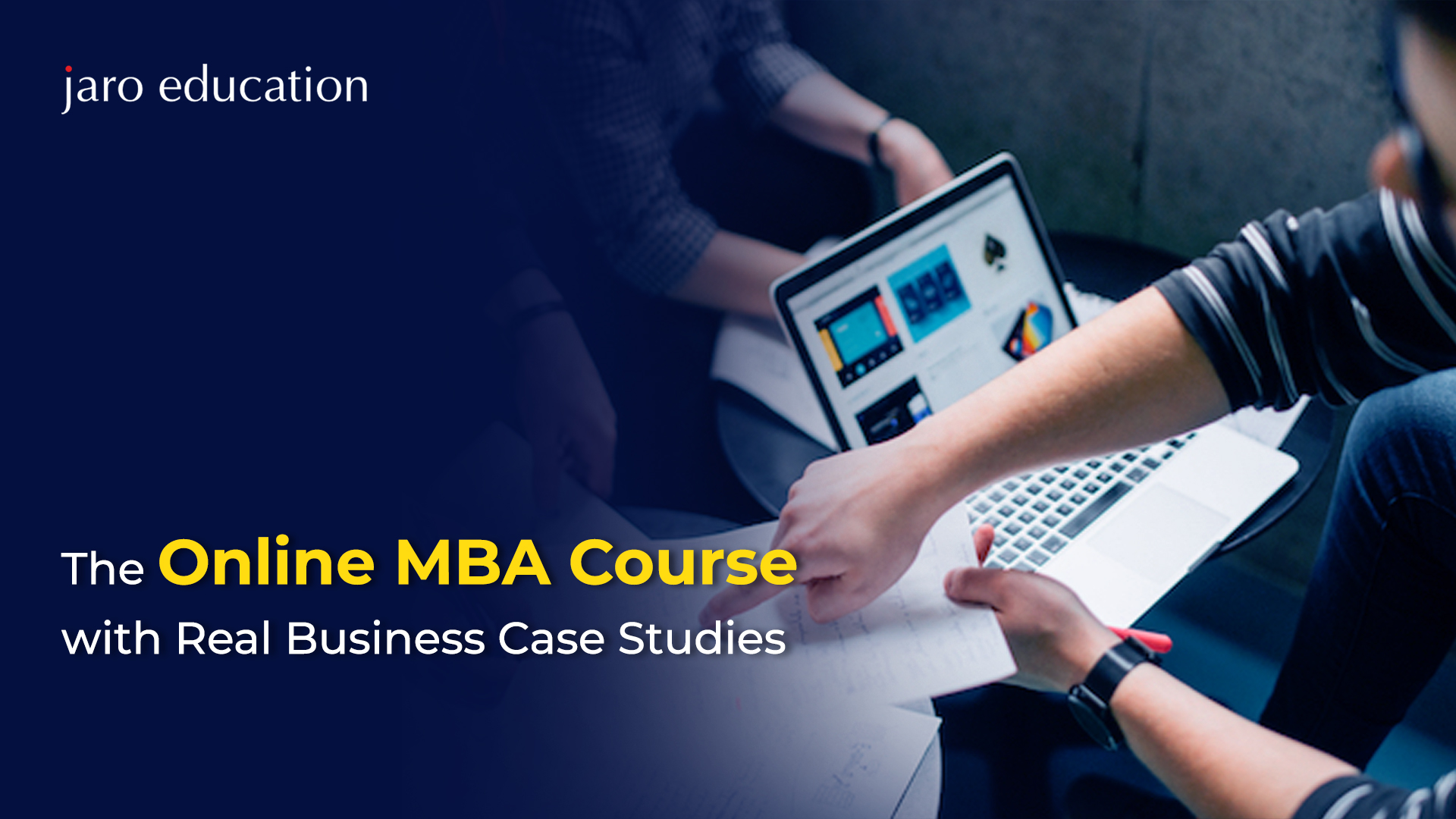 Getting an MBA degree is not enough to elevate competencies and skill-building. Thus, choosing the right platform to pursue an online MBA is critical.
Becoming an effective leader is significant for a successful career in the modern world. But working professionals do not have enough time to enrol in regular degree courses.
Many of such professionals often look for potential opportunities that help them attain online MBA degree courses that can give them high knowledge exposure.
The most common dilemma of working professionals about opting for an online course is that it does not provide them with a chance to get acquainted with real business issues.
Hence, many professionals do not get the right opportunities to pursue MBA from the right platform. The course curriculum does not provide them to work upon the business cases.
Most institutions and universities do not use real case study methods to improve understanding among learners.
Why are business cases vital in MBA courses?
Online MBA with real business case studies provide deeper insights on the ongoing business issues and application of theories.
With technological advancements, companies have modified the way of formulating strategies. The traditional approaches of using business tools to make decisions and strategies are no longer impactful.
The companies seek to formulate the strategies that help them at competitive fronts and gear up the business profits.
Many businesses cannot forecast challenges ahead of them. Solving hypothetical business challenges in online MBA courses prevents candidates from getting acquainted with the problems occurring while resolving issues.
Benefits of business case studies in online MBA courses are:
Case studies in

online MBA programs

boost awareness of the business environment issues and challenges in operating organisational activities.

They stimulate researching skills and infuse a problem-solving approach within an individual that is necessary at workplaces.

Real business case studies improve the thinking and cognition level of the candidates.

Sometimes, the business cases contradict the theoretical phenomenon and established ideas. They drive learners to think out of the box to solve complicated business cases.

The case study method generates interest within the learners. It is a more practical approach to building knowledge levels. It enables professionals to perform an in-depth analysis of the critical issues. Furthermore, it helps innovate business ideas to address issues.
How does an Online MBA Programme conduct case study methods?
With enhanced digital platforms and accessibility, the universities design case study approaches in teaching pedagogy.
The professionals pursuing an Online MBA Programme at Manipal University get trained by the community of expert professors who are highly qualified and specialise in their respective subjects.
The university has also developed a digital infrastructure to allow students to access lessons on even low bandwidth internet.
The discussion forums are designed in a way to provide immersive learning experiences. This allows students to participate in the case study method to articulate students professionally in the real world.
Online MBA Programme- Manipal University prepares an individual for the future. The Online MBA Programme with real business case studies provides broader market insights. It amplifies your communication skills and confidence level. Professionals get to improve strategic thinking and boost earning potential from the Online MBA programme. 
Conclusion
Learning is a never-ending method. Professionals should keep learning to revive skill-sets and unlock future opportunities.
Online MBA courses that provide opportunities to learn from real business cases should be opted to get better course results and turn out to be excellent professionals.
Manipal University Online MBA course ensures paving the best path for your career and will make you a great leader in the modern business world.
The Online MBA Programme at Manipal University will make you a better professional with adequate leadership and managerial skills to perform effectively in the workplace. The university stands out as it provides an advanced digital learning platform, dedicated course mentors, career placement, and counselling assistance and provides insights from industry leaders.
FAQs
Can I apply to multiple MBA formats simultaneously (Weekend, Executive, Online, and Full Time)?
It is significant to maintain consistency of the sessions to enhance learning outcomes. You need to choose one suitable format. You cannot apply to multiple MBA formats.
Can I apply more than once for the same Online MBA start year?
No. Students can apply only once for the same online MBA start year. You can apply for the additional courses for the same MBA start year. You need to fill out separate applications.
Can I reapply if I was not accepted previously?
Yes, you can reapply if not accepted prior only if you fulfil eligibility criteria and are not clear at the group discussion and interview process can reapply for the course.
Is an interview required for admission?
Yes, students need to go through the interview process to get selected for the course. 
The working professionals that are looking for robust opportunities to elevate management skills while working, should apply for an online MBA program at Manipal University. 
Jaro Education is an apt platform where you get advanced guidance to get enrolled for MBA at Manipal University. The platform ensures to not miss out on any effective and modern learning opportunities to elevate your skills and competence.