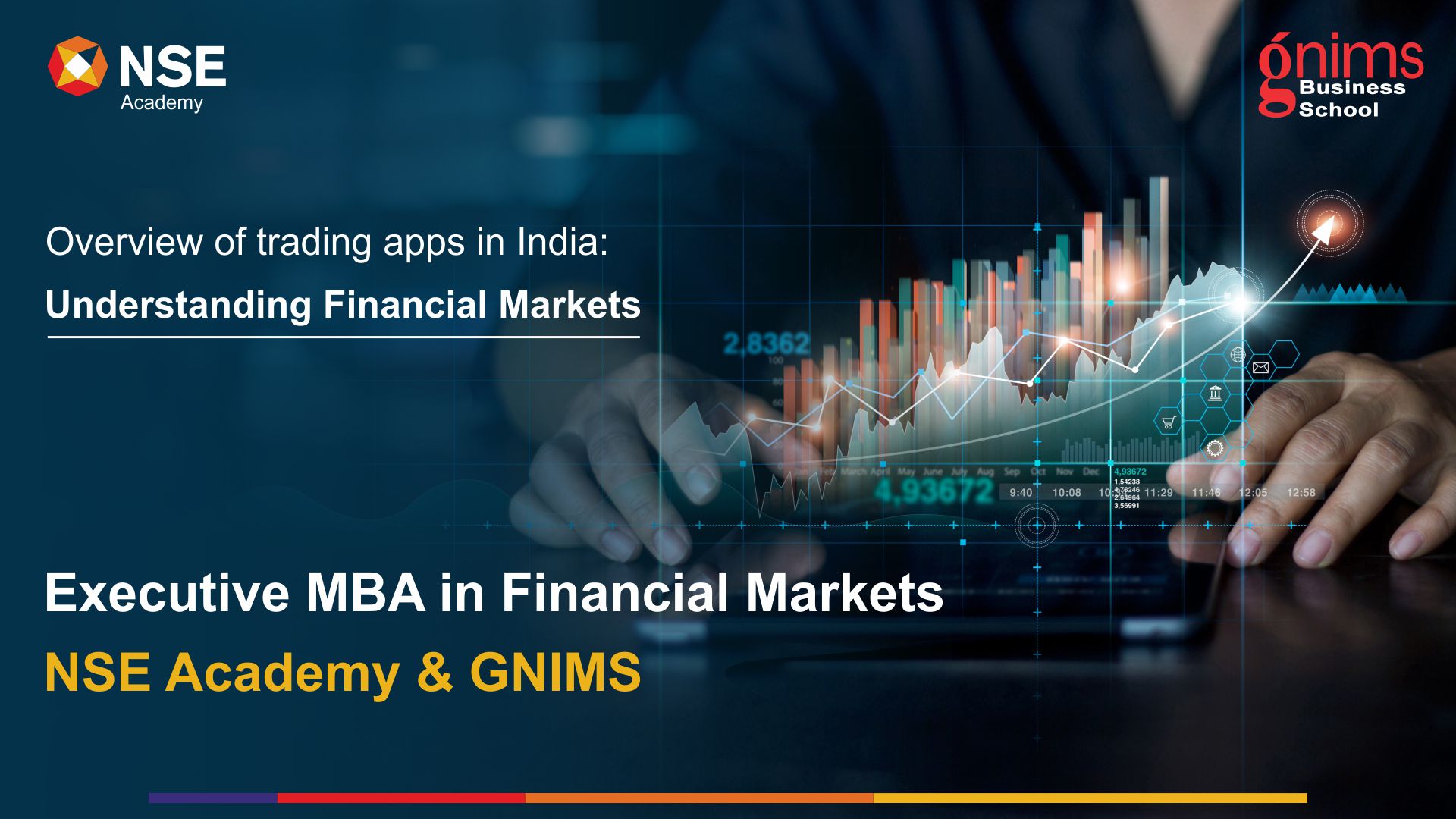 Overview of trading apps in India: Understanding Financial Markets
Financial trading apps in India are redefining trading for Millennials using technology. The investor's trading frenzy is driving the Indian stock markets at record high levels. Indian stock markets are marking a positive shift in the global markets as they record-high levels of gains in index majors.
As per the report on the National Stock Exchange of India, "The financial markets in India is in a nascent stage even with around 7800 scripts listed of Indian stock markets and approx. 3,000 are actively traded."
A modern financial market investor needs to keep a tab on the market through smart trading apps. The real-time live streaming market price of the stocks makes work faster and efficient.
To acquire in-depth knowledge of financial markets, pursue an Executive MBA in Financial Market, a joint certificate program by GNIMS & NSE Academy.
Discover learning opportunities with stellar financial markets apps
Millennials focusing on getting the best trading apps in India must consider elements like pricing, available research resources, tools, investment options and account types. You need to weigh several trading apps to acquire the best results for your investment. Once you figure out the best trading apps, you are halfway there in finding the investment that matches your goals. 
The NSE Mobile Trading app is the #1 comprehensive trading and market monitoring platform that has a seamless interface enabling real-time streamlining options. The NSE Trading app is a strong all-around option available in the Indian financial market segment. 
With the mobile apps built by India's leading stock exchange, you can view the latest market indices, news, research your favourite stocks, and enter multiple segments. You can effortlessly enter an array of trades using the NSE Mobile trading app. This revolutionary platform gives you easy access to view your accounts, balances and portfolios and holdings tracking. 
NSE Trading app is a getaway to the trading ecosystem offering market depth, charts, real-time streaming quotes, Market watch Groups creation, Fund Transfer and Monitoring Margin utilization. Without a doubt, the NSE Trading app is a top stock trading app for active traders.
For new-age traders, Moneycontrol offers a way to track the latest updates on Indian and Global financial markets. Traders can easily use their smartphones with Moneycontrol App to tap on multiple assets from NSE, BSE, MCX and NCDEX exchanges. 
You can also track Indices, Stocks, Futures, Options, Mutual Funds, Commodities and Currencies — that's a good combination for analyzing trade stocks. If you are new to the markets, Moneycontrol is the best app to get started with a small investment. 
A young and rising popular app, Kite – Zerodha has been dishing out awesome features and marking a high level in the Indian stock trading markets. It is an excellent trading platform with a quality user interface and charting platform. The Kite app by Zerodha has the lowest brokerage charges compared to discount brokers.
The Upstox is an upcoming stock broker app in India that offers equity investment starting at INR 20 per order from Intra trade transactions. 
Advantages of the Upstox trading app:
A seamless tech interface that enables an easy user experience using the Upstox mobile application.

Simplified and hassle-free account starting process.

A new age platform with better customer service.

The intraday transaction is only @Rs.20 per order.
The 5 Paisa India's fastest-growing stock trading app's platform is known for the highest quality of service.
5 Paisa trading app's advantages:
0% Brokerage-Charges 

Pay 0% Commission, get seamless investment to diversify and build wealth for the long term!

Open a free Demat and trading account

Omni-Channel Support on all platforms like mobile, desktop, web, etc.

Investing with no other fee means

Quick account opening process.
Build your stock basket suggested by the 5 Paisa's experts.
Backed by the strength of the BNP Paribas Group, Sharekhan is the leading trading application in India with "Best Performing Retail Member" at NSE Market Achievers Awards – 2018. In recent times, this rigorous mobile trading app has more than 2 million+ customers all over India.
Fastest trading app to open a Demat account in just 15 mins

20+ year pedigreed broking house providing services from easy online trading, research to a wide array of financial products

The interface is user-friendly trading and investment platforms – works on diverse devices like Mobile, Web, Desktop
The Angel One has decades of experience in the Indian stock exchange.
Discover the key benefits for Angel One:
0% Brokerage on equity delivery trading

The flat brokerage of Rs 20 per order for Intraday, F&O, Currencies & Commodity

Access to all market segments of BSE, NSE, MCX, MSE & NCDEX through Angel One Trading App

Get personalised support from a centralised help desk
Wrapping Up
Understanding financial markets is essential. To manage a successful career in financial markets, analyst professionals must have the industry know-how of the Equity markets, financial concepts, and analytical abilities. Professionals who want to upswing their career in Financial Markets can seamlessly join Executive MBA in Financial Market, a joint certificate program by GNIMS & NSE Academy. This interdisciplinary program in financial markets will help you access Simulated live market trading exposure provided by NSE Academy. Participants will get the practical online trading course of 60 hours using NAL software. Get a deep dive into the world of financial markets by seeking exposure to the lectures that will be mentored by experts from the finance industry.
Stay in the loop and march towards smarter investment and learning goals with NSE Academy and GNIMS Institute – Executive MBA- FM.
Like this blog? Share this on your social media platform and subscribe to our blog for more insights on Financial Markets in India.