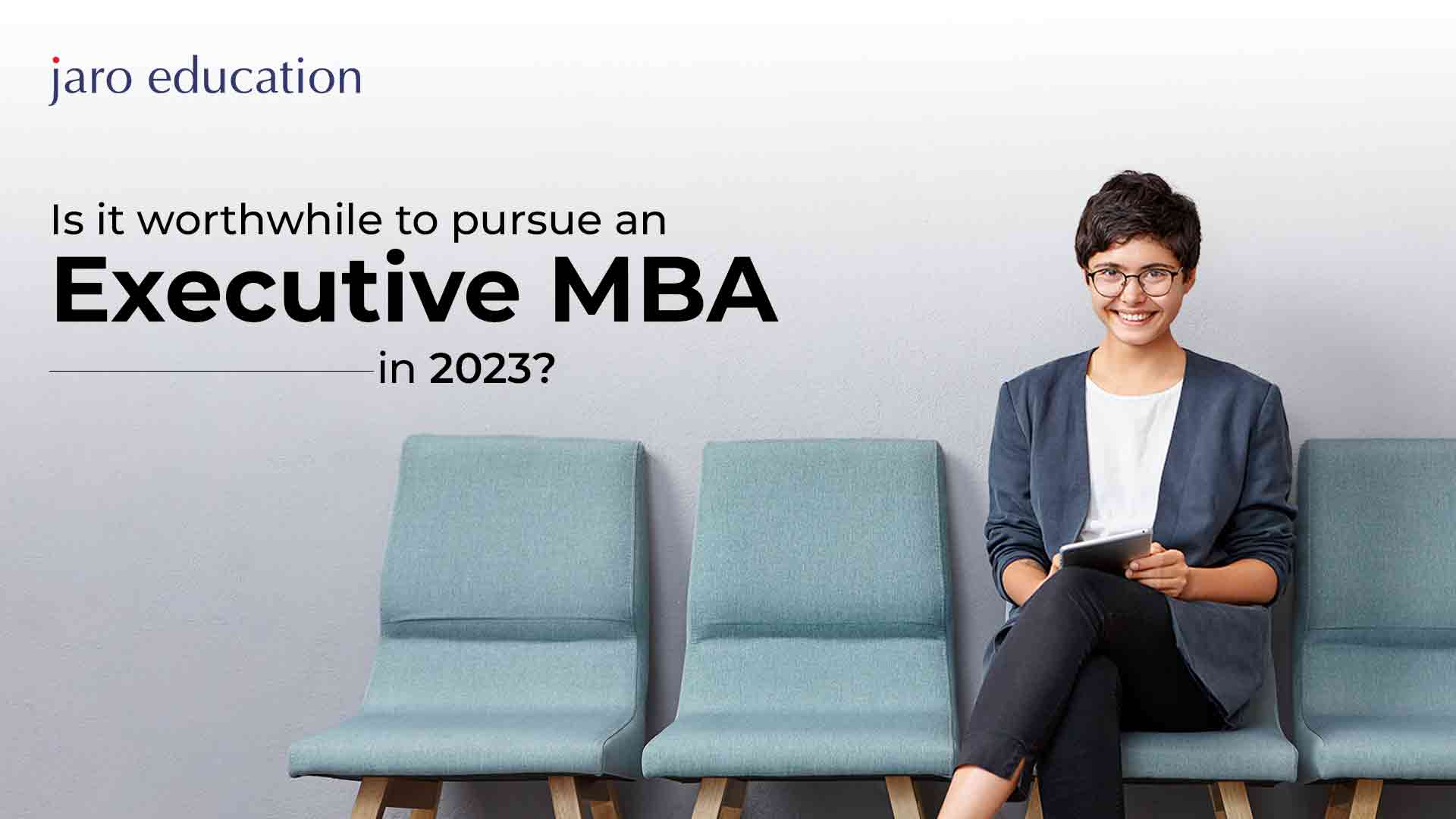 Are you considering taking your career to the next level? 
An Executive MBA could be just the boost you need to achieve your professional goals. But with the ever-evolving job market, you may be wondering if investing in an Executive MBA is still a smart move in 2023. 
In this blog, we'll delve into the pros and cons of pursuing an Executive MBA in the current climate, exploring the potential benefits and drawbacks, and discussing the latest trends in the field. So, if you're curious about whether an Executive MBA is right for you, read on to discover everything you need to know.
The Benefits of Pursuing an Executive MBA
Enhanced Career Opportunities

Increased employment opportunities, such as promotions, job offers, and career changes, can result from pursuing an EMBA. Companies frequently view an EMBA as evidence of leadership potential and a dedication to professional development, which can make EMBA students more suitable candidates for senior-level roles.

Increased Salary Potential

Individuals pursuing Executive MBA have a higher chance of getting into top managerial roles. Higher-paying positions and greater earning potential may result from the program's enhanced skills and knowledge.

Expansion of Professional Network

Through interactions with peers, teachers, and business leaders, pursuing an EMBA gives you the chance to grow your professional network. The relationships and chances for cooperation, mentoring, and career growth that you might find through this network will be priceless.

Gaining Valuable Leadership Skills

Leadership development is a focus of EMBA programs, ancd hence equip individuals with strategic thinking, decision-making, communication, and team management skills. Employers value candidates having these skills, which can be used in various fields and occupations.

Developing a Strong Business Foundation

EMBA programs provide a solid foundation of business knowledge by covering a broad range of business areas, such as finance, marketing, operations, and management. The ability to apply this knowledge to varied business operations makes EMBA students all-rounded and successful leaders.

Advantages Over Competitors

An EMBA degree can help you stand out from the competition and give you an advantage in the employment market. Candidates with an EMBA degree may be preferred by employers over those without one, giving them a significant edge during the hiring process.
Drawbacks of Pursuing an Executive MBA
Time Commitment and Work Balance

Since earning an EMBA requires a major time commitment, it might take a lot of work for working professionals to juggle their studies with their obligations at work and at home. The program often lasts between one and two years, and it entails going to classes on the weekends or in the evenings and work on different projects. The time commitment may interfere with work-life balance and lead to stress.

Financial Investment

The cost of attending an EMBA program varies depending on the location and the school. It is critical to take into account the price of tuition, books, lodging, and travel costs.

Lack of Flexibility in Course Schedule

Some EMBA programs has a well-defined and timely schedule, which would make it difficult for people who experience unforeseen work or personal commitments that conflict with the course schedule because of this lack of flexibility. On the other hand, some EMBA programs like Executive MBA from Dayanand University, offers flexibility to the students so that they can manage work and study at their own pace and availability.
Future Scope for Executive MBA Students in India
It is crucial to think about the future prospects if you are willing to enroll yourself with Jaro Education in an EMBA program in 2023, as the the job market is extremely competitive in 2023, with the emergence of new industries and job roles. Individuals pursuing EMBA will be in a good position to take advantage of these chances since they will be equipped with the knowledge, skills and abilities required to handle the shifting corporate environment. Leadership, strategic thinking, problem-solving, and communication are some of these abilities.
Apart from that, individuals pursuing EMBA will profit from the growth of their professional network in addition to job chances as it would give the participants a chance to network with other students, alumni, and business leaders, which may lead to new opportunities.
So, do you want to pursue an Executive MBA to accelerate your career? 
If yes, then the most viable option considering all the factors is the EMBA program of Dayananda Sagar (DSU) MBA as it offers flexible online classes and alternate weekend on-campus sessions that can be accessed from remote areas as well and has a curriculum that is specifically tailored to fit working professionals, enabling them to advance in their corporate responsibilities at their convenience.
Conclusion
An EMBA program can be a valuable investment and is worthwhile for professionals seeking to advance their careers and gain new skills and knowledge. Before deciding whether to pursue an EMBA program, you must weigh the pros and cons and consider your personal and professional goals as it essential to make an informed decision and ensure that the program aligns with their long-term career plans.
With the right mindset and planning, individuals can make the most of their EMBA programs by networking with peers, attending seminars and workshops, etc.