​​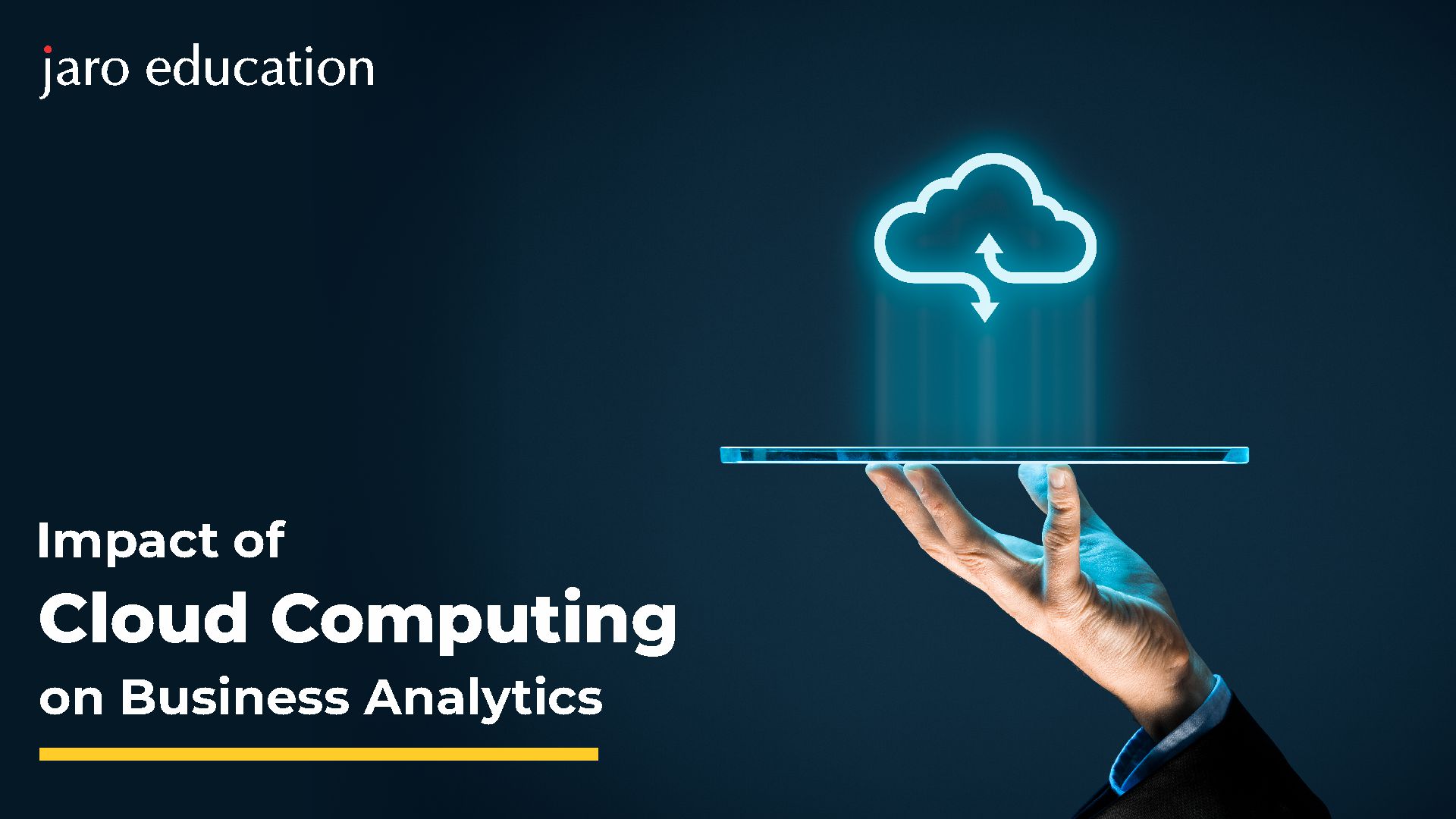 Impact of Cloud Computing on Business Analytics
Currently, cloud computing is one of the great ways to ensure that business achieves new heights. Cloud computing has made it easier for companies to have on-demand system resources at an affordable cost. As a result, the pace at which cloud computing is growing is likely to dominate the IT market soon. The blog seeks to enumerate the impact of cloud computing on business analytics.
Suppose you seek to break into the world of business analytics. In that case, you need to opt for a business analyst course or business analytics certification from a reputed institution like IIM Trichy for a PG Certificate Programme in Business Analytics and Applications. The programme is meant for working professionals to augment their skills in business analytics.
Positive Impact of Cloud Computing on Business Analytics
Cloud computing allows the processing of both structured and unstructured data. The cloud platform is flexible enough to make this information available on any device at any time. Now let's focus on the impact of cloud computing on business analytics:
Cost Reduction
Cloud computing comes across as extremely affordable. One of the main reasons for it is the business model adopted by companies that offer cloud computing services. Client companies are only expected to pay only for the resources utilized, and there are no upfront or hidden costs incurred during the process of utilizing cloud services.
In addition, client companies need not buy the entire cloud infrastructure as they can choose the infrastructure on a need basis. This also helps in the reduction of cost by a large margin. This kind of transparency helps companies running large business analytics operations to breathe easily as costs remain well within their control at all times.
Unlimited Scaling Possible
This is one of the huge opportunities when utilizing cloud infrastructure. Client companies can scale up and down the resources utilized as per the fluctuating demands in the market. This frees up companies in terms of thinking about future demand as the cloud infrastructure can accommodate any kind of demand, either high or low.
Such a scenario helps companies to cut back on costs when their performance is less than ideal, and they can do away with the excess cloud resources. In terms of business analytics, analysts need not bring the demand of cloud resources as a variable in their calculations when envisioning future scenarios.
Better Mobility
Cloud users have the benefit of logging in from any device with an internet connection. This ensures reliability and helps propagate a flexible work culture from anywhere without the need to present in the office. This kind of setup is beneficial for analytics as the analyst can get the required data from anywhere without being dependent on one location.
Easier Upgrades
The business themselves are not required to take up the responsibility of maintaining and upgrading the cloud infrastructure. This is directly done by cloud providers to give client companies a head start when competing with other companies. Also, client companies need not worry about the security of their data as the cloud companies ensure they are provided with software and security updates. This is especially helpful for business analysts as they are working with the most updated tools for doing their work and offering it to their customers.
Secure Data
Every company that is dealing with a ton of data is always worried about the security of their data. Such concerns can be done away with cloud infrastructure as cloud companies offer unmatched security for the data. This kind of setup is especially necessary for companies when work is done on massive projects involving huge amounts of data with millions of dollars involved. A secure system is one of the prerequisites for business analytics as the analysts can breathe easily and do their job with confidence.
Final Thoughts
The blog would have given you enough ideas on the impact of cloud computing on business analytics. As a working professional, when seeking a job in business analytics, it is always better to go for a business analytics certificate or business analytics course from a reputed institute like IIM Trichy. They offer PG Certificate Programme in Business Analytics and Applications for an aspirant who seeks a job in business analytics. The business analyst training programme lasts for 13 months.
Learn more about the course and provide the details for enrolling!
The programme seeks to provide candidates with a framework for transforming data into quality deliverables with the help of inculcated business acumen from the course. The programme is a mix of discussions, hands-on training, and lectures and would be offered in a direct-to-device learning format.
Frequently Asked Questions (FAQs)
What is the eligibility for the Business Analytics course?   
The programme is meant for working professionals who want to improve their analytical skills or anyone who wants to study business analytics.
What is the Business Analytics course duration?  
The programme lasts for 13 months in a direct-to-device format.
How can I join Business Analytics and Applications Course?  
You can join the programme by clicking the link and providing the required details.
What are the benefits of pursuing a Business Analytics course in India?
Every company, both big and small, seeks to make data-driven decisions. This involves a demand for talented analytic professionals who can crunch data and provide actionable insights for companies to make seamless decisions.