​​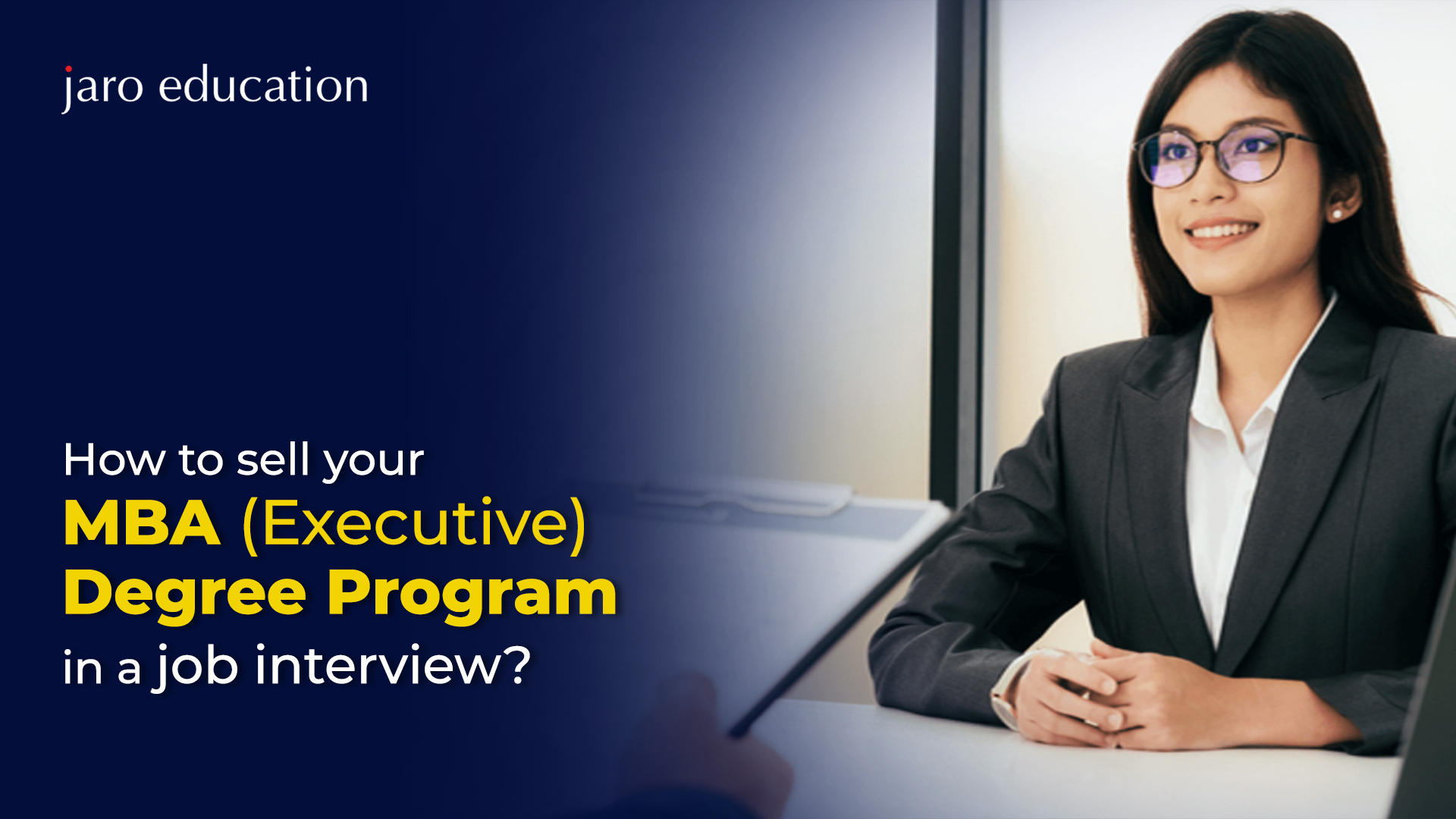 Having an MBA degree shows that you have an excellent understanding of how a business functions. The degree is mandatory when you intend to join big companies or consulting firms as a professional manager. Candidates with such a degree can have better job security and get easily promoted in their job roles. Some MBA programs offer specializations such as Entrepreneurship, which helps aspirants live their dreams of starting their own enterprise.
There exist now Executive MBAs for working professionals through which candidates can upskill themselves and easily crack job interviews by showcasing these newly acquired skills. Read on to know how to showcase your MBA (Executive) Degree Program in a job interview.
Tips for showcasing your MBA degree in a job interview:
Ask questions about the organization:
You don't just have to always answer the interviewer to get hired. You can ask them questions too! This is an indicator of how curious you are to know more about the firm. Come prepared with insightful questions. Based on an understanding of the decisions made by them, ask them how this opens up new opportunities for the growth of the organization.
Attempt to find out the reasons behind certain decisions:
Asking the interviewer such questions has the potential of uncovering crucial problems in an organization. Similarly, asking them to provide you with a complex issue that a business might face, so you could come up with a solution, will help display your confidence and aptitude. You can then elaborate upon a proposed solution and lay down the reasons why you think it will work. Such a move will showcase how effective your MBA Executive degree is!
Showcase your learning agility:
Learning agility is the ability to draw from a broad knowledge base. It helps in making adjustments during significant business situations, on a real-time basis. Firms that can change their strategy and focus in a timely manner are learning-agile. For example, when people started cancelling Netflix's expensive subscription plans, it came up with affordable options and produced exclusive content to stand out in the OTT market.
It is crucial to show that the best executive MBA, the one you have pursued with excellence, has polished your business acumen and that you are now skilled enough to bring in positive changes to any organization and prove to be an asset for them.
Conclusion
The Best Executive MBA Programs help candidates enhance their networks and build connections with people from various industries and backgrounds. Such contacts with the professors, peers, and the institution's alumni network are quite useful while searching for various career opportunities. Some industries where MBA graduates are paid the most, include Financial Services, Technology, Healthcare, Consulting, and Consumer Packaged Goods. So, pursuing an executive MBA program is the best way to gain new heights in your career or switch to a different career. Once you have completed the program, make sure to follow the proven tips we have listed above to showcase your learnings to your employer or during an interview so you can reap the benefits of having been a part of the program.
Looking for a top executive MBA program to take your career to greater heights and dive into new opportunities? The 2-year MBA (Executive) Degree Program by Shiv Nadar University offers a great learning experience with its interactive curriculum and experienced faculties. Enroll today to make use of the unrivaled benefits the program offers!
FAQs
What are the top jobs offered after completing the executive MBA degree program?
Some of the top job opportunities available after completion of the executive MBA degree program include HR Business Partner, Training and Development Manager, Business Development Manager, Senior Business Analyst, Business Process Consultant, IT Manager, Senior Project Manager, CEO, among others.
Can commerce students study executive MBA degree courses?
Yes, commerce students with at least 2 years of work experience can take on an executive MBA degree.
How to enroll for an executive MBA degree course?
You need to check the eligibility criteria and the important dates, including when the process of registration starts to enroll in the course. For courses like Shiv Nadar University's MBA (Executive) Degree Program, a candidate needs at least 50% marks or equivalent score in graduation with 2 years of post-graduate work experience.
What is the duration of the executive MBA degree program?
The duration of the Executive MBA degree program is 2 years.