​​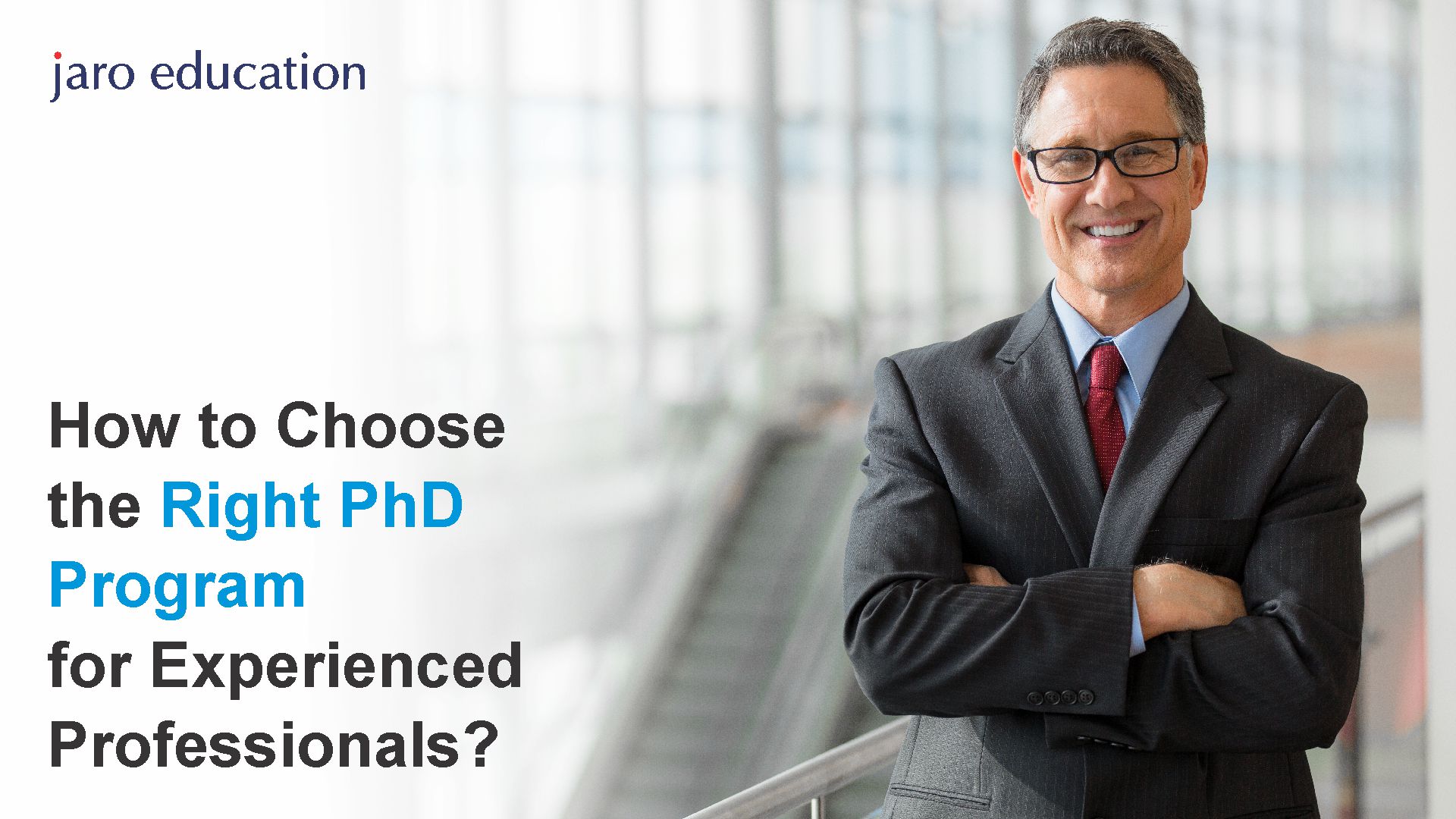 A right Ph.D. degree adds value to the career of an experienced professional and helps in getting good opportunities. Thus, though choosing the right program may be confusing and tricky, it is of immense importance. It is not as simple as choosing an undergraduate course or even a master's degree
A Doctor of Philosophy degree demands extensive research, commitment, and hard work that enables you to make an original contribution from your end. So, if you are confused about deciding which Doctor of Philosophy program is right for you, check out the following tips.
Decide What Doctorate You Are Looking For
A Doctor Ph.D. degree can be done in various areas. Begin your research by choosing a broader domain and then narrowing it down on a subject of your choice. For instance, if you decide 'Education in Rural India' as your preferred subject, narrow it down to 'Higher Education' or 'Primary Education' as your degree subject.
Moreover, your Ph.D. subject need not necessarily be connected to the subjects you chose in your Bachelor's or Master's degree. You can choose an entirely different one as long as you can manage the coursework and the research.
Start Applying Early
After you have decided on the specialization and short-listed your favorite universities, you should start applying at the earliest. Universities advertise that they have multiple application rounds. But, the truth is – they have limited seats and limited scholarships/funding options. You wouldn't want to lose out on a Doctor of Philosophy degree program of your choice just because you were late to apply. 
Check Different Universities Before Enrolling
Like other degrees, choosing the right university for a Doctor Ph.D. Degree is essential even though you get the same degree as students from other universities.
Choosing a good, well-established, well-known university can ensure that you perform well, have the best supervisors and colleagues, and get your degree from a recognized, reputable university. This will keep you a step ahead of others during job hunting. Thus, take your time to analyze different universities, their reviews, and how they will help you in the future.
Consider The Budget
A Doctor of Philosophy degree comes at a cost literally. The entire cost, including fees, can easily run into lakhs of rupees. Thus, compare the prices of Doctor of Philosophy Ph.D. Degree from various universities. After thorough analysis, narrow down on the one that suits your budget.
Similarly, consider how you will fund your Doctor of Philosophy degree program. Do you have the funds required outright? Or are you looking to take out a loan or get a scholarship? It would be best to have answers to all these questions before you start applying to Ph.D. programs.
Ask for Advice from other Ph.D. Students and Professors
The current and past professors have a good knowledge of how things function. They can give you the best advice regarding the subject to choose, their relevance to the current market needs, university to choose, application procedures in different universities, scholarship availability – these suggestions will help you in completing your Ph.D. program. They can also help you find a Ph.D. program that is a good match for your character and interests.
our fellow Ph.D. students can also provide valuable advice on choosing the right Ph.D. program. Ask them how about their experience while doing a Ph.D. course and what it is like to study and work under certain professors.
Conclusion
Choosing the right Ph.D. program isn't easy. But a visit to the Swiss School of Management's Doctor of Philosophy (P.hD.) program will help you decide. The three-year online course is specially designed for professionals that can help them attain academic or professional career growth.
FAQ
What are the different payment options available for Ph.D. Program? 
The payment for the Doctor of Philosophy program from the Swiss School of Management can be made through an online payment. Candidates also can choose a cost EMI plan if they can't pay the fees outright.
 What should I keep in mind while choosing a Ph.D. course?
There are various factors to consider while choosing a Ph.D. course – the most important being the subject, the university from which you wish to pursue the course, and the fees, among other things.
 

Who should pursue a Ph.D. course?
Individuals who want to seek greater depth of knowledge in a particular field of study and bring a change to society should pursue a Ph.D. course.
What is the fee for the Ph.D. Program?
The fee for the Doctor of Philosophy Ph.D. program from Swiss School of Management is INR 6,50,000, including taxes.