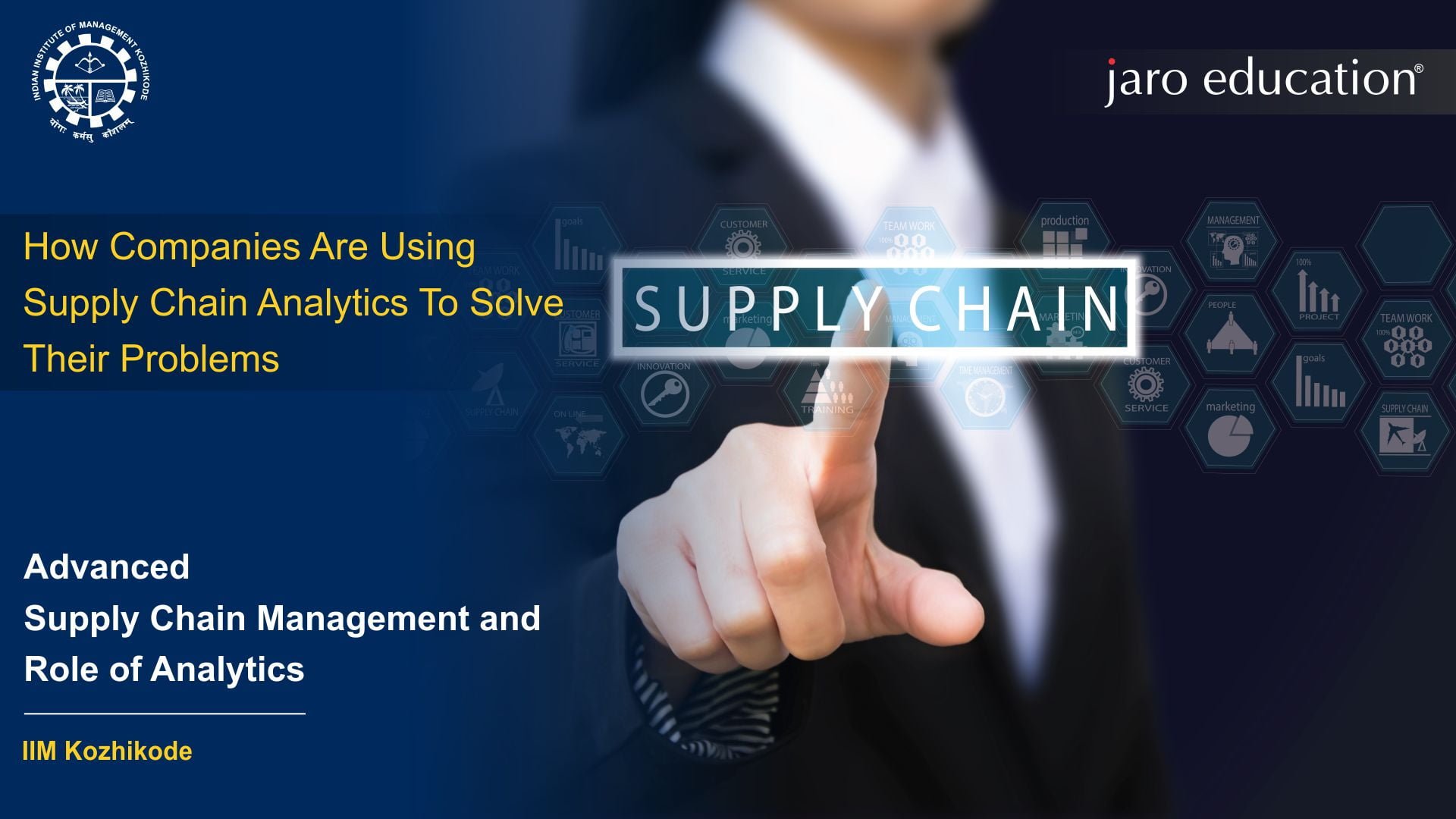 How Companies Are Using Supply Chain Analytics To Solve Their Problems?
Every business and marketing management employee has a basic understanding of how supply chain management works. While some of them get the opportunity to get deeply involved in this process, some of them manage to work through mere updates. However, if you want to upscale your company as a marketing or sales management employee or boost your business as a company owner, it is essential to know how supply chain management works, what are the techniques involved to track time, costs and customer responses and how you can use this data to your advantage.
Supply chain management is the complete production process – from manufacturing to supply. It involves sourcing of raw materials, manufacturing, production, packaging and supply. There are many more intricate processes and services involved in each of them. Efficient supply chain management ensures reduced cost of production, superior product quality and less supply time. Whereas a poorly managed supply chain leads to heavy losses and a bad reputation for your company.
With the digital era upon us, many innovations and techniques have been created to make supply chain management a seamless process. While there is an increase in demand for goods and services, there are also new ways to fill the gap in an efficient way. Today, you can even track your supply chain data with the help of analytical techniques in order to make informed decisions for your company and ensure maximum customer satisfaction.
Why supply chain analytics and the data received from it matters: Supply chain management is a complicated field with many different manufacturing and supply processes. Sometimes when there's a delay in supply or a bad customer feedback hounding you, you often tend to wonder what exactly must have gone wrong and where. As a business, sales or marketing management employee, it's difficult for you to be present everywhere and overlook the entire process in order to find what must have gone wrong. But what you can do is collect the data for each and every process and analyze recurring patterns. This will help you spot faulty practices or problematic areas and help you take immediate decisions to safeguard your company.
Your next question must be how can you gather this data and analyze it? The answer to that is a simple one, there are various analytical techniques specially developed to track and analyze the supply chain. Depending on the issues you are facing, you can choose a technique that will help you in the best way possible. 
The different analytical techniques include predictive analytics that can help you verify existing patterns and present a set of trends that are likely to occur in the future. Descriptive analytics simplifies the insights gathered from any data and helps you understand the process better. Prescriptive analytics helps companies make decisions based on analytical findings. Cognitive analytics tries to decode human understanding by studying data and analyzing patterns to draw conclusions.
Why supply chain analytics is beneficial for your business: To run your business in a successful way and to avoid roadblocks that may tarnish your brand name or bring unsatisfactory customer experience, it is essential to have in-depth knowledge of supply chain analytics. It will help you track the time spent on each task, understand operational pain points, and analyze discrepancy in regular patterns causing supply chain problems. 
With the help of advanced analytical techniques, you can even keep a close track of customer reviews to understand where your business is going wrong and what's working well for your sales. You can predict the future of your business and make decisions as per the changing market trends.
Advanced Supply Chain Management and the Role of Analytics Programme to learn supply chain analytics: To ensure the smooth functioning of your business or marketing/ sales career, a strategic marketing management course can be of great help. IIM Kozhikode offers an Advanced Supply Chain Management and the Role of Analytics Certificate Programme for working professionals who are looking to upskill with technical and practical knowledge of supply chain management and analytics. This flexible, one year online course gives great insights on integrating procurement, operations and logistics management. This interactive programme will help you operate your business with ease. It will also help you analyse various different management techniques and apply them to achieve seamless supply chain operation.
For those with a keen interest in retail and supply chain management and its complex workings, there's no end to what you can learn and achieve. Take your curiosity to a whole new level by applying for this Advanced Supply Chain Management and the Role of Analytics Certificate Programme by IIM Kozhikode and upgrade your career the smart way.